eBay (NASDAQ:EBAY) owns the payment processor PayPal. PayPal (40% of eBay's 2012 revenue) is a popular payment method or e-wallet. It's also very well positioned to become the dominant payment processor in the global e-commerce industry and what is even more important: the global mobile shopping payment processor. That does not just entail online shopping done from your phone; it includes shopping in the high street or in restaurants, using your mobile device to pay.


Image credit: Q1 Results eBay's Blog
Business
eBay essentially consists of three separate main businesses. The auction and marketplace business, the GSI business and the e-wallet business. The marketplace business has been instrumental in getting PayPal at the key strategic position it is in right now.
There are still advantages to this alliance for both parties, but in my opinion it's not impossible PayPal will be sold in the future, at a point in time that does not pose a strategic threat to either business. Skype has been sold by eBay in the past, although it clearly does not have the same relationship to the core business as the e-wallet. Don't expect this to happen in the next five years, though.
Over the first quarter, sales in the marketplaces division rose 13 percent to $1.96 billion. According to Bloomberg, CEO John Donahoe has been whipping that segment back into shape, which brought in 54% of 2012 sales.
At PayPal, revenue rose to $1.55 billion in the first quarter. The unit gained 5 million registered users, bringing the total to 128 million. Total value of all transactions processed, rose 21 percent to $41 billion. Q1 2013 Financial highlights can be found here.
The GSI business is a business-to-business service provider that was acquired in 2011. GSI is the leading provider of e-commerce and interactive marketing services to enterprise clients (including big name brands). It's not very large in terms of sales compared to the other pillars but it could turn out to be an interesting strategic acquisition. Let me return to that subject in a moment.
Market
Over half of eBay's revenue comes from abroad since 2010. They do face headwinds in Europe, with consumer spending down on the continent, but even so, foreign markets are very important to eBay.
eBay serves markets globally, but there is still a lot of room for growth. They move carefully but deliberately and try to keep solid margins up while materializing growth.
Relatively recently they have started moving into the BRICs. Revenue coming from these countries might not always be attributed to international business on their earnings reports. At the first stages of entering a market, eBay focuses on import, and because consumers from newly penetrated markets sometimes use the .com, .uk, and .de domains to buy.
These markets are very promising, though. They're still heavily focused on cash payments in general, which is one of the reasons why there is still an enormous growth potential there, but also with fast growing economies and broadband access that isn't yet fully developed.
Donahoe sounds genuinely excited on the Q1 earnings call about the recently launched Russian language portal (focused on fashion), and he thinks PayPal as a technology is very well suited to overcome payment difficulties Russians face, which is promising for the rate of adoption of the e-Wallet there.
"The first couple of weeks since our Russian site launch, we have had strong acceleration of new users, and those new users are beginning to buy," according to Donahoe.
Why Invest in eBay Now?
Mobile e-commerce is growing incredibly fast. Both eBay and PayPal serve this market and are well positioned to take large market shares.
Appcelerator found that nearly two-thirds of developers believe that consumers will make more purchases via their mobile phone than their credit card in 2013.
Consumers will not want to carry an app for every merchant out there.
If eBay and PayPal manage to become consumers' preferred apps, that will prove to be very profitable. They both have what it takes: eBay with its wide selection of products and competitive pricing, PayPal with its key position as a payment processor that is user friendly, safe and reliable.
Having more than one e-wallet is not convenient at all, and PayPal is in the strategic position of processing 25% of US e-commerce and equally dominant market shares in many foreign markets.
At the same time, PayPal is just starting to get serious about moving into brick and mortar stores in the US. This will help to establish the trustworthiness of the brand. As trust is a very important factor in consumers' adoption rate of mobile or e-wallets this looks to be a timely move, now the battle who becomes the dominant e-wallet will be played out.
It's very important for PayPal to serve a large user base and capture market share because it derives its wide economic moat from the network effect. The more people who use PayPal the more attractive the product becomes to merchants and consumers.
eBay also recently revamped its e-commerce website, which in my opinion was needed, and they have started personalizing users' homepages based on their shopping patterns. How they missed the opportunity to do the latter for so long is a mystery, but the fact they are doing it now is a good thing.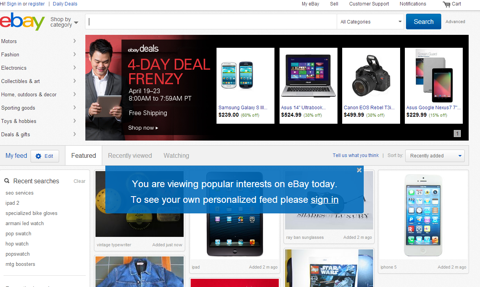 eBay's Secret Weapon
During the Q1 2013 earnings call, Donahoe made an interesting remark about the company's access to data:
Last and not least, when it comes to leveraging data, few have what we have, massive amounts of closed loop data. What other companies are struggling to create, we already know. Each step of the consumer's commerce journey and we're beginning to capitalize on this to provide better experiences for our customers and deeper engagement for our consumers and merchants.
On the surface of this, it sounds like he is talking about the data e-commerce websites gather on their clients, but in the light of the 2011 acquisition of GSI and PayPal processing 25% of US e-commerce, there could be more to this.
eBay has access to vast amounts of detailed market data (on consumers and competitors) in the e-commerce space and soon on brick and mortar spending as well. The data from GSI and PayPal can be used to analyze competitors, market trends, consumer spending habits and more.
I'm sure not all of it is accessible, given legal and privacy concerns but still this could turn out to be a secret weapon for eBay's e-commerce business, going forward. Enabling them to create an edge on more traditional online retailers.
What are the Risks of Investing in eBay?
eBay reports revenue in dollars. They receive approximately half of their revenue in foreign currencies. Pressure on the Euro might put pressure on the EPS over the next few years. When it's the other way around, eBay profits from this. In the short term it introduces additional volatility but in the long term it's not something to worry about.
eBay faces some intense competition in the e-commerce space and on the e-Wallet front there are several competitors fighting for their market share. Square or Google's (NASDAQ:GOOG) Checkout, for example, could turn out to be fierce competitors. It's too early to tell if they win significant terrain. Currently they are behind.
eBay faces constant litigation in many jurisdictions. I do expect that ultimately they will have dealt with the majority of these cases, either by learning from the outcome of court cases and implementing changes or by having won the cases.
Both the auction business and the payment processing business encounter a lot of legal problems by their nature. I expect the legal fees to rise as the business expands globally, but go down as the company gains experience, foreign bodies establish clear e-commerce laws, and eBay deals with the issues that have arisen.
Also, interest rates will probably remain low in the foreseeable future, which hurts PayPal.
Insiders
According to Morningstar: Executive officers and directors are required to own eBay's common stock valued at 3 times their annual base salary (5 times in the case of the CEO). Management and the board own 12% of the stock. Although Donahoe owns less than 1% of outstanding shares, his stake is valued at almost $100 million, sufficient to align his interests with those of shareholders, one would think.
Valuation
eBay is not a typical e-commerce store, but a facilitator of business. 100% of products sold are actually merchandise owned by other companies or individuals, who eBay views as partners. This sets them apart from the typical e-commerce store.
To make things more interesting, in addition, only about 50% of their revenue is actually coming from their eBay domains. Amazon (NASDAQ:AMZN) is a competitor that is often used to benchmark against in the financial press, but Amazon is as much of an e-commerce company as Apple (NASDAQ:AAPL) is a computer manufacturer.
They don't look alike all that much. Having said that, eBay trades at a P/E of 26 right now. Amazon trades at a negative with a much larger P/E going forward. Neither of these is a great benchmark. Other stocks that eBay competes with: Overstock.com (NASDAQ:OSTK) trades at a P/E of 23 and Google at 22.
If we take a look at payment processors like Visa (NYSE:V), MasterCard (NYSE:MA) and Discover Financial Services (NYSE:DFS) - DFS is a partner of eBay in their brick and mortar rollout - we see P/E ratios of respectively 64, 24 and 10.
eBay is currently still closer to an e-commerce company than to a financial company but it's already a much closer call between the two than most investors realize. The gap in growth rate between these two pillars of the company only emphasizes this.
The company is in excellent financial shape with a low debt to cash flow ratio and a low debt to equity ratio. In case of opportunities, eBay has the ability to raise their debt and remain in sound financial shape.
eBay currently trades at $51 a share and a TTM P/E of 26. Forward P/E is closer to 18. Depending on how the battle for mobile payment plays out, and with it the profitability of eBay's future, the stock will fluctuate in price.
At $51 a share and up to approximately $56, as matters stand now, I estimate this to be an investment with above-average returns. Keep in mind that the volatile near future makes this stock a less than attractive pick as a typical buy-and-hold investment.
Conclusion
The reason I think the stock is currently undervalued is that the sound e-commerce business lays a foundation under the stock price while the PayPal business is a 'hidden' or at least an underestimated asset that once it takes off, could be a strong driver of the stock price.
At the same time, eBay's strategic maneuvering into a position to get access to vast market data might give their e-commerce business that seems more fairly priced, an interesting edge.
If PayPal fails in a big way, I estimate the stock is going to lose 65%-85%.
If the e-wallet space becomes fragmented with PayPal growing at its current rate, the stock price will not move substantially, but if PayPal ends up dominating the e-wallet space in the future, this stock has the potential to become one of those rare home runs.
Disclosure: I have no positions in any stocks mentioned, and no plans to initiate any positions within the next 72 hours.
Business relationship disclosure: As an online publisher I receive advertising compensation from Google, Amazon and eBay. My business with eBay or Google is not substantial, but Amazon is important to my publishing business. I'm compensated for products sold through their affiliate program. I believe my familiarity with these companies helped me understand them and write this article but did not bias me.