It's been an exciting couple of months for investors in solar companies. The market leader in the U.S., First Solar (NASDAQ:FSLR), has absolutely crushed all expectations as it has jumped from the $20s in March and April up to the mid $40s. Other U.S.-based solar companies have also been performing well as SolarCity Corp (SCTY) and SunPower Corporation (NASDAQ:SPWR) rose substantially in April, though without a doubt FSLR is the star performer. Even Chinese-based solar stocks such as Yingli Green (NYSE:YGE), Trina Solar (NYSE:TSL) and Suntech (NYSE:STP) have been running up lately as the entire solar market is generating excitement.
Looking through the recent 1-month charts of all major solar stocks, we can see that each stock had a substantial spike on the April 9. This was the day that FSLR management announced very bullish 2013 financial guidance, and being that FSLR is the largest solar company on the market, this not only had a huge bullish effect on FSLR, but on all solar stocks (sometimes this is referred to as a "sympathy play," when a smaller stock benefits when a larger stock in the same market does well). Prior to FSLR management making very bullish predictions for the year ahead, FSLR had already experienced significant growth (revenue had grown every year since 2007) and I would consider the fundamentals to be reasonably strong, as profitability had been achieved and cash reserves were high. On the day FSLR management announced its financial guidance for 2013, it was also announced that FSLR had acquired TetraSun, a move that would further increase revenue.
I believe FSLR management's bullish predictions were driven primarily from a belief that the solar industry would continue booming in 2013, after 2012 was a massive year for the industry. The Solar Energy Industries Association (SEIA) (which I consider to be a highly reputable source) released its 2012 solar market insight report on March 14, and it's staggering how Photovoltaic (PV) installations had grown by 76% over 2011 (we can also see that U.S. share of global installations also increase substantially):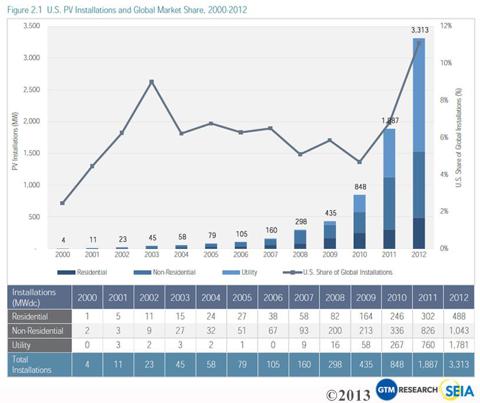 The growth of the solar industry in the U.S. has been largely assisted by government subsidies, with the majority of Americans (according to a 2011 survey by Kelton Research) continuing to support the solar industry and being in favor of subsidies. In 2012, California remained the No. 1 state for solar installations, followed by Arizona, and New Jersey. But as healthy as FSLR's forecasts may look, and even taking into account how solar installations have surged recently, there are still quite a few considerations that FSLR investors (and investors in any solar stock from now on) ought to take into account:
Most recently, the Master Limited Partnerships Parity Act (MLP bill) seems to have generated a lot of buzz and excitement for solar stock investors, as the bill passing would be highly advantageous for solar companies. Rhone Resch of the SEIA says that the MLP bill is an "important step toward leveling the playing field between clean, renewable energy and long-entrenched energy sources in America, by providing the solar industry with access to private capital in the same manner enjoyed by the oil and gas industry for almost 30 years." But at this stage, it's unclear whether the bill will pass. According to Benzinga, Hearing Pacific Crest says the MLP bill is "not a game changer" and "likely won't pass".
Solar instillation costs across all markets have been falling, with a year-over-year average national price decline of 26.6% according to the SEIA (though costs vary greatly between states and projects). Lower prices, largely as a result of increased competition, have been highly beneficial for consumers and businesses undergoing solar installations and have led to higher installations taking place, but they have naturally put a dent in the margins of solar stocks like FSLR.
Solar energy still has serious competition in the form of shale gas and coal, which remain at low prices. The "shale gas revolution" remains a fierce topic of debate as some believe that shale gas will completely transform the energy sector, while others consider it a bubble about to burst. Either way, it will have an impact on the demand for solar energy.
FSLR's earnings guidance is still quite wide (earnings per share is forecasted to be $4 to $4.5 in 2013, $2.5 to $4 in 2014, and $4 to $6 in 2015) and though solar installations have been booming, there is a great deal of uncertainty as to what the numbers will be in the coming years. I am reminded of GT Advanced Technologies (GTAT), which had made very strong predictions for its future a couple of years ago, only to see its business and stock decline substantially (GTAT is also involved in the solar industry, though it's quite different from FSLR). It goes without saying that management expectations do not compare to real results.
Are Solar Stocks Currently Overvalued?
Being that FSLR was trading in the mid to high $20s before FSLR management announced its estimates, I am inclined to believe that FSLR is overbought in the mid $40s (such an increase represents an increased market cap of roughly $1.5 billion), but I have no plans to trade it. I am also highly reluctant to make any predictions regarding solar stocks in future, or on where the solar industry is headed.
Disclosure: I have no positions in any stocks mentioned, and no plans to initiate any positions within the next 72 hours. I wrote this article myself, and it expresses my own opinions. I am not receiving compensation for it (other than from Seeking Alpha). I have no business relationship with any company whose stock is mentioned in this article.