The stock market has enjoyed a relatively placid 2013 in terms of price action, despite some domestic and overseas political drama, with the major story being new all-time highs in the Dow and S&P 500. Last week marked the first time that sellers have taken control although it now looks like bulls have once again asserted themselves. I gave some reasons that I believed being bullish was appropriate for the short term in this article.
However, my longer-term view is less sanguine about the economy and market's direction although I have no idea when the trend will exhaust itself. Some reasons for this belief stem from the artificially low interest rates, lack of progress on dealing with the underlying issues that created the crisis, and historically elevated profit margins in a low-growth environment. Another reason to be wary of initiating long term positions at these levels stems from Warren Buffett's crude but effective valuation model which I will be discussing in this article.
Buffett has used this to make calls on the market in the past, most recently in October 2008, with his famous article in the New York Times, "Buy American. I am." His valuation model essentially compares the total market cap of companies to GNP.
Below is a long-term chart showing both figures and we see that instances where total market cap exceeded GNP have not coincided with great long-term equity results. It is also equally important to note and pertinent for today's market that liquidity and sentiment can enable stock prices to overshoot and levitate for years. Therefore, I don't think this is alone enough to get bearish on the markets although I do think it is enough to realize that the risk/reward ratio has shifted over the long term.
(click to enlarge)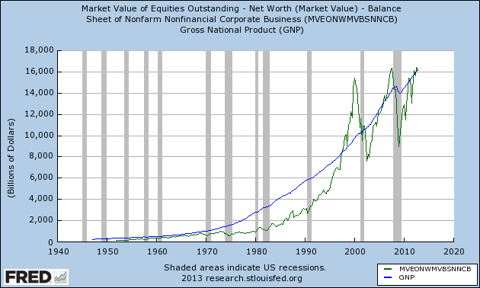 Below is a chart of the ratio from Gurufocus.com, which currently sits at 105%.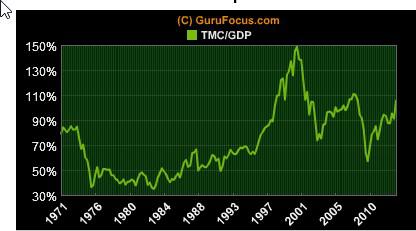 "For me, the message of that chart is this: If the percentage relationship falls to the 70% or 80% area, buying stocks is likely to work very well for you. If the ratio approaches 200% - as it did in 1999 and a part of 2000- you are playing with fire." - W.B. Fortune, 2001
As we see we are well above the levels in 2008. However, I think most market participants are significantly more bullish today than back in 2008 on almost every timeframe. We are inching towards the levels seen at the 2007 highs, yet we are far below the levels of 2000. I don't think those levels ever will be reached in our lifetimes as that was a unique time in history. I do think that with the unprecedented amounts of liquidity entering the market that it is certainly possible we exceed the exuberance of 2007.
Conclusion
With the S&P 500 and Dow Jones Industrials Average barely below their all-time highs, I felt it was important to take a step back with a longer-term perspective. In contrast, the higher beta Nasdaq Composite and Russell 2000 are further below all-time highs.
Comparable ETFs for these indexes are the SPDR S&P 500 ETF Trust (NYSEARCA:SPY), SPDR Dow Jones Industrial Average ETF (NYSEARCA:DIA), PowerShares QQQ Trust, Series 1 (NASDAQ:QQQ) and the iShares Russell 2000 Index (NYSEARCA:IWM).
My interpretation of where we are in terms of valuation based on Buffett's model is that this is not the time to be exuberant about stocks. Instead, we should focus on managing risk. At the same time with the market floating higher on massive liquidity, it is not wise to fight the trend and swear off long positions. The ideal compromise in this scenario is to recognize that gains made during this period are more due to liquidity, exuberance, and "the fear of missing out" and thus more prone to being reversed.
My favored image for describing the market's path is that of a pendulum swinging between extreme pessimism and extreme optimism. Ideally, we should be bullish at one extreme and bearish at the other extreme. Of course, this is much easier in theory than reality. If anything, more people are bearish at times such as October 2008, and more bullish when stocks are overvalued such as now, as price has its inevitable impact on psychology. I think this valuation model is one tool that can provide us with insight as to where we exactly are on this continuum.
Disclosure: I have no positions in any stocks mentioned, and no plans to initiate any positions within the next 72 hours. I wrote this article myself, and it expresses my own opinions. I am not receiving compensation for it (other than from Seeking Alpha). I have no business relationship with any company whose stock is mentioned in this article.