Broadcom Corporation (BRCM), with a market cap of $19.96B, is a global semiconductor solution for wired and wireless communications, providing system-on-a-chip, and software solutions. Broadcom continues to benefit from strong smartphone/mobile device sales, whereas BRCM's chips provide short-range wireless connectivity in Apple (NASDAQ:AAPL)'s iPhone and iPad, as well as Samsung's Galaxy line of mobile devices. Apple and Samsung contribute for more than 30 percent of BRCM's sales, which was helped by stronger iPhone sales.
Strong Revenue and Profit
BRCM posted Q1 revenue of $2.01B, up 9.7 percent from the year-earlier period and beating analysts' expectation of $1.91B. BRCM reported net income of $191M (33 cents per share), up from $88M (15 cents per share) in Q1, 2012. Excluding one-time costs, BRCM earned 65 cents per share, beating analysts' estimate of 56 cents per share. Solid results were due to strong demand for wireless base band and connectivity chips. The management also sees sequential growth ahead in broadband business. BRCM expects Q2 revenue of $2.02B-$2.18B, beating analysts' average projection of $2.05B.
Cash Position and Margins
For Q1, cash flow from operations was $388M. The cash and marketable securities balance at the end of Q1 was $3.93B, reflecting dividend payment of $63M and stock repurchases of $107M in the quarter. Q1 non-GAAP product gross margin was down 20 basis points from Q4 to 52%, negatively impacted by increased mobile and wireless mix offset by one-time benefit to non-standard costs. On the other hand, Q1 GAAP product gross margin was down 10 basis points from Q4 to 49.4%. For Q2, it will be the last quarter for the income from the Qualcomm (NASDAQ:QCOM) agreement of $43M. The management expects Q2 GAAP and non-GAAP product gross margin to be down roughly 0.5 point, driven principally by mix and the non-recurrence of the non-standard costs benefit in Q1.
Analysts' Calls and Estimates
On April 24, 2013, Goldman Sachs reiterated a buy on BRCM and raised its price target to $40.00 (from $38.00) after Q1 report, which showed Broadcom beat estimates on the top and bottom line. Analyst James Schneider said,
Importantly, Broadcom was able to guide to solid upside in 2Q despite weak guidance from key customer Apple and muted carrier spending trends. We believe this illustrates the strength of Broadcom's company-specific product cycles and new program ramps, particularly in the wireless market. Going forward, we expect solid growth over the course of 2013.
Analysts currently have a mean target price of $40.10 for BRCM, suggesting 14.31% upside potential based on the closing price of $35.08 on April 24, 2013. Analysts, on average, are estimating an EPS of $2.77 with revenue of $8.45B, which is 5.50% higher than 2012.
Fundamentally, BRCM's key stats will be compared with its peers in the semiconductors/integrated circuits industry, including QUALCOMM, Inc. and Texas Instruments Inc. (NYSE:TXN), to see where it stands.
| | | | |
| --- | --- | --- | --- |
| | Broadcom | QUALCOMM | Texas Instruments |
| Cap Size | $19.96B | $113.40B | $39.94B |
| Closing Price (April 24, 2013) | $35.08 | $66.00 | $36.01 |
| Beta | 1.20 | 1.04 | 1.10 |
| Revenue Growth (3 Year Average) | 21.3 | 22.4 | 7.1 |
| Operating Margin, %, ttm | 8.4% | 30.4% | 15.4% |
| Net Margin, %, ttm | 9.0% | 32.3% | 13.7% |
| ROE | 10.0 | 20.7 | 16.1 |
| ROA | 7.1 | 16.0 | 8.7 |
| Debt/Equity | 0.2 | 0.09 | 0.4 |
| P/E | 26.4 | 19.6 | 23.6 |
| Forward P/E | 11.5 | 13.7 | 17.3 |
| Projected Dividend Yield | 1.33% | 2.12% | 3.11% |
Source: Morningstar and Google Finance
Despite lower margins and returns, BRCM has higher revenue growth (3-year average) comparing to TXN with a lower debt/equity ratio. However, BRCM's Forward P/E of 11.5 is much lower than TXN's (Forward P/E of 17.3). On the other hand, QCOM continues to be the most solid company among 3 with highest margins and returns, as well as the fast revenue growth (3-year average), supported with a solid balance sheet.
Technically, BRCM is on the long-term uptrend since mid-November, 2012. After strong Q1 report, BRCM is now approaching its long-term uptrend resistance, as seen from the chart below.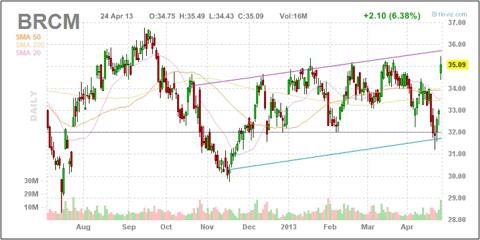 Source: Finviz.com
Bottom Line
BRCM should continue to benefit from LTE trend and strong demand for mobile devices and smartphones. With steady cash flow, solid revenue growth, and a healthy balance sheet, BRCM is well positioned for wired and wireless communications market. In the near term, it is crucial to see if BRCM can break above its long-term uptrend resistance to determine its short-term direction. Investors can also review the following ETFs to gain exposure to BRCM:
PHLX SOX Semiconductor Sector Index Fund (NASDAQ:SOXX), 7.92% weighting
Market Vectors Semiconductor ETF (NYSEARCA:SMH), 4.56% weighting
SPDR S&P Semiconductor ETF (NYSEARCA:XSD), 2.59% weighting
Note: Investors and traders are recommended to do their own due diligence and research before making any trading/investing decisions.
Disclosure: I have no positions in any stocks mentioned, but may initiate a long position in BRCM, QCOM over the next 72 hours. I wrote this article myself, and it expresses my own opinions. I am not receiving compensation for it (other than from Seeking Alpha). I have no business relationship with any company whose stock is mentioned in this article.