Never invest in any idea you can't illustrate with a crayon.
-- Peter Lynch
Beginning on Earth Day April 22, JBI, Inc. (JBII.PK) became an idea you can literally illustrate with a crayon. JBI is a clean energy company that recycles waste plastic into liquid fuels. JBI's founder and Chief of Technology John Bordynuik presented at the North American Waste-To-Energy Conference in Fort Myers, Florida this week. As part of that presentation, JBI revealed its partnership with Crayola.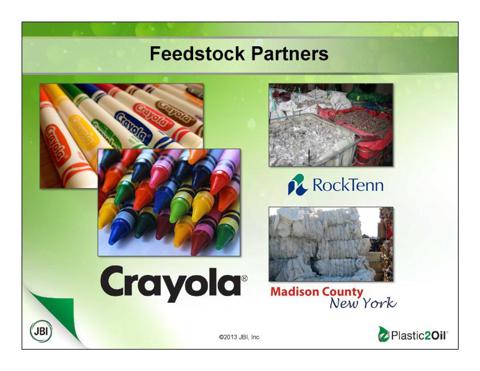 While the details of the new partnership weren't clean in the presentation, a quick search to Crayola's website reveals a new program launched called "Colorcycle." From the website:

Crayola ColorCycle - Turn Crayola Markers Into Energy!

Crayola and schools across North America are banding together to help kids understand the importance of their role in protecting the environment. That's why we are launching Crayola ColorCycle. Through this initiative, students in K-12 schools across the continental United States and parts of Canada can collect used markers and send them to a conversion facility where they will be transformed into clean-burning fuel.

ColorCycle is also a great opportunity for teachers and their students to explore eco-friendly practices. In addition to the "magic" of marker-to-energy conversion, specially developed standards-based lesson plans are available to enrich instruction and promote lively class discussions.
For JBI investors, it should be important to note that JBI isn't paying the shipper charges. Also from the website:
FedEx Ground will pick up the markers - Crayola pays all shipping charges!
JBII has developed a patent-pending process called "Plastic2Oil" (or P2O) that takes unsorted, unwashed waste plastic and turns it into consumer-ready in-spec fuel. Its process utilizes a proprietary trade secret catalyst to crack the long hydrocarbon chains in plastic similar to the way oil refineries crack long hydrocarbon chains in oil. The process runs on its own off-gas and is mostly automated leaving very little labor and energy costs to run.
As stated in my first article on JBI, the never-ending quest to find alternative sources of energy that can cleanly be made and still are economically viable has failed and will continue to fail according to the U.S. Energy Information Administration. The goal of any alternative energy concept is (or at least should be) to produce energy that cost less to make than traditional means. Nuclear, incineration, hydro, geothermal, wind, solar, etc. -- all are still too expensive despite trillions of dollars having been poured into these technologies over the years. The reason for their failures is either prohibitively high up front capital costs that bare far too little energy return (e.g. - solar and wind), have high energy costs themselves (e.g. - biomass incineration), or high labor cost (e.g. - ethanol and other biofuels).
I believe JBI may be well on its way to achieving cash flow positive status which will be full validation of its Plastic2Oil technology as a viable alternative fuel technology. Crayola's feedstock and partnership providing JBI with feedstock at its expense brings JBI one step closer to achieving its goals. In the latest conference call, JBI estimated cost per gallon of fuel to be 45% feedstock procurement and 38% freedstock pre-processing (shredding bulk plastic into smaller pieces, etc.). This 83% of the cost per gallon of fuel for normal feedstock would be mostly eliminated with Crayola crayons and markers (both made of plastic) feedstock. With $2.09/gallon in costs for 2012, that would be up to $1.73 per gallon eliminated leaving a cost as little as $0.36/gallon or $15.12 per barrel in fuel. JBI sold diesel fuel for an average price of $2.64/gallon or $110.88 per barrel in 2012.
JBI still faces risks and uncertainties. For one, it has a history of net loss and delays and as with any new technology there's always a risk that something can go wrong especially in the short term until it has a number of solid quarters of profitable operations under its belt. Permits are always a challenge and take time and money. Fuel prices themselves could take a dive and would severely hurt JBI's chances of being successful. Keep in mind in 2008 when fuel prices hit record levels that same very year oil fell to under $30 per barrel. Who's to say that won't happen again? If it does, it would have a dramatically negative effect on JBI's bottom line.
Disclosure: I am long JBII.PK. I wrote this article myself, and it expresses my own opinions. I am not receiving compensation for it (other than from Seeking Alpha). I have no business relationship with any company whose stock is mentioned in this article.