Mark Twain once said, "History doesn't repeat itself, but it does rhyme." As much as financial commentators like to proclaim that "things are different this time", they rarely are in the world of investing.
For the past year and half, the gold mining sector has been in a decline. Since September 2012, this sector has utterly collapsed. I believe right now may represent the best investment opportunity since the epic crash of 2008. This article summarizes what happened leading up to and after the 2008 gold mining crash, offering insight as to what we might expect this time around as this sector recovers.
The following chart shows what happened in 2008 to (NYSEARCA:GDX), a popular fund of senior gold mining companies. The red line is the 200-day moving average price.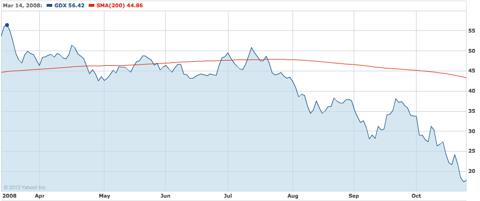 Notice that the price dropped about 70% in just 7 ½ months.
This next chart shows what has happened to GDX since its last peak in 2011. Again, the red line is the 200-day moving average price.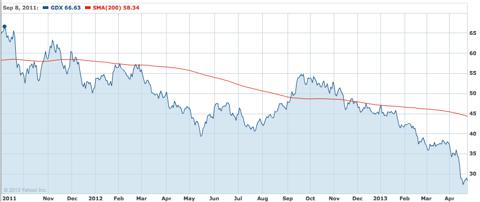 As you may notice, there are some distinct similarities in the chart patterns, especially in the final plunge phase. The main differences this time around are that timelines have been extended and the overall decline has been slightly less. This time the duration has been 19 months and the percentage drop has "only" been about 60%.
Could gold mining stocks still get cheaper in the short term? Perhaps, but I wouldn't count on it. In 2008, the entire stock market was in a free fall. This time around, we have the general stock markets near all-time highs. This doesn't make any sense and will have to be resolved with either gold mining sector increasing, the general indexes declining, or most likely a combination of both.
Now, that we've looked at the collapse, let's look at the anatomy of the last gold mining recovery. Again, we'll go back to the 2008 bottom and move forward from there. The following chart shows how the gold mining sector responded after the crash.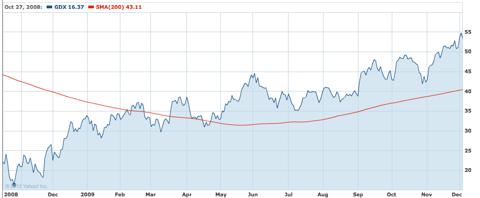 Here's a summary of what can be seen above:
On October 27th 2008, GDX set its final low. Then, in just one week, it recovered a shocking 46%.
Two weeks later, GDX appeared to be retesting its October low, but held 11% above that mark. Then, in just one week it rallied another 46%.
By December 1st, GDX had dropped again, but this time held 37% above its October low. Four weeks later, it gained 50%.
Throughout 2009, as the bull market in gold mining stocks continued, each pullback was followed by a sizable gain. In fact, GDX staged five major rallies that year of 32%, 30%, 44%, 37% and 31%.
By November 30, 2009 GDX had increased a whopping 334% from its bottom just 13 months earlier.
Are things different this time or will history repeat itself? I expect at the very least, the imminent rally in gold mining stocks will rhyme. While there certainly are some differences today, they appear to relate more to what's happening outside of the gold mining sector itself. Over the next few months, gold stocks have nowhere to go but up.
Have we seen the bottom yet? I believe so, but cannot proclaim that with 100% certainty. What I do know is that once the next gold mining rally is underway, it's unlikely to be a boring ride. It's far more likely to be an exciting rocket ride with a few pauses along the way as additional passengers climb on board.
While GDX may not see gains of several hundred percent over the next year, we're likely to see gains of at least 100% for it and its components like Barrick (NYSE:ABX), Goldcorp (NYSE:GG) and Newmont (NYSE:NEM). In the junior gold mining sector, the fund (NYSEARCA:GDXJ) is likely to increase at least 133%. The ultra-speculative gold exploration sector, represented by the fund (GLDX) is likely to increase at least 270% with some especially oversold individual stocks like Lupaka Gold (LPK) potentially increasing 380%. These upside targets may sound outrageous, but only represent these equities returning to their highs from September 2012, which is just five months ago.
As hated as gold and the gold mining sector is right now, remember how fickle the market really is and how quickly things can change. My last article, "Gold: The Recent Collapse and Approaching All-Time High" outlines how on more than one occasion in the past five years, it has taken just seven months for the world to flip-flop from hating gold, to absolutely loving it and sending its price to an all-time high. Buy low and sell high.
Disclosure: I am long GDX, GDXJ, GLDX. I wrote this article myself, and it expresses my own opinions. I am not receiving compensation for it (other than from Seeking Alpha). I have no business relationship with any company whose stock is mentioned in this article.