RenaissanceRe Holdings Ltd. (NYSE:RNR) is a Bermudian catastrophe reinsurer founded in 1993. The outline of this piece is rather simple. RenaissanceRe has had a stellar performance as an underwriter and as a stock. But with the influx of capital in the catastrophe market making catastrophe pricing slightly more perilous (pun intended), and with the strong advance in price of the stock, we are looking at a stock which compares unfavorably with other reinsurers in terms of price and diversification.
Is it a short? Definitely not - due to the fact that (1) the huge cash inflows of reinsurers could support the price through repurchases, (2) the bond portfolio creates a powerful backstop to a share price decline, and (3) counting dividends, it has compounded book value at some 20% annually since inception [1] - and besides you'd be betting on a future mega catastrophe which is a twisted way to get your kicks.
The stock market has been buoyant about the stock and perhaps we ought to ask ourselves whether we missed the boat: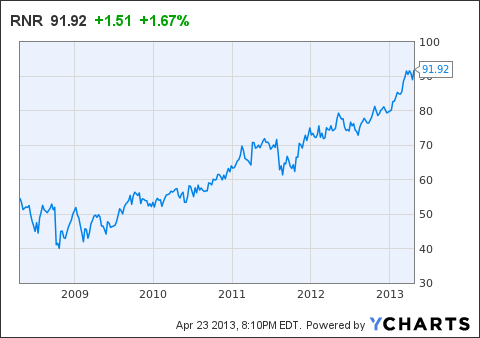 Let's take a look at RenaissanceRe.
Operating History - Reserves
RenaissanceRe has successfully reserved itself over the past decade: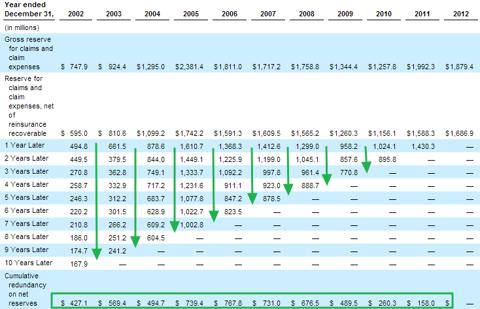 The second line from the top above is the estimated future losses (net of reinsurance recoverable from third parties), and the following portion of the table describes loss development. It is read as follows: "In 2006, estimated losses were $1.59 billion. As of December 31st, 2012, management has re-estimated losses downward to $823 million." This means that RenaissanceRe has reserve more than enough for future losses. That suggests it might continue to do so in the future.
This has importance when we look at tangible book value. Current tangible book, as of December 31, 2012, stands at $3,440m. However, since the corporation's reserves are a liability, which is subtracted against assets to arrive at the tangible book figure, we can imagine that future favorable reserve development would make book value understated. For instance - and this is not a recommended procedure - if we take the average of the cumulative redundancy from above, it is about $500 million. The implication is that, if management is over reserving as it did in the early part of the exhibit, then perhaps book value is understated by some $500 million. Obviously, that is meant to be illustrative since that blunt of an adjustment is probably inaccurate.
But the above reasoning is probably why the corporation sells at around $4.1 billion, which is $600m more than book value. Now, I believe the corporation is to report profits for Q1 2013 next week (May 1st), which means that the December 2012 book value figures are already outdated. With the earnings release on the way, we are talking about a corporation which is probably selling at book [2]. The premium to book is very possibly an accounting illusion. Very well, let us assume that it is basically selling with a P/B of 1. That tells us that we would be unlikely to get a capital gain from the corporation simply returning to book value - a capital gain opportunity which still abounds amongst RNR's competitors. Let us look at RenaissanceRe's earnings.
Operating History - Earnings
As a reinsurer, specifically as a catastrophe reinsurer, we see a lumpy earnings record: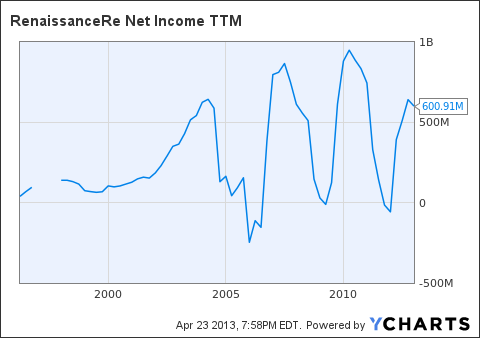 Therefore, we must use average earnings if we are going to think about earnings properly. The math works out to an average GAAP earnings over the last ten years of about $260m - which works out to a PE of 15. Therefore, while 2012's earnings were strong, even with super storm Sandy, it is greater than the average earning power since we will likely see infrequent future years of zero or below zero net income.
Risk Diversification
About 76% of 2012 premiums came from catastrophe reinsurance - a business where currently capital capacity is outstripping demand. As Global Chief Underwriting Officer Kevin O'Donnell stated on the most recent conference call:
"In the U.S. at January 1, demand was flat while the supply of reinsurance capacity remained abundant. The more competitive market led to fewer opportunities to grow than we saw a year ago. Rates were generally down modestly, though loss-affected accounts were up by as much as 20%. It's important to note that despite the market becoming more competitive, there is still good business to be written, so we're able to keep the book relatively flat.

In the past, I've talked about how we think of the U.S. market being divided into three categories: attractive return, average return, and low return, and we're still finding enough business in the attractive return bucket to construct very efficient and attractive portfolios of U.S. cat business. Outside the U.S., reinsurers showed an increased appetite for property business. This increase in supply was not balanced by an increase in demand, and as one would expect, the net result was moderate rate reductions."
While RenaissanceRe was able to "keep the book relatively flat" the above trend could have larger long-term consequences if it continues. Increased risk management through other devices besides reinsurance - such as sidecars and securitized cat bonds - is an increasing phenomenon (one in which RenaissanceRe has taken part). This trend will not ruin the profitability of the industry, in my opinion, but it will continue to have an impact which makes future pricing conditions difficult to predict. For instance, perhaps future "hard" markets (markets with advantageous pricing for reinsurers) will be shorter in duration, like the rapid price "softening" seen after the introduction of sidecars subsequent to Katrina. Indeed, O'Donnell continues:
"It's worth bearing in mind that although price reduction in the international book was modest, we shouldn't underestimate its significance given that it's off a much less well rated base. Despite having good access to the business, we made the decision not to grow based on rate adequacy and portfolio considerations." [Emphasis Added]
This is basically a confirmation that extra capacity is biding down risk prices, making rates inadequate. Therefore, this presents a problem when it comes to growing the business. On the same token, I should note, one solution to this problem is the returning of capital to shareholders - most likely though buybacks. This also was discussed on the call, with buybacks being a major possibility despite the corporation's premium to book (or pseudo-premium to book as noted above). In any case, capital may be underutilized currently and that will likely continue as the search for yield remains in effect until interest rates rise.
Conclusion
First, this corporation book value is likely understated and it is possible that the stock is not at a premium to book. Second, the most recent period's earnings are not indicative of the average, which works out to about $260m. That $260m is only an earnings yield of some 6.2% on the current market price.
Therefore, this is a solid insurer in the sense that I would think its bonds and preferreds are safe - but in terms of an investment in the company's common stock there are other reinsurers which are equally strong but offer substantial upside when valued from earnings or from a book value (the main example I have been using is PartnerRe (NYSE:PRE)). And, of course, with 76% of RNR's premiums coming out of the catastrophe market, the pricing pressures could create a future strategy problem if future rates are believed to be inadequate. Given that, I would also try and seek out a more diversified reinsurer.
Notes:
According to a recent investor presentation (pdf).
The calculation underlying this assumption would be something like: tangible book at December 31st, 2012 + plus Q1 2013 earnings + adjustment for strong reserving practices.
Disclosure: I have no positions in any stocks mentioned, but may initiate a long position in PRE over the next 72 hours. I wrote this article myself, and it expresses my own opinions. I am not receiving compensation for it (other than from Seeking Alpha). I have no business relationship with any company whose stock is mentioned in this article.