This article sets out to determine the real growth potential of Apple (NASDAQ:AAPL) in the smartphone market of Greater China (Mainland China, Hong Kong and Taiwan), the biggest smartphone market in the world in terms of volume.
We know after the Q2 earnings announcement that Apple's revenues declined from the previous quarter in every region except China, where they made about $8.8 billion (including retail sales):
Q2 2013 Revenues by Region ($m) | Source: Apple
| | | | | | |
| --- | --- | --- | --- | --- | --- |
| Region | Q2 2013 | Q1 2013 | Q2 2012 | QoQ | YoY |
| Retail | 5241 | 6441 | 4399 | -19% | 19% |
| Americas | 14052 | 20341 | 13182 | -31% | 7% |
| Europe | 9800 | 12464 | 8807 | -21% | 11% |
| Greater China | 8213 | 6830 | 7637 | 20% | 8% |
| Japan | 3135 | 4443 | 2645 | -29% | 19% |
| Rest of Asia Pacific | 3162 | 3993 | 2516 | -21% | 26% |
| Total | 43603 | 54512 | 39186 | -20% | 11% |
There were no new product announcements (they vaguely referred to some"really great stuff coming in the fall") or any other exciting news (apart from the 15% dividend increase announcement and the $50 billion additional buyback). However, CEO Tim Cook did emphasize the numbers achieved in China. In his own words: "We had our best quarter ever in China." The following graph shows what Mr. Cook is talking about: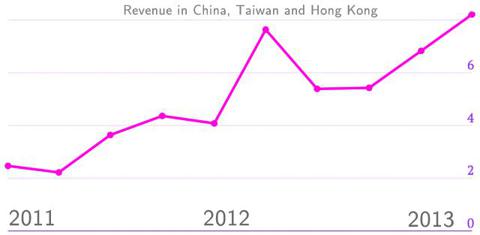 Although Apple currently has only a tiny proportion (4.2%) of the total market size, revenue has increased steadily in the past 2 years. At first sight, this seems like a puzzle: as we will see in the next sections, the average price per device has decreased at least 10% in the same period, while the market share is estimated to have contracted from 7.1% to 4.2%. Since both average price and market share are decreasing, where is Apple getting the additional revenue from?
The answer relies in the massive growth the Chinese smartphone market experienced in the same period: an amazing 100% increase in demand size.
China will continue growing but will Apple continue growing in China?
The question is not irrelevant. China is the biggest smartphone market in the world, measured in terms of volume: every quarter, more than 24 million smartphones are shipped. Furthermore, the smartphone penetration rate is still quite low (15%-20%) as compared to the U.S. and Europe. This suggests that as China continues adding solid economic growth year after year, we will continue observing accelerating demand. Pretty soon China will be number 1 not only in terms of volume. This suggests that if Apple manages to obtain a significant market share in the next quarters, China could become a catalyst as strong as the successful launch of a new innovative product.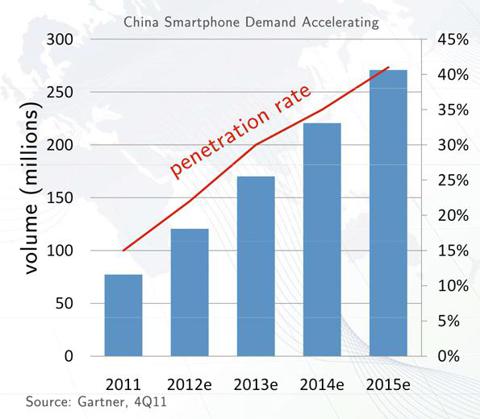 Long story short, we do not believe that Apple will conquer this market because of 5 reasons:
1) The demand for smartphones in China is extremely price elastic
Like most emerging economies, China is Android territory. And the main reason why Android has 90% of the market is because it is cheap. Android handsets are approximately two-thirds cheaper, while an iPhone's average price is 4523 yuan ($725.25, or about 9% of the PPP GDP per capita), the average price of an Android handset is just 1393 yuan ($223.36, 2.5%).
Even though the price for Apple handsets has been decreasing, the difference in average prices between iOS and Android is simply overwhelming.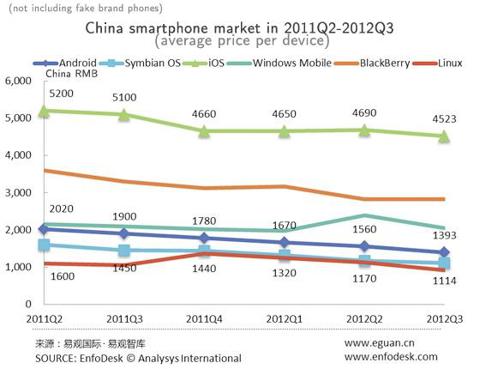 It is a huge difference for a Chinese middle class consumer. Why would a white collar employee in his 20s, with an average monthly income of $600, spend more than a month's salary buying an iPhone, when the cheapest Android smartphone is priced at 500 yuan ($79)?
In this way, price was the main driver for Android's fast growth in the past 3 years.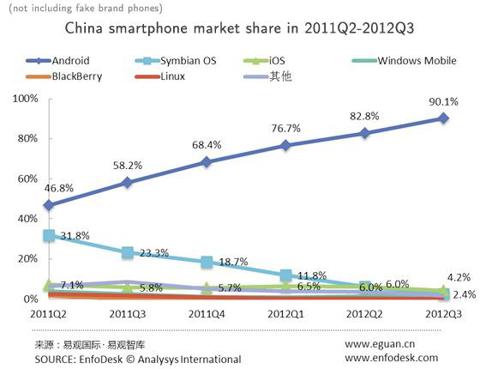 Unless Apple introduces a very cheap device in its product portfolio, we think this trend will not be reversed.
2) China Mobile (NYSE:CHL)
So far Apple has not reached a deal with China's largest mobile service provider, China Mobile, who has over 700 million customers. We understand that there has been some movement on this front. For example, China Mobile will spend 41.7 billion yuan this year to develop 4G (TD-LTE-4G) technology, probably in anticipation of the iPhone arrival under its network. But obviously, 4G technology will benefit not only the iPhone, since there are plenty of 4G Android devices available in the market. 4G in China is a massive opportunity for everybody, not just Apple.
Because a deal with China Mobile is very complex due to political, technical and commercial issues; most analysts don't see this happening in the near future. For example, IDC's analysts Bryan Ma said it would be "reasonable" to expect a deal between the two companies in late 2013 or early 2014.
3) Seasonality
The $8.8 billion Apple made in China include a seasonality effect, because the period includes both late December (launch of the iPhone 5) and the Lunar New Year holiday. This quarter is well-known for strong sales in China.
4) Increasing the number of Apple stores in the region is not the solution
Mr. Cook announced that Apple would double the number of Apple stores in the region, seeking to tap the large number of "first time buyers" in China by making the iPhone 4 more attractive. The emphasis on the iPhone 4 is certainly smart. But "not having enough stores" isn't the main issue here. The main challenge is to make Apple products more affordable to the average Chinese consumer, either by introducing a cheap device or by providing cheap plans in cooperation with local carriers.
It is not news that Apple has been severely criticized by the Chinese media (from Chinese Central Television to celebrities and bloggers) since mid March. Apple has been accused of discriminating against Chinese customers with its after-sales service. This forced Mr. Cook to apologize in the website ("We recognize that we have much to learn about operating and communicating in China"). There are many versions about what caused the media attacks to occur in the first place, but we can be sure that this is definitely not good for sales.
The Bottom Line
Unless Apple introduces a cheap device, we do not think that they will be able to continue gaining significant market share in China. Considering that China had a 26.5% share of the global smartphone market in 2012 and that this proportion will continue growing in the next 3 years, the inability of Apple to sell its products in China has direct consequences on the generation of future cash flows, long term value and, ultimately, stock performance.
Final Remarks
Rate: Neutral
Disclosure: I have no positions in any stocks mentioned, and no plans to initiate any positions within the next 72 hours. I wrote this article myself, and it expresses my own opinions. I am not receiving compensation for it (other than from Seeking Alpha). I have no business relationship with any company whose stock is mentioned in this article.