In my last article, "AudioCodes: A Pullback to Remember", I told my Seeking Alpha followers that AudioCodes has a unique, high barriers to entry mobile strategy that could make its shares worth a multiple of today's price. Last week, AudioCodes (NASDAQ:AUDC) in a stealth move reported that they acquired MailVision, a mobile VoIP/Session internet protocol (SIP) software shop that specializes in providing over-the-top (OTT) solutions to service providers (NASDAQ:SP) and enterprises. This strategic move increases my confidence level on this strategy materializing, making AudioCodes a future mobile play which could conservatively make it shares worth $10 - $15 per share has made me start to buy more shares here. With the smartphone market expected to grow from 1.12 billion in 2012, to 2.9 billion by 2016, I believe that AudioCodes has solidified its superior offering and declared its intention to be a serious player in the disruptive mobile VoIP market which could be bigger than the initial launch of VoIP itself back in 2000.
At these attractive prices you should start to pay attention and do your own research.
MailVision Acquisition:
Last week, AudioCodes filed its 20-F annual report where it was required (no press release) to announce and give the details of its acquisition of MailVision. Prior to the acquisition, AudioCodes owned 26% of MailVision along with a small amount of its bonds. The terms of the deal are as follows: AudioCodes forgives $200k in loans, assumes $1.3 million in debt and will pay the two seasoned founders on a revenue earn out in the future at its discretion. First of all, MV has revenues as it includes Telefonica Brazil (NYSE:VIV) and UPC - Europe (Liberty Global Media) (LMCA) as clients. Secondly, the company still retains the two founders, Zeev Lerner (CEO) and Diego Besporan (CTO). Lerner and Besporan are devoted and inspired veterans of the VoIP software world. They previously founded ZNAX Communications which they then sold to BOS in 1996 and immediately started MV in 1997. Their staying power and commitment to MailVision for 15 years and its long-term relationship with AudioCodes speaks volumes to their belief that they have a high barrier to entry product offering, otherwise the venture would have been wrapped up a long time ago. I believe the company is delaying the closing past earnings so it doesn't have to give any color or flavor on the excitement the company expects to deliver to the market in the future. In fact, I think the product it has on the market will be worth close to an additional $150 - $200 million ($4 per share) after AudioCodes integrates the two groups and adds whatever special enhancements or tailor fits it to specific partners or customers they may have up its sleeve.
Mobile VoIP:
In 2009, MailVision and AudioCodes released its own OTT solution VMAS, I believe that they were ahead of their time as the SPs ignored the whole OTT threat as just that. Today, with the proliferation of smartphones, we all use some type of OTT service as they are cheaper, easier and hipper to use. In a recent survey, 79% of operators said they believe OTT clients on smartphones are a threat to traditional SMS and voice-based services. This is the reason you should follow my lead on the AudioCodes acquisition of MailVision being much more important than meets the eye. I see SPs/enterprises coming to AC for their Mobile VoIP OTT solutions as the MailVision's founders were out in front of the market back in 2009 and will undoubtedly show they're ahead of the market in the very near future. AudioCodes has been an enterprise friendly company since inception with a small carrier backdrop, but this product is one that can align the two with AudioCodes being the prime beneficiary. As a result, AudioCodes could land large licensing deals with large players like Liberty or Telefonica that would bring strong software margins to AudioCodes bottom line.
Service Providers Fear Over The Top:
According to Ovum Research, "OTT VoIP will cost the global telecom industry $479 billion in lost cumulative revenues by 2020, which represents 6.9 percent of cumulative total voice revenues." mobileSquared in a recent report stated that "In 2012, OTT users accounted for 2% of the total global mobile subscription base, this number will rise to 18% in 2016." Service providers understand that a trend in the rise of OTT services will result in a reduction of traffic over their networks. Service providers have to decide how they are going to combat this threat, will they buy or partner an existing OTT player, create their own OTT solution or block them. I believe blocking them will not work as users will simply switch networks. That leaves joining an existing OTT player or creating their own OTT solution. I believe that AudioCodes with its strong VoIP engineering house and its 20 years of enterprise relationships under its belt is uniquely placed to benefit from the attentions of the service providers. The company is run by a brilliant engineer in the VoIP market and it just acquired two software heads that are on par with him making this small capitalization company fundamentally strong in R&D and business development. I believe that these great minds are about to potentially solve one SP or many SPs OTT fears if how I see the VMAS product is close to correct. I'm calling for one of the SPs to make a run for the company if AudioCodes delivers the product they showcased at mobile World Congress 2013 back in February.
Telefonica Acquired Jajah:
In early 2010, Telefonica (NYSE:TEF) integrated Jajah into its business after acquiring it for $207 million in late 2009. In a statement the company said:
"Jajah services are used in around 200 countries by millions of people and are integrated into everyday instant messaging and social media applications, as well as through its own JAJAH direct-to-consumer offer. Its business solutions, which provide seamless IP communications services across the organization, regardless of location or device, are used by thousands of small-to-medium and large enterprises across the world."
Jajah's CEO stated that one of the keys to success was hiring an Israeli engineering team, "The company hired great engineers (Jajah's Israel team was "killer", says Healy. The company originated in Vienna, later moved its headquarters to Mountain View, but kept its engineering team in Israel)."
In January, 2012 MailVision announced the appointment of a new head of R&D Shuky Barbash. Mr. Barbash was previously the VP of R&D at Jajah.
We have all heard the saying birds of a feather flock together. Jajah and MailVision both have its teams in Israel, when doing my research I have found both teams to be very much connected at times. These groups are either working on a big Telefonica deal or Jajah people are just in the same field. I believe there's a business connection between the two VoIP players. To me, Jajah reflects what MailVision and AudioCodes have been working on. Telefonica acquired Jajah for $207 million which would be the equivalent to $5 per share for AC. I remind you, eBay (NASDAQ:EBAY) paid 2.5 billion for Skype only to sell it later for $8.5 billion to Microsoft (NASDAQ:MSFT). In essence, AudioCodes has a Jajah, Skype, Viber type solution and now it's time for it to monetize this unique asset with a large SP like UPC - Europe or AudioCodes may have to go after it itself and make this asset worth 200 million, 400 million or more in the next 2-3 years.
Institutional Holders:
Over the past year, institutional investors pulled out of AudioCodes as its legacy business created a perception of overall weakness. It was during this time that I decided to accumulate shares and share my bullish short, medium and long term thesis with the Seeking Alpha community. It was also during this time that, AudioCodes' CEO Shabtai Aldersberg knew his core competencies within the company and most importantly in the industry. Despite the legacy shortfalls, he knew the core networking business would grow by greater than 15%; he understood the direction VoIP was moving in, namely to mobile and he most definitely knew it was prudent and advantageous to enact a 10% company buy back along with cutting operating expenses by 10%. As a result, the company is now profitable and ready to start attracting large institutional investors in the next 30 - 120 days as perception has begun to change about the company within the industry. Institutional holdings for AudioCodes (subtracting the one 10% holder) is only at 9% of the shares outstanding. One reason I expect to see large institutional investors move in to the stock is that the industry's top-tier player Acme Packet (NASDAQ:APKT) was recently acquired by Oracle (NYSE:ORCL) for $2.1 billion (6.5 times revenues). I would expect a portion of this money freed up to institutions to see its way to the only two publicly traded companies left in the sector AudioCodes and Sonus Networks (NASDAQ:SONS). It would take only one or two medium sized funds to break out the shares to 52 week highs as the company shares are very tightly held and trade at historic lows on valuation. The industry is set to spend $379 billion over the next five years in Unified Communications services and it'll become clear AudioCodes is using all its resources and engineering know how to leverage the massive mobile VoIP market opportunity in the short & medium term with an OTT solution that should bring top and bottom line upside.
Chart: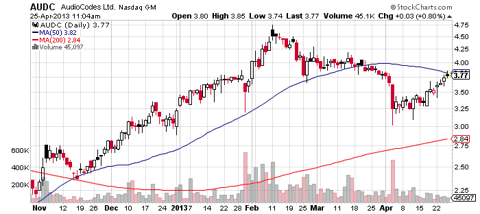 In looking at the daily chart we can see that the recent pullback from the highs at $4.75 found a floor at $3.00 and made a base at $3.25. It broke out of this base at $3.50 and is ready to make a run to recent highs at $4.75. The chart has been shaping up nicely with this being the second leg up on its bull run. If management gives a bullish update on its MailVision acquisition and intentions match my theory then a move to $7 or $8 can happen very fast.
Valuation:
This company is cheap, no matter how you slice it. The company sports $1 per share in cash, a profitable business model and a secular growth trend in unified communications and mobility that could be bigger than the initial growth curve of VoIP itself. AudioCodes today, has relationships with Microsoft Lync, BroadSoft (NASDAQ:BSFT), ShoreTel (NASDAQ:SHOR) Vonage (NYSE:VG), Avaya, Genesys and a host of other distributors to keep the shares at a relatively minimal downside while you await news from the company on its mobile strategy. The company trades at less than 1 times sales and less than 10 times 2014 earnings per share. Mobile alone can attract massive institutional buying where the stock would be cheap until $7-$8 per share on the right mobile customer win or partnership. In my opinion, the company has got to prove the business is profitable this quarter and next, and provide a stronger outlook for the 2nd half of 2013. When that is achieved, the shares will have seen the last of the $3 levels and the belief that AudioCodes is not sleeping on mobile will wake up the larger holders that are in Sonus and that were in Acme Packet to a very cheap stock with the potential of a massive run to come.
Conclusion:
The world is becoming more connected every day. This morning, I heard on the news that 30 more subways stations in NYC will now be Wi-Fi ready. To me, this is a microcosm of how mobile phones will be using OTT and VoIP in the future. The day will come when the world is fully connected and the need for a cellular provider is less important unless SPs take VoIP more seriously and take action on OTT. In AudioCodes you have a company that was number one in blades for gateways in the beginning of VoIP in 1999 then they were #1-2 in stepping up and building the whole gateway in early 2002 and now it's on a mission to be number one with mobile VoIP over the next five years. I say you begin your mobile VoIP investment by beginning to buy AudioCodes here.
Disclosure: I am long AUDC. I wrote this article myself, and it expresses my own opinions. I am not receiving compensation for it. I have no business relationship with any company whose stock is mentioned in this article.