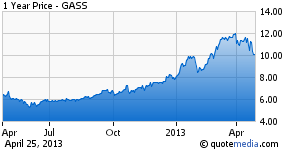 StealthGas Inc. (GASS) is a small-cap company headquartered in Greece that provides international seaborne transportation services to liquid petroleum gas (NYSE:LPG) producers and users. The company's 33 pressurized vessels carry a variety of LPG products, which are byproducts of oil and natural gas production. These products are transported in liquefied form to reduce volume and facilitate handling by ocean going vessels like those owned by GASS.
As of Thursday, April 25th, GASS was trading at $10.20 with a 52-week high of $12.10, and a low of $5.17. I believe GASS can be a $15 stock when the market recognizes its true value and here is why.
LPG Production Growth & Shortage of LPG Tanker Capacity
The nation is in the midst of an oil & natural gas drilling boom that is expected to last for years and advanced recovery methods (fracking) are helping production soar. U.S. LPG shipments rose 33% last year and annual U.S. shipments will reach 12 million metric tons by 2015, more than doubling 2012 levels. There are no pressurized ships available in the U.S., and while there is a worldwide glut of crude oil tankers, there is an acute shortage of LPG pressurized vessels that is worsening! GASS is in the process of purchasing 5 additional pressurized ships to address increased demand for LPG transport services that is being fueled by recent U.S. Coast Guard regulation changes allowing the shipping of LPG from U.S. ports.
Earnings Growth, Cash Flow, & Price to Earnings Growth Ratio
GASS's annualized EPS growth rate over the next 3 years is expected to be 81%, nearly 6 times sector expectations! GASS has a P/CF ratio of 3.6 vs. the industry average of 6.3. Generally, a P/CF ratio below 10 indicates that a company is undervalued. GASS's PEG ratio is a low 0.41 compared to the 0.99 industry average. The lower the PEG ratio, the more undervalued the stock.
Multiple Expansion
At the writing of this article, GASS was trading at 7.4x estimated 2013 earnings of $1.38 per share, and just 6x 2014 projected earnings of $1.70. A 9 multiple is reasonable for this stock given its 5 year average P/E ratio of 9.0, the industry average of 30x projected 2013 earnings, and overall market average of 14x 2014 projected earnings. There is easily room for GASS multiple expansion over the next 6-9 months.
Other Factors & Conclusion
There is concern about GASS's debt level and The Street.com just downgraded GASS from buy to hold because of debt levels, but overall analyst sentiment is "highly bullish." and the debt level is not excessively out of line with industry averages. The recent price decline following the announcement of an 8 million share follow-up stock offering to raise capital for additional ships presents an attractive entry point that just a week ago, looked long gone. For those who care, there appears to be some technical support around $8.50 if a sell-off occurs.
GASS has no publicly traded peers, so it is essentially a pure play in the rapidly expanding LPG ocean transportation service sector, and it is well-positioned to respond to the increased demand for its services.
Indications are that GASS is an undervalued company and it is not unreasonable for it to trade at 9x 2014 projected earnings by year end; producing a target price of $15. The company reports May 22nd and I am accumulating ahead of the report. That being said, as with any stock, there is the risk of capital loss, so conduct your own research and speak with your investment advisor about GASS.
Disclosure: I am long GASS. I wrote this article myself, and it expresses my own opinions. I am not receiving compensation for it (other than from Seeking Alpha). I have no business relationship with any company whose stock is mentioned in this article.