Summary: According to market lore, "sell in May and go away" means investors should get out in the spring and buy back in the fall. Lately, however, following that advice has resulted in missed opportunities. Looking at the behavior of the ten S&P 500 sectors since 2000 found that the best offense for the warmer months has been to focus on the defensive sectors -- consumer staples, health care and utilities. Add these factors to the mix: investors on edge, reasonable historic valuations and accommodative central banks. There may be more to lose by NOT being in the markets after the merry month of May.
There's general agreement that the U.S. stock market has historically performed much better from November 1 to April 30 than from May 1 to October 30. So why not go on vacation with portfolios light on equities and heavy on cash? We see four reasons why staying invested in at least some sectors of the market, if not equities in general, might make sense.
Reason #1: The 21st Century
The table below shows that in each May-October period since 2000, the equally weighted S&P 500 generated an arithmetic average 1% loss (bottom row).
Certain sectors that are associated with economic upswings have fared poorly. These include consumer discretionary, industrials, and information technology, in spite of the likes of Apple (NASDAQ:AAPL) and Google (NASDAQ:GOOG). Call it seasonality, but these sectors on average have been dead money.
Check out the winners: the conservative and defensive sectors of consumer staples, health care and utilities. (Note that geometric linking of results resulted in lower returns across the board, but with the same three sectors generating positive results.)
Many companies show above-average dividend yields and, sometimes, lower than average payout ratios. Names like Safeway (NYSE:SWY), Pfizer (NYSE:PFE) and Nextera Energy (NYSE:NEE) are on a broader list of companies with those characteristics. This list outperformed the S&P 500 by over 200 basis points through April 16, 2013.
Reason #2: Volatility Provides Opportunity
Overall, S&P returns have hit the summer doldrums, but certain sectors have whipped through more ups and downs than an amusement park roller coaster. That means ample opportunities for traders. The table below shows that action following the March/April all-time high in 2000 resulted in some serious declines. In 2008, consumer staples dropped 17% -- and that was an outperformer in a terrible market. Financials lost 41%, including many of the folks who brought you the global financial crisis. In other years, several sectors produced double digit returns.
The chart below shows that the years 2002 and 2008 contributed to most of the 2000-2012 losses. The lower chart shows that the market gained in eight of the thirteen years (green and red bars). Looking at the top graph, $1 million invested over the entire time would have left you with $774,000. But avoiding these two six-month periods would have turned your money into $1,470,000.
Also, if this is a seasonally poor period for the bulls, then short sellers must be looking forward to the next six months.
Reason #3: Overbought Does Not Equal Overvalued
In spite of the S&P 500 being technically overbought at current prices, historic valuation remains reasonable. In one sense, the Thomson Reuters 12-month forward P/E ratio stands at around 13.5 (see chart below, blue line), though above its five-year median of 12.7 in orange. Yet the current value remains below the median 14.8 from 2000 to today and also below the long term mean of 15 over several decades.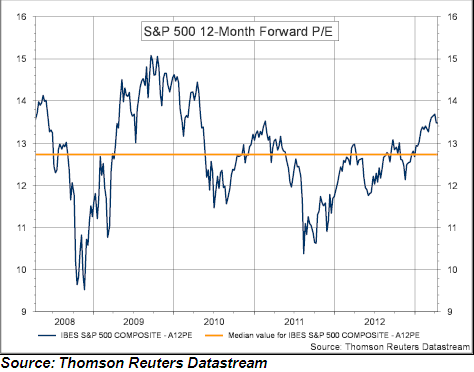 Reason #4: Don't Fight the Fed
There seems to be more talk about the fragility of the U.S. and global recovery than there is about the robustness of the economy, job creation, deficit reduction, tax reform or (fill in the blank). The Fed will probably maintain policy absent a material change in economic data, which doesn't seem to be in the cards at this point. Watching the 10-year U.S. treasury yield drop to below 1.7% from 2.0% reminds us that uncertainty lurks around the corner. Low fixed income yields may put upward pressure on risky assets such as equities.
Summary
The long awaited correction may now be underway, and if so, could value buyers and long traders be far behind, in spite of a nervous market outlook? Maybe the motto is: don't ignore the market while spreading out those beach towels.
Disclosure: I have no positions in any stocks mentioned, and no plans to initiate any positions within the next 72 hours. I wrote this article myself, and it expresses my own opinions. I am not receiving compensation for it. I have no business relationship with any company whose stock is mentioned in this article.