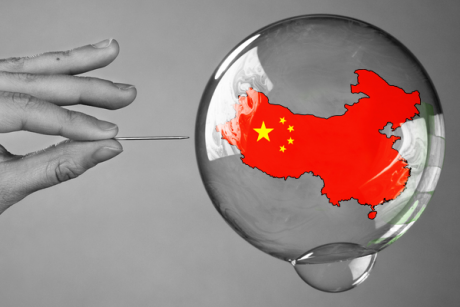 In this video famous short seller Jim Chanos delivers some pretty staggering economics statistics and quotes:
1. "I actually think it has gotten worse (Chine).
2. Credit is accelerating in China but GDP growth is still slowing.
3. In Q1 2013 new credit outstanding jumped by $1 trillion US.
4. China is an $8 trillion economy, on an annual basis that is 50% of GDP in new credit creation.
5. Globally new credit increased by $1.5 trillion, China represents two-thirds of this, yet China is only 10% of the global economy.
6. "Inexorably you can't keep growing your credit at 50% of GDP, something's going to give."
7. "There is a credit bubble that's actually not only huge, but getting bigge.r"
The slides in the video also highlight some ominous signs:
1) Worker pay increasing, less economical
2) Margins are thin, profits are down
3) Worker protests on rise
4) Factories offshoring from China
Additionally, he provides some insight into how he chooses what to short. He likes to short booms that go bust, and he looks for a very specific set of criteria. He looks for assets that are inflated due to credit expansion that do not generate enough income to service the debt. Those are the situations that result in what he calls a Ponzi finance moment. That theory is not only applicable to China. I would also apply it to gold and silver that generate no income at all, and actually cost money to store.
For another perspective, Dennis Gartman is saying buy Chinese stocks. This article however addresses what to invest in and what to avoid if China is a bubble, and an investor wants to capitalize on a potential collapse of the Chinese market.
The video specifically mentions Chinese real estate, construction, property, concrete, steel, iron ore and mining companies as fitting the theme of a boom that may go bust. On a broader scope, there are various ETFs that short the Chinese stock market.
Single Beta Short:
Proshares Short FTSE / Xinhua China 25 ETF (NYSEARCA:YXI)
Long Chinese funds targeting the sectors detailed in the video are ones to avoid. Finance wasn't specifically mentioned, but because the discussion was on a credit bubble, I decided to include it:
Global X China Industrials ETF (NYSEARCA:CHII)
Global X China Materials ETF (NYSEARCA:CHIM)
Global X China Consumer ETF (NYSEARCA:CHIQ)
Global X China Financials ETF (NYSEARCA:CHIX)
China Infrastructure Index ETF (NYSEARCA:CHXX)
Claymore/AlphaShares China Real Estate ETF (NYSEARCA:TAO)
In conclusion, whether or not China is a bubble is a point of discussion. This article highlighted investment options that should be considered, and funds to avoid if in fact China is a bubble. Investing in YXI would be a way to profit if China continues its correction, and the long sector funds listed would be ETFs to avoid, or to short. Additionally, the characteristics of the boom that goes bust theme also has relevance to gold and silver. The consequences of a financial crisis in China may also impact gold by forcing its central bank to sell some of its gold holdings.
Related Securities:
SPDR Gold Trust (NYSEARCA:GLD)
iShares Silver Trust (NYSEARCA:SLV)
Disclosure: I have no positions in any stocks mentioned, and no plans to initiate any positions within the next 72 hours. I wrote this article myself, and it expresses my own opinions. I am not receiving compensation for it (other than from Seeking Alpha). I have no business relationship with any company whose stock is mentioned in this article.