If you're a smart investor with an aversion to risk that's as strong as your lust for growth, you had better get some General Mills (NYSE:GIS) in your portfolio. As I noted in an earlier post comparing several of the larger packaged food companies, General Mills still has the potential to generate a 9% compound annual return over the next decade based on its earnings per share growth over the past decade. I'm going to show you how the company's promising international segments should make the following decade much more profitable than the last.
In case you're not already familiar with General Mills, the opening line on the company's investor relations page sums up the business in a single sentence, "General Mills has a distinguished portfolio of leading brands, including Cheerios, Betty Crocker, Pillsbury, Green Giant, Yoplait, Nature Valley, Old El Paso and Häagen-Dazs, and holds the No. 1 or No. 2 share position in growing food categories worldwide." I couldn't say it better if I tried.
The last word of the company's self description is easily the most important. General Mills is well positioned to take advantage of international markets with rapidly expanding middle classes. During the last earnings call, CEO Kendall Powell sounded almost giddy with excitement as he announced that, "On a constant currency basis, International sales are up 27% through the first 9 months of the year."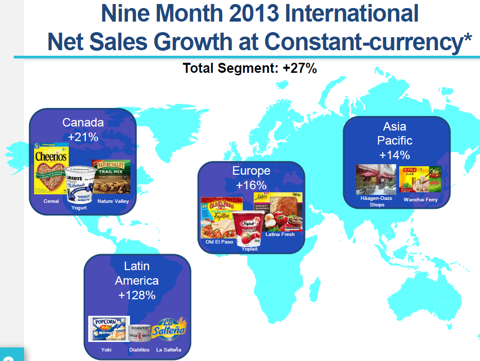 With increasing penetration into rapidly expanding international markets like China, and Brazil, nothing short of nuclear armageddon can stop this company from increasing shareholder value.
According to the company's latest 10-Q, on a constant currency basis, international sales grew by 25% year on year for the quarter and 27% YOY for the nine-month period ending February 24, 2013. During the same nine-month period, sales of $3.763B for the international segment were 28.2% of the company's total revenue of $13.364B.
The Scenarios
For a pessimistic scenario, I created a simple spreadsheet to see what kind of return to expect over the next 10 years if the company's best days were behind it. My assumptions were as follows:
International segment revenues will grow at a rate of 25% over the next four quarters, then decelerate by 5% per year for the next 10 years.
Revenue from all other segments will grow at a rate of just 1%.
Overall profit margin will remain relatively low at 9.44%.
Dividend remains stagnant at $0.38 per share per quarter, or $1.52 per year.
There are no share buybacks.
In my mildly optimistic scenario I assume the following:
International segment revenues will grow at a rate of 25% over the next four quarters, then accelerate by 5% per year.
Revenue from all other segments will grow at a rate of just 2%.
Overall profit margin will remain at the average of the past 12 quarters which is 10.44%.
Dividends will continue to grow at the current 10-year average rate of 11%.
There are no share buybacks.
The result of the pessimistic scenario is an 8.58% annual compounding rate of return, if you purchase shares at a price of $50. The results of the optimistic scenario is a 14.24% annual compounding rate of return, if you purchase shares at a price of $50.
Going forward, I'm fairly optimistic about international growth for this company for two main reasons. The first reason is its wide variety of branded products. The second is its low debt levels relative to net income. General Mills either has something for everyone, or it acquires a company that does. In 2012 alone, General Mills announced acquisitions of Yoki Alimentos in Brazil, Parampara brands in India, and a joint venture with Nestle producing breakfast cereals in Malaysia.
Unlike debt laden packaged food companies like ConAgra Foods (NYSE:CAG), General Mills has enough cash flow to take advantage of opportunities to purchase leading brands, and get its toe in the doors of foreign markets the moment those opportunities present themselves. Unlike Conagra, which stretched its balance sheet to the limits by purchasing Ralcorp last year, a maker of private brand -- or generic brand -- food items.
With respect to international revenue growth ConAgra is doing poorly enough that it didn't present a table of revenues by geographic segment in its latest quarterly earnings report, or discuss international growth specifically during the last earnings call.
Campbell Soup (NYSE:CPB), which makes soup, crackers, juice and little else, isn't having a fraction of the international success that General Mills is enjoying. On its latest 10-Q, Campbell Soup was good enough to break down net sales by segment including "International Simple Meals and Beverages," but unfortunately that segment grew by an underwhelming 1% YOY. I also noticed during its latest call, the CEO Denise Morrison elucidated her company's lackluster performance abroad, and intentions to build partnerships with Mexico. Campbell Soup is a great company, and I'll keep an eye on its efforts to expand into emerging markets. Until some positive figures related to international growth surface, I'll let General Mills feed my portfolio.
If you're a pessimist looking for a stock capable of surviving an economic meltdown and think my pessimistic scenario isn't conservative enough, consider the following. Between November 2007, and November 2009, General Mills not only managed to avoid a loss, but actually increased EPS by 45% from $1.66 to $2.41. Sure, some of that growth was due to aggressive share repurchases, but at least it had enough cash and income to do so.
About the only thing that could derail the General Mills earnings train to profitsville would be a divorce from Wall-Mart (NYSE:WMT). During fiscal 2012, the retail giant accounted for 22% of General Mills' consolidated net sales. I'm not too worried though. General Mills' essential brands ought to keep the pin in that grenade. Imagine what U.S. consumers would think of Wall-Mart, or any supermarket that didn't carry Cheerios.
In short, the future looks somewhere between good and great. Also, if yesterday's weakness in the consumer non-cyclical sector continues, an excellent entry point for General Mills just might present itself.
Disclosure: I have no positions in any stocks mentioned, but may initiate a long position in GIS over the next 72 hours. I wrote this article myself, and it expresses my own opinions. I am not receiving compensation for it (other than from Seeking Alpha). I have no business relationship with any company whose stock is mentioned in this article.