Banks howled that stress test "losses of up to 12% on commercial real-estate loans over two years" were outrageous and got concessions on this and other items.
For the past year, the best way to make money has been to bet that whatever the banks claimed was wrong. In this case, the banks should know what is happening to their commercial real estate loans. They are either right on this or just trying to do some more deception to hide the truth for a few more weeks.
There is lots of data on Commercial Real Estate but the question is which data gives the best picture of the future for bank loans. The MIT Center for Real Estate does a Transaction Based Index of Institutional Commercial Real Estate that seemed best as it looked at only investment real estate which would represent the riskier loans in banks' portfolios.
The simple chart below of the Price Indexes from the Case-Shiller 10 City Residential Home index compared to the MIT TBI Institutional Commercial Real Estate Index shows the MIT TBI index turned down 15 months after the Case Shiller Home Index and looks scarily similar. Hmm, where are those "green shoots"?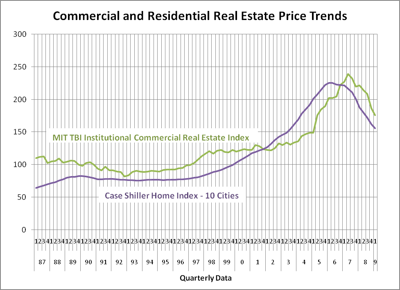 Housing is down 31% while Institutional Commercial Real Estate is down 26%. (Case-Shiller Housing data is delayed 3 months so the February number was used – March actual should be lower.)
The Really Bad News from the MIT TBI Index is that it is for actual sales of investment real estate by deep pocket institutional investors who generally are willing to hold property until they are sure they get the best deal.
MIT also tracks the supply side at which institutional investors are willing to sell and the demand side at which Institutions are willing to buy. Here is what Professor David Geltner, director of research at the MIT Center for Real Estate says:
"Potential buyers' reservation prices (aka "constant-liquidity prices") fell a record 11.9% in the first quarter. (The previous record had been -10.7% in the first quarter of 1990.) This brings the demand index down to 28% below a year ago and 39% below its 2Q07 peak. Almost equally fascinating (to me) is the extent to which the supply side, the NCREIF property owners, are holding firm in their determination not to sell into this down market, in effect not to adjust their own reservation prices to follow the demand. The supply-side index is actually up slightly this quarter, and is only down 11% since its peak (also in 2Q07). Reflecting this massive disconnect between the two sides of the market is the plummeting transaction volume, which included only 19 sales this quarter (with only a single retail sale). Nineteen sales represent only 0.31% of the NCREIF property population, smashing the previous record low sales percentage of 0.61% set in 2Q1992 at the bottom of the previous downturn. But we are now at only half that historic nadir of volume! We are at 1/10th the average volume and 1/20th the peak volume of the recent bull market. We have reached levels of illiquidity in the commercial property market that I would never have imagined possible in the 21st century."
Still looking for those "green shoots."
Just in case institution investment real estate was different than other commercial real estate, I checked the Moody's/REAL Commercial Property Price Index and found it was a little better than the TBI index's 26% decline with a drop of only 21% from its high. However, the CPPI peak was 4 months later which could explain the difference in the declines. Not much good news here.
All of this data indicates that a 12% loss on commercial real estate loans doesn't seem like a worst case scenario.
The size of banks' real estate loan portfolio can be looked up at the St Louis Federal Reserve Economic Data (FRED). The loan portfolio is about $3.8 Trillion but some of this might be Residential Homes. As Residential Homes are doing worse than Commercial real estate the 12% should be a minimum loss for both loan types. A loss of 12% on $3.8 Trillion is $456 Billion.
Can anyone figure out why Banks only need an additional $75 Billion in capital?
Disclosures: No Positions in Bank Stocks