The rumors are always ripe in the Verizon Wireless saga between 55% owner Verizon (NYSE:VZ) and 45% owner Vodafone (NASDAQ:VOD). The news has gone from a Verizon buyout of Vodafone's share to buying all of Vodafone and now back to buying out Vodafone's share.
The latest news leak is that Verizon has hired advisors for a bid of $100B for the Verizon Wireless stake. Could Vodafone with a $150B market cap really receive a $100B payout on its 45% stake? Actually the data suggests the value will be 20-30% higher.
The deal should be intriguing to Vodafone as the company would collect a ton of cash as Verizon hits multi-year highs and the U.S. wireless market reaches saturation. Vodafone could use the cash to flip into equity investments in European wireless assets that have been under pressure or emerging markets that have been weak the last year.
Speculated Deal
According to the original Reuters report, the deal includes a split of $50B in cash and $50B in stock. A deal size that is plausible, but raising $50B in cash could be troubling. As far as valuation, one needs to consider that the New Street analyst feels that Verizon earnings would surge 33% in 2014 based on that valuation.
Considering that Vodafone is not going to allow that level of accretion to be lost, this provides credence to the analysis from the Citigroup (NYSE:C) team from last month that the deal would be valued between $106B and $137B. A valuation that could include $70B to $80B in debt, $21B to $31B of preferred equity and $11B to $22B of common equity.
A deal of this size would have two major problems. First, Verizon might have issues raising that massive level of debt. An additional $70B on top of an already $54B in debt would leave the company with a staggering $124B in debt. The Citigroup analyst quickly points out the company would have a relatively low leverage of 3x the adjusted operating income level. Second, that level of equity could pressure the stock and leave Vodafone with a substantially lower deal value.
Considering the difficulties with exiting such a substantial position, the two might want to structure a form of guaranteed payouts overtime. In that manner, Vodafone could obtain $5-10B a year in payments instead of upfront cash that will be difficult to deploy or stock that will be near impossible to sell. Maybe $50B in cash and $10-15B in stock with the rest via quarterly payments similar to a dividend that Vodafone could quickly flip to investors.
Other Vodafone Assets
One of the biggest questions for investors might be what would be left of Vodafone if it sold the stake in Verizon Wireless. After all, the market only values the other assets at $45B if it were to claim $100B from Verizon.
The company has a major presence in Europe with Q1 revenue at $11B and Africa, Middle East, and Asia Pacific (AMAP) revenue hitting $4.8B. Combined the entity obtains over $64B on an annualized basis from the non-Verizon Wireless segments. See chart below.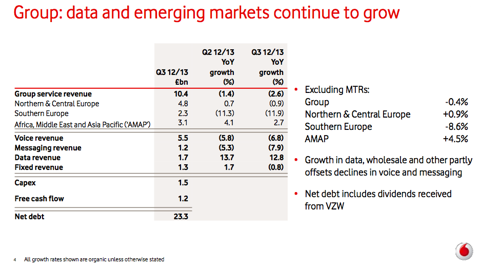 The North and Central Europe business includes operations in Germany, Netherlands, Turkey and the headquarters of the UK. The challenging Southern Europe business includes networks in Italy and Spain. The AMAP includes business in Australia, Egypt, India and South Africa (65% owned Vodacom).
One interesting concept is that Vodafone only has roughly $36B in debt that could be wiped out by the cash received in a deal. The company might be the only major wireless provider in the world that would be debt free.
On a comparative basis, Vodafone has a revenue stream outside the Verizon Wireless joint venture of roughly half of AT&T (NYSE:T). The company also has roughly half the debt load making the $205B market value of AT&T relative to double the size of Vodafone. The company could be worth as much as $100B on a stand alone basis especially as Europe recovers.
Stock Chart - 1 Year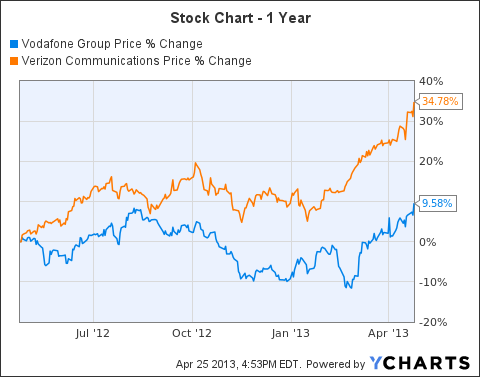 The chart provides a great example of why now might be the time to cash out. The U.S. markets have greatly outperformed the last year and are possibly peaking at the current levels. Nothing beats selling a substantial ownership position at multi-year highs.
Conclusion
The shear size of the deal makes it almost implausible that it will happen. Considering all of the news in the last few months, it is clear that Verizon has become anxious to control the joint venture and Vodafone likely wants to extract a maximum valuation.
As an owner of Vodafone, the stock continues to trade at an attractive valuation with the deal potential probably closer to $120B or even $130B making the stock very appealing. While the remaining businesses face some softness from the weak European economies especially in Italy and Spain, the company could deploy a war chest of cash to acquire depressed wireless assets in not only Europe, but also emerging markets. The deal could be the ultimate sell high and buy low transaction ever employed by a large corporation.
Disclosure: I am long VOD. I wrote this article myself, and it expresses my own opinions. I am not receiving compensation for it (other than from Seeking Alpha). I have no business relationship with any company whose stock is mentioned in this article.
Additional disclosure: The information contained herein is for informational purposes only. Nothing in this article should be taken as a solicitation to purchase or sell securities. Before buying or selling any stock you should do your own research and reach your own conclusion or consult a financial advisor. Investing includes risks, including loss of principal.