The rocketing EZchip Semiconductor Ltd. (Nasdaq: EZCH) train, which set out at the end of 2007, stopped suddenly in the current quarter, when the customer responsible for more than half its sales, Juniper Networks (Nasdaq: JNPR) engaged its emergency brakes due to the global crisis. We always know that a company that relies on one or two very large customers is in danger, but when the danger is borne out it always comes as a big surprise, since you tend to believe that the pessimistic scenario won't take place.
That was the case with Orckit Communications Ltd. (Nasdaq: ORCT), which relied only on Japan's KDDI, which completed the layout of its network, leaving Orckit with almost no sales. It was also the case with Sigma Designs (Nasdaq: SIGM), when accumulated inventory at AT&T (NYSE: T) led to several diminished quarters.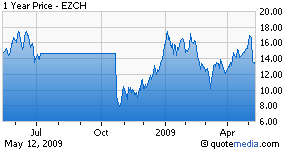 Compared to the collapses in share prices at Orckit and Sigma then, current investors in EZchip got off cheaply on Thursday, when the share price only fell 15%. I always wrote that EZchip shares are fully valued, with a market value of almost $400 million before the results. Investors assumed that each quarter, as consistently as a Swiss watch, the company will provide annual growth rates of 60-70% in sales, and much higher in profit.
On Thursday, the company reported that in the second quarter it will report, for the first time, a significant downturn in sales compared to the previous year, after Juniper decided to cut its processor purchases in the quarter.
In my opinion, there were four factors which benefited EZchip, and kept its share from collapsing on Thursday. The first is that no analyst formally follows the company, so that headlines about lowered forecasts were avoided.
The second factor is that aside from two large investors who have been invested in the company since it was a start-up, the company has virtually no large institutional investors, who in similar circumstances would sell their entire position at any price.
The third factor is the high short interest of 1.6 million shares, which led to short sellers buying shares as soon as they saw that the share was not collapsing by tens of percentage points at the opening.
The fourth factor, and possibly the most important one, is the credibility of EZchip founder and CEO Eli Fruchter. In similar cases, at other companies, CEOs explain that what happened is a one time deal and that growth will restart in the next quarter. Investors tend not to believe that, because on Wall Street they believe that if you find one roach in the house, there are surely many more that will be discovered.
In the case with Fruchter, investors believed his explanation that Juniper will return to its earlier level of orders by the third quarter already.
Regarding Orckit, it will report its results on Wednesday before the opening of trading. From the bottom reached after the disappointment in the guidance that accompanied its previous report, the share has risen more than 80%, its Tel Aviv Stock Exchange [TASE]-traded convertible bonds rose more than 50%, and the rumor mill is in full force, as it usually is before results.
There is talk of a large contract in India, small shipments to Mexico despite the swine flu scare, potential for large operations in Scandinavia, and a major upgrade at its first customer, KDDI.
The company itself is quiet, and will apparently only file its annual 20F report, which it usually is early to release, after its financial results.
Beyond rumors, I am sure that it will get significant orders from Japan, Korea, and Germany in the second half of the year, and the only remaining question is how much.
Published originally by Globes [online], Israel business news - www.globes.co.il
© Copyright of Globes Publisher Itonut (1983) Ltd. 2006. Republished on Seeking Alpha with full permission.