By Sumit Roy
Natural gas was close to unchanged near $4.20/mmbtu after the Energy Information Administration reported that operators injected 30 billion cubic feet into storage last week, within the 27 to 31 bcf build most analysts were expecting. The injection was bullish compared with last year's build of 47 bcf and the five-year average build of 44 bcf.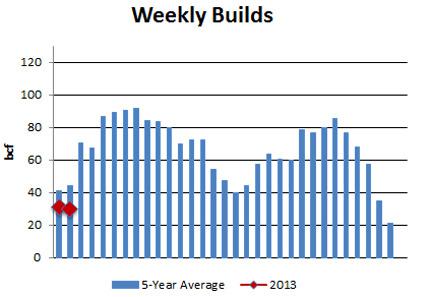 In turn, inventories now stand at 1,734 bcf, which is 814 bcf below the year-ago level and 84 bcf below the five-year average (calculated using a slightly different methodology than the EIA).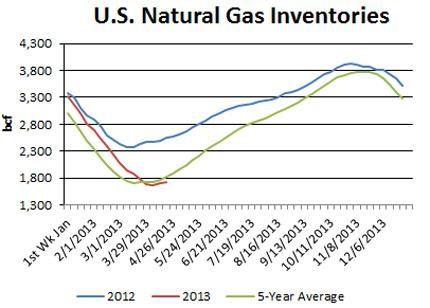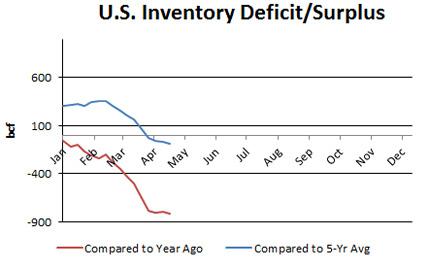 The weather last week was slightly cooler than seasonal norms. Looking forward, the NOAA's six- to 10-day outlook calls for mixed weather across the country.
For the next few weeks, weather will be less of a factor as spring is a fairly mild period in general. However, as we move into the late-May period, weather becomes an important factor once again. During the summer months, colder-than-normal temperatures are considered bearish, while warmer-than-normal temperatures are bullish for their ability to boost cooling demand.
NOAA Six- to 10-Day Outlook
Meanwhile, the number of rigs drilling for natural gas in the U.S. rose by two last week to 379, still close to 14-year lows, according to Baker Hughes.
Natural Gas Rig Count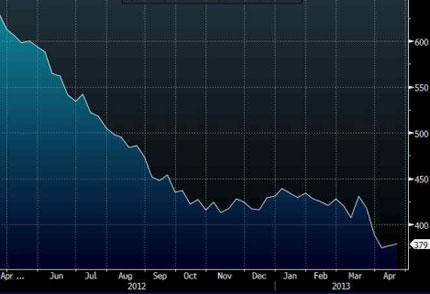 Natural Gas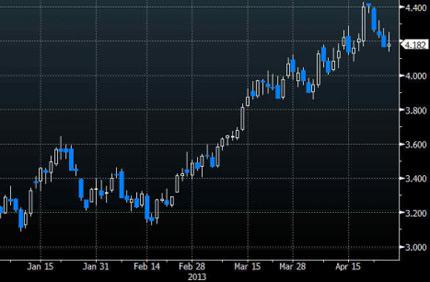 The latest inventory report from the EIA was bullish, since the deficit over the five-year average grew from 69 bcf to 84 bcf. The year-over-year deficit also grew, from 797 bcf to 814 bcf, but from this point forward we are more inclined to look at the five-year average deficit. In our view, prices will largely correlate with movements in that deficit.
If injections match the five-year average through early November, inventories will peak just below 3,700 bcf. The market may be considered "balanced" in that scenario and prices may fluctuate between $4 and $5. On the other hand, if the five-year deficit widens, as some predict, the market will be considered tighter than normal and our expectation is that prices will continue to rise.
If the long-awaited decline in U.S. production has arrived, the deficit would increase significantly -- spurring prices to rise substantially from here. Prices could jump 50% to 100% in short order amid panic buying. Natural gas has a history of quick, violent moves in both directions; thus, it is something to keep an eye on. In either case, the bias for prices remains to the upside.