As I mentioned in some previous articles, I had shorted Cliffs Natural Resources (NYSE:CLF) down to $26, but as prices fell to near-$17/share, it began to seem downright cheap. After strong Q1 earnings reported this week, Cliffs' share price has jumped 20% over the last two days -- showing that it may be down but it's not yet out.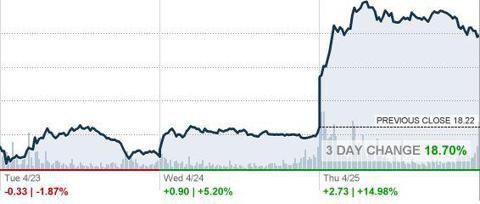 A few issues stood out on the earnings call that are worth considering/discussing further:
Sales from the U.S. iron ore business were down for the quarter (year-over-year). However, this was primarily due to a customer bankruptcy and Cliffs presented a robust full-year forecast of 21M tons.
DR-grade iron ore (which has a higher Fe content and was recently tested in a two-week run at Northshore) has the potential to differentiate Cliffs' product. The data isn't yet available on what kind of premium this could demand, but it's definitely worth keeping an eye on.
Cliffs has done a great job of diversifying its customer base over the last 5-8 years and it seems that it will continue to do so.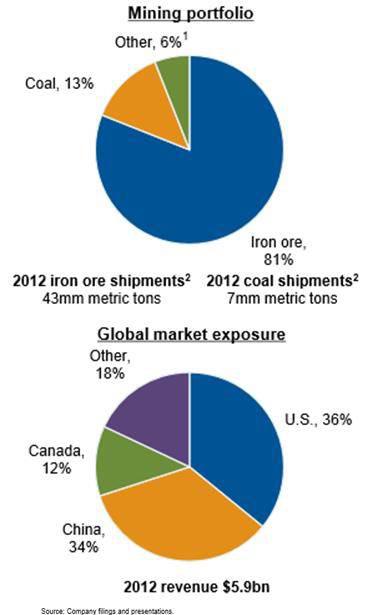 Concerns over its Eastern Canadian business still stand out. Cliffs has made some management changes, which seems to put more emphasis on correcting its business in the region. However, production was flat for the quarter (year-over-year).
Management still seemed optimistic of their efforts to optimize Bloom Lake throughput and has clearly made it a priority. This has some potential, but it'll take some time before we see any evidence.
Wabush will be able to idle the pellet plant at the end of June, which should help lower cash costs. Although, it was suggested that a "permanent solution" would need to be considered if cash costs could not be lowered to sub-$100/ton by the end of the year.
Québec's proposed mining royalty tax was a hot topic during the call and has the potential to completely undermine the Bloom Lake expansion -- particularly if the tax does not take into account a mine's profitability (which, in its current form, it does not).
Little mention was made of the Ring of Fire chromite potential. I won't belabor this point as it has been covered in detail in a joint article with jimmy11.
Another hot topic that was only briefly touched on was the potential global supply/demand imbalance projected for the next few years. Somewhere in the range of 300M tons of supply is forecast to come online in the Pilbara by 2015. While the Chinese have shown a strong interest in continuing to diversify their supply, it'll be interesting to see how much they are actually willing to pay for this.
Unfortunately, it seems that we'll have to wait for answers to many outstanding questions that will significantly impact Cliffs' future. Of specific interest to me is the future of Cliffs' Eastern Canadian mines and the potential for DR-grade pellets. But with a strong, steady baseline in its U.S. business, Cliffs has the potential to turn the corner.
Disclosure: I have no positions in any stocks mentioned, and no plans to initiate any positions within the next 72 hours. I wrote this article myself, and it expresses my own opinions. I am not receiving compensation for it (other than from Seeking Alpha). I have no business relationship with any company whose stock is mentioned in this article.