In a previous article, I wrote about EXCO Resources (XCO) and the interesting nature of the stock. The stock has been hammered over the last few years with the decline in natural gas prices. Due to these low prices, the company is posting poor results as its business is leveraged to these prices. The company has made strides over the last year to cut costs and remain cash flow positive. In its most recent quarter, the company reported a loss of $269 million. Despite these troubles, some investors with great track records have been aggressively scooping up shares. The chart below shows the rough trajectory of XCO over the last 3 years.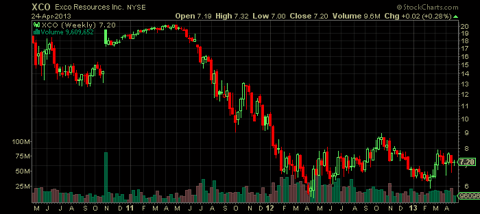 Smart Money
The presence of these investors and their massive bets that the company will be able to turn things around is a reassuring sign for longs that the interests of equity holders will be defended. Obviously, the worst case scenario is that the equity base would be wiped out in a restructuring. The fact that investing legends like Howard Marks, Wilbur Ross and Prem Watsa have put significant funds accounting for large portions of their portfolio is one factor making this scenario less plausible. In one sense, we are piggybacking off their due diligence.
I wrote of the monster position in XCO for Marks accounting for about 5% of his portfolio with 37 million shares. Prem Watsa of Fairfax Financial who has been called the "Canadian Warren Buffett" recently increased his holdings significantly to 4.9% of XCO stock, accounting for 2.9% of his portfolio.
Wilbur Ross owns about 32 million shares of the stock, much of it purchased at higher levels. While both Watsa and Marks are deep value guys, Ross is a turnaround specialist. He has managed to do well in similar situations where the entire industry was troubled by structural issues in the coal, steel and financial sector. I believe that he can recreate this success in the natural gas sector.
Natural Gas Prices
Another bright spot for XCO is that natural gas prices have continued to rebound. I think that the biggest long term factor, above all, is the price of natural gas. If natural gas prices continue to rise, all the company's problems will naturally resolve itself. Commodity producers go up multiples when the underlying commodity enjoys a lasting bull market.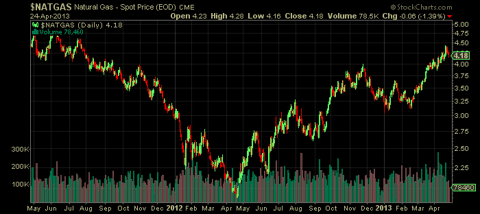 Despite natural gas' rise over the past year, the share prices of many natural gas producers have not displayed the typical leveraged relationship between commodity and commodity producer. Companies such as Encana (NYSE:ECA), Devon (NYSE:DVN) and Chesapeake (NYSE:CHK) have not rallied as much as I thought they would given a double in natural gas prices. Below is a chart showing the relationship between XCO and natural gas: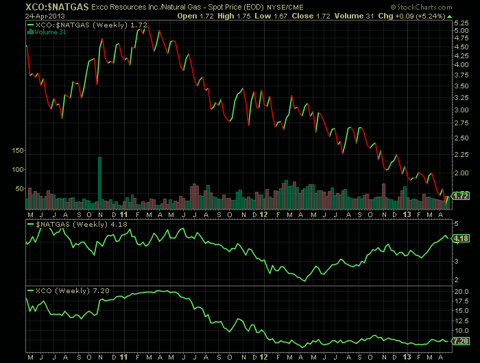 I think this relationship bears watching. The spectacular gains will come with outperformance.
Conclusion
I believe that these two factors make XCO a compelling buy. The stock is basically in the middle of its 52 week low and high. It is currently giving an opportunity to get in at levels close to that of the "smart money" that I discussed which is heavily and aggressively long the stock.
Nonetheless, there are certainly concerns with the stock which can be gleamed from a quick glance at the most recent earnings reports. It has been bleeding money, a lot of money for a company with a $1.5B market cap. I am betting that these issues have been priced in at these levels given its underperformance against the S&P 500 SPDR ETF (NYSEARCA:SPY) and United States Natural Gas ETF (NYSEARCA:UNG) over the past years. I believe that at some point there will be rotation into this sector and XCO will benefit.
Disclosure: I am long XCO. I wrote this article myself, and it expresses my own opinions. I am not receiving compensation for it (other than from Seeking Alpha). I have no business relationship with any company whose stock is mentioned in this article.