By Jason Napodano, CFA
Acadia Pharmaceuticals' (NASDAQ:ACAD) stock continues to trade below cash value despite the recent positive collaboration on pimavanserin with Biovail (BVF). Besides Biovail, Acadia has new relationship with the Michael J. Fox Foundation and Meiji Seika Kaisha, Ltd, as well as an existing collaboration with Allergan (NYSE:AGN). Less the cash burn in April, Acadia currently has over $70 million in cash on hand, with a market value of only $60 million.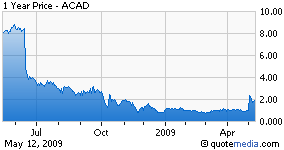 The market is assigning no value to pimavanserin, and therein lies an opportunity. We are optimistic on pimavanserin in PDP. The phase II data was strong, and the fact that several patients have remained in the open-label program now for over four years is highly encouraging.
The high transition rate into the phase III open-label program is also a very good sign. We think pimavanserin works, and the drug has $200 million potential in this indication.
Future upside to Acadia can come from the successful development of pimavanserin in ADP or other neurological indications such as schizophrenia. We remind investors that besides the $30 million upfront payment, Acadia can earn $160 million in potential development and regulatory milestones for PDP and ADP, another $45 million in potential development and regulatory milestones for additional indications such as schizophrenia, and $160 million in potential sales related milestones.
We believe that Biovail is an excellent commercial partner for Acadia. We note that a few days after the Acadia transaction, Biovail acquired the U.S. Wellbutrin XL rights from Glaxo (NYSE:GSK), so the company is clearly making a strong push into the CNS market.
We see $3 as fair value. This is nearly 100% upside from the current level. We are not opposed to buying the name at this level, however, we rate the shares a 'Hold' based on risk and a lack of near-term catalysts.
The phase III PDP data is not expected until the end of the third quarter 2009. We encourage investors to stay tuned because positive phase III data in PDP has the potential to send the shares far above our $3 target.