I last wrote about Nokia (NYSE:NOK) on March 26, 2013, when the stock was at the same price it is at today, suggesting that the sum of its parts continues to be worth far more than the current market price of the stock. After looking at the results from last quarter, I continue to believe this is the case.
Nokia Siemens Network:
This division continues to be the main driver of value for the company and it is constantly overlooked by weak performance in the devices and services business, which contributes far less to the bottom line. It is typical of the market to obsess about the smartphone business because the market continues to be enamored with Apple (NASDAQ:AAPL) and with the "cool factor" of smartphone devices, despite what is already a mature business and what is far less material to the value of NOK. Investors in NOK need to be patient, though, and understand that eventually the value surrounding the NSN division will emerge.
Nokia Siemens Network, aka NSN, typically has its weakest quarter in Q1. This past quarter, it saw net sales drop from $3.8 billion to $3.7 billion, a drop of about 4% on a constant currency basis. Excluding divestments of businesses not consistent with Nokia Siemens Networks' strategic focus and the exiting of certain customer contracts, Nokia Siemens Networks' net sales were approximately flat on a constant currency basis in the first quarter of 2013 compared to the first quarter 2012. More importantly, in my opinion, is the fact that non-IFRS operating margins were 7.0%, non-IFRS operating income was $255 million, and the NSN division contributed $273 million in cash flow in the quarter.
Side Note: Non-IFRS results exclude intangible asset amortization, other purchase price accounting related items and inventory value adjustments arising from (i) the formation of Nokia Siemens Networks and (ii) all business acquisitions completed after June 30, 2008. For Q1 2013, non-IFRS results included $83 million of intangible asset amortization and other purchase price accounting related items arising from the formation of Nokia Siemens Networks and the acquisition of Motorola Solutions' networks assets.
What is NSN's value?
In determining the valuation of this division, I prefer looking at the valuation of Ericsson (NASDAQ:ERIC), this division's closest competitor. ERIC currently trades at a market cap of $38.5 billion and it had sales of $30.2 billion in 2012. Operating profits were $2.45 billion and net profits were $1.67 billion. Operating margins and net profit margins were 8.11% and 5.53%, respectively. Below is a chart that compares the two: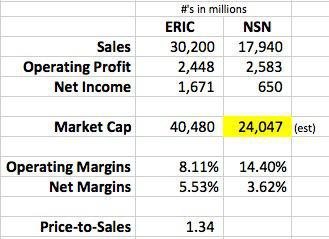 I used the price-to-sales ratio for ERIC in assigning a value of the NSN division. While NSN's operating margins are higher (Q1 2013 margins were 7.0% but these margins were lower than the 14% achieved in 2012), it had lower net margins as a result of high interest expenses. In using the same price to sales multiple, I arrive at a valuation of $24 billion for the NSN division, of which NOK owns 50%. So on the open market, it's reasonable to expect that this division could be worth up to $12 billion. I'd rather be conservative, though, and will assign a multiple that is only 80% of that of ERIC, or $9.6 billion for NOK's share of this joint venture.
Devices & Services:
This division continues to operate right around breakeven. It posted a non-IFRS operating margin of 0.1%.
HERE division:
This division consists primarily of the mapping technology assets in its wholly-owned subsidiary, Navteq. This division continues to underperform, posting non-IFRS operating margins of -2.3%. I continue to view this division as worth next to nothing.
Net Cash:
Net cash, which is gross cash balances reduced by short-term and long-term debt, amounted to $5.85 billion, an increase of roughly $160 million sequentially.
Update on Sum of Parts:
My assessment of the value of the NSN division is significant because the value of the entire company right now is only $12.25 billion. That means the entire remainder of the company is worth $2.6 billion, according to the market. This includes the following:
(1) $5.85 billion in net cash
(2) Patents that produce $600 million in annual royalty payments
(3) A Devices & Services division that has a worldwide market share of 19% and is expected to generate positive operating margins going forward, as stated in Nokia's 20-F.
(4) Mapping division (aka HERE) that owns a 90% share of the automobile market.
Even in a fire sale scenario where the Devices & Services and the HERE divisions were sold off at very cheap valuations, it is safe to assume NOK could generate in excess of $3 billion for these assets.
The Devices & Services business generated $7.0 billion in sales in 2012 and had an operating margin of -7%. However, Q1 2013 operating margins were basically 0. BlackBerry (BBRY), another distressed smartphone manufacturer operating at right around breakeven, is a good comparison in trying to determine what NOK's Devices & Services division could be worth. BBRY had sales of $11 billion in 2012, and it trades at a price to sales ratio of 0.70.
If you assumed a conservative valuation markdown of 20% and assigned this to NOK's Devices & Services sales of $7 billion, you would arrive at a valuation of $3.9 billion.
If you further marked down the HERE division to $0, you would still arrive at a combined valuation of $3.9 billion. When added to the $9-10 billion value of NSN and $5.85 billion in net cash, you arrive at a sum of parts equal to $18.8 to $19.8 billion, or 50%+ higher than the current market cap of the company.
Near-term Catalyst - NSN:
As I mentioned in my last article, I think there is a potential spinoff in the works for NSN. This would create tremendous value for shareholders as you can see above, the independent value of Nokia's share of NSN comes to $9 to $10 billion, almost the same as the entire market cap of the company.
Siemens announced in March that it is likely to exit from its joint venture with Nokia this year. The shareholder pact between the two companies expires in April 2013 and with Siemens looking to exit, there is a short-term catalyst for NOK shareholders. NOK has the right to purchase the remaining 50% stake in the joint venture; however, given its focus on cash conservation, I believe NOK and Siemens will choose to try to spin off the division in an IPO and create value for shareholders and also allow the company to focus on its other divisions. In an IPO, I think the NSN joint venture will be able to realize greater potential than staying private. If the division were to be valued at the same multiple on sales as ERIC, then NOK's share would be worth close to the entire value of its company right now in the open market.
There was a brief section in its most recent quarterly conference call that touched on this topic, but as expected, the company didn't really go into much detail:
Simon Schafer - Goldman Sachs International

Yes, thanks so much. I just wanted to follow-up on Timo's comment about NSN. I think you said, you're looking to -- you look for prudent and pragmatic ways to maximize shareholder value, but it in the same time you really emphasize that this is now self-funding and that is a very important milestone towards becoming an independent entity. So I'm just trying to understand what you've really mean by that. Does that mean on a net basis you are looking to exit the joint venture or how should we think about the strategic objectives that Nokia is trying to have for this business now?

Timo Ihamuotila - Executive Vice President and Chief Financial Officer

Okay. So thank you for the question. So first of all being in a situation, where it's financially independent in all aspects of its operations clearly gives more options to the shareholders in general. The most important thing, however is that we continue to support the NSN management in the very good execution, what they are doing, better profitability and cash flow in NSN will clearly improve shareholder value for Nokia and both NSN shareholders, but we are really saying that having NSN, which is financially strong will give us more options going forward.
Conclusion:
All told, I think the most recent drawdown in the stock is a buying opportunity. I continue to see upside to $5 and potentially higher. The sum of the company's parts is worth far more than its market cap.
Disclosure: I am long NOK. I wrote this article myself, and it expresses my own opinions. I am not receiving compensation for it (other than from Seeking Alpha). I have no business relationship with any company whose stock is mentioned in this article.