ConocoPhillips (NYSE:COP) is in the midst of a major asset rotation. It is selling many of its high-risk overseas assets and redeploying the funds in oil-rich North American plays. Due to this rotation, 2013 is mostly an investment year. However, this does not mean that ConocoPhillips is not growing its earnings and/or production. ConocoPhillips currently offers a tempting quarterly dividend of $0.66 per share. At current prices, the stock yields about 4.5%.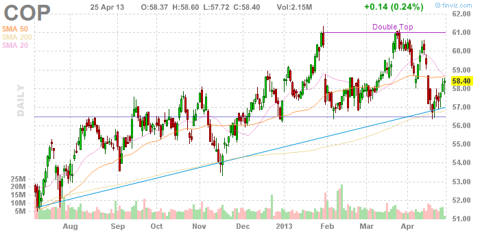 On April 25, ConocoPhillips reported its Q1 2013 results. The company posted earnings of $2.1B, or $1.73 per share, compared with $2.9B, or $2.27 per share for Q1 2012. Do note that during Q1 2012, ConocoPhillips' earnings included $0.7B from downstream operations prior to the separation of Phillips 66 (NYSE:PSX) on April 30, 2012. When excluding Phillips, ConocoPhillips Q1 2012 earnings would have been $2.2B and EPS would have been $1.72. When adjusting for discontinued operations and asset sales, ConocoPhillips' adjusted earnings were $1.8B, or $1.42 per share, compared with Q1 2012 adjusted earnings of $1.8B, or $1.38 per share.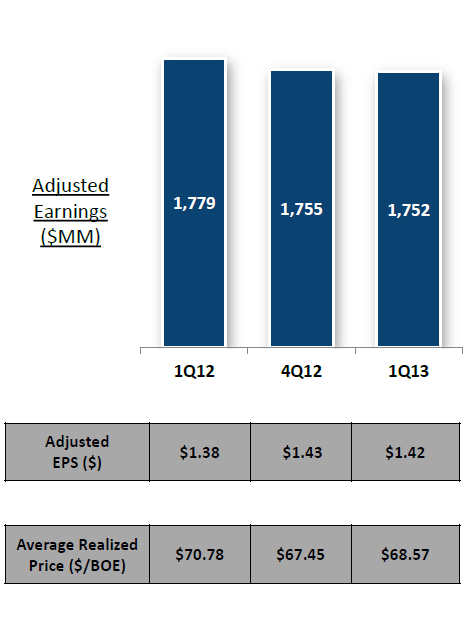 During the quarter, ConocoPhillips' production totaled 1,596 MBOED, with 1,555 MBOED from continuing operations, and 41 MBOED from discontinued operations. The biggest area of growth by far were the Eagle Ford, Bakken and Permian, which saw its combined production increase 42%, to 182 MBOED, compared to Q1 2012. ConocoPhillips also saw growth in the Canadian Oil sands, with production up 30% to 109 MBOED. In addition, ConocoPhillips shifted towards more liquids production, with liquids now 57% of production, up from 55%.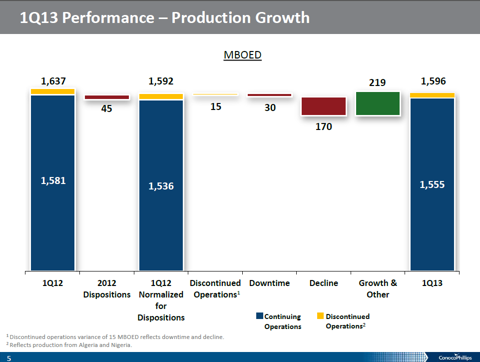 Since 2012, ConocoPhillips has announced about $9.6B in asset dispositions. ConocoPhillips is focused on selling high-risk, non-core, non-strategic assets, which are often located in politically volatile areas.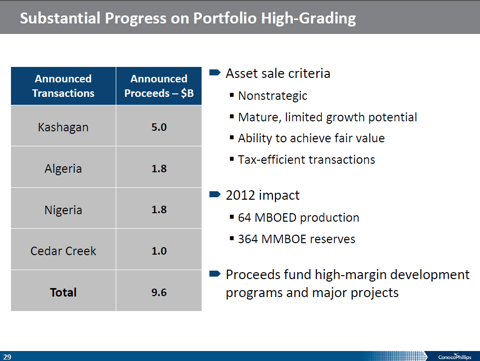 ConocoPhillips is using these funds, and reinvesting most of it in high-margin North American energy plays.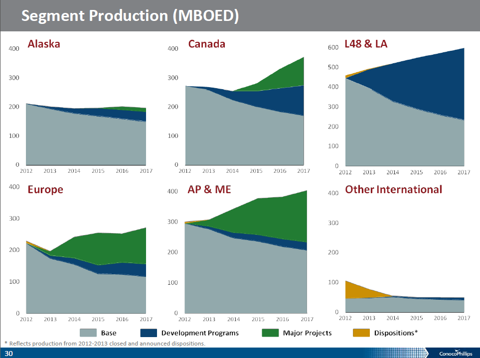 ConocoPhillips also saw its margins improve during the quarter. Year-over-year, cash margins increased 6% to $26.53 per BOE. Sequentially, cash margins improved 4%. ConocoPhillips margins improved even while its average realized price per BOE declined 3.5% to $68.57. The margin expansion can mostly be attributed to a higher liquids focus. During the Q1 2013 conference call, ConocoPhillips' CFO Jeffrey Wayne Sheets added some comments regarding margins:
So normalized for 2012 dispositions, our production from continuing operations increased from 1.536 million to 1.555 million BOE per day year-over-year, and that represents about a 1% growth in total. And this growth would have been higher were it not for the increased downtime we had in the first quarter. So while we experienced slight year-on-year production growth from our continuing operation, the composition of that production shifted, leading to improved cash margins, and the next slide discusses those cash margins.

As you can see, cash margins are growing despite a 3% drop in realized prices compared to last year's first quarter. Our cash margins grew by 6%. One of the biggest drivers in this margin improvement is the shift to higher-value liquids in our portfolio. So liquids production from crude, from NGL and from bitumen increased to 57% of production compared to 55% a year ago. So this metric is likely to evolve, though, on a quarter-by-quarter basis, but the long-term trend should be one of increasing cash margins as we shift our production towards higher-value products. And we will continue to focus on this metric since it's one of the key aspects of our value proposition.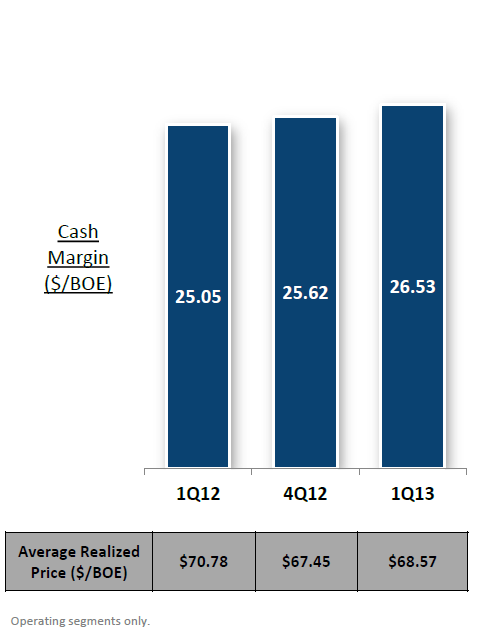 Excluding the $1B favorable impact from working capital changes, ConocoPhillips generated about $3.6B in operating cash flow. The company also received $1.1B in proceeds from asset dispositions. During the quarter, ConocoPhillips funded a $3.6B capital program and paid dividends of $0.8 billion. As of quarter end, ConocoPhillips had about $5.4B in cash.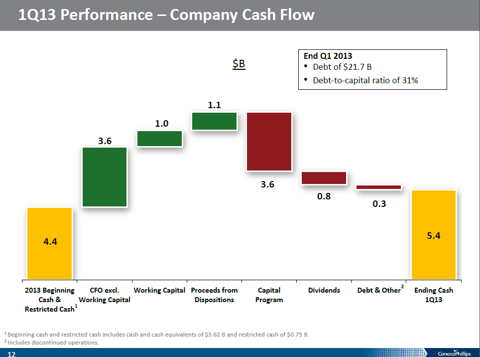 Conclusion
During the conference call, Executive Vice President of Exploration and Production Matthew J. Fox mentioned that ConocoPhillips is at an inflection point, and to expect both production and margin growth in the future:
Operationally, we're approaching a very significant inflection point for the company, the momentum coming out of 2013 should be strong. We're delivering visible results from our conventional and unconventional exploration programs that will sustain our growth into the future. And very importantly, we're delivering our operational performance safely and efficiently.

Finally, we are committed to maintaining a strong balance sheet that can provide financial flexibility. We're seeing the early stages of cash margin expansion, which should improve as our volumes grow. And as always, we'll maintain our focus on improving returns.

The bottom line is that we are committed to creating long-term value by delivering 3% to 5% growth in production and margins, with a compelling dividend. We're executing on this strategy, and we're committed to keeping you updated on our progress.
It is my opinion that ConocoPhillips is making the right move in its shift towards North American production. Not only are U.S. and Canadian energy assets more liquids rich, but they also provide higher ROE. That being said, it should be noted that both production and EPS will suffer in the short term. However, ConocoPhillips is paying you to wait with its large 4.5% divided.
Disclaimer: The opinions in this article are for informational purposes only and should not be construed as a recommendation to buy or sell the stocks mentioned. Please do your own due diligence before making any investment decision.
Disclosure: I am long COP, PSX. I wrote this article myself, and it expresses my own opinions. I am not receiving compensation for it (other than from Seeking Alpha). I have no business relationship with any company whose stock is mentioned in this article.