Pitney Bowes (NYSE:PBI) is primarily engaged in the process of leasing machines for postage printing of physical mail. The company has smaller business segments in other forms of communication as well.
Pitney Bowes' Stock Price Overview
Pitney Bowes (PBI) is up close to 38% for the year, outperforming the S&P 500 as well as companies in its peer group Canon (NYSE:CAJ) and Xerox (NYSE:XRX). However, this only tells part of the story as the company has underperformed its peers and the broader stock market over the prior three years. As you can see from the chart below, it's been pretty ugly.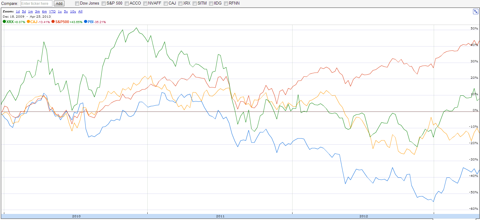 The company's dividend yield is among the highest in the US at 10.5 percent. The relatively high yield may be a sign that investors believe a dividend cut is forthcoming, as was the case with CenturyLink (NYSE:CTL) and Cliffs Natural Resources (NYSE:CLF) earlier this year.
There are some dark clouds around PBI on a number of fronts that have made the stock a candidate for shorting. Currently, short interest in the stock is close to 57 million shares, a considerable amount given the average daily trading volume is just over three million shares. That equates to over 29% of the float. Any catalyst for a short squeeze could create a substantial opportunity for further profits by shorting the stock.
Financial Highlights
The company's revenue has declined in each of the last two fiscal years, dropping from $5.3 billion in 2010 to $4.9 billion in 2012. Operating profits have remained robust despite the drop in revenue, with operating margins increasing from 12.7% in 2010 to 14.5% in 2012. This seems to indicate PBI is good at cutting costs to continue to provide their dividend. Not a good sign for the future prospects of a dividend or a company.
Looking more broadly, the company's EPS has remained relatively flat since 2008, even though there were some fluctuations in 2010 (big drop) and in 2011 (a surge).
Over the prior two fiscal years, PBI's net debt has dropped from $3.8 billion to $3.1 billion. However, the company's debt-equity ratio is significantly higher than that of its peers. There are no immediate concerns around PBI's capacity to service its debt. However, the situation could change with an upturn in interest rates.
PBI's cash flow picture points to some concerns. For one, cash flow from operations in 2012 was 30 percent lower than in 2010. Second, the dividend payout represented over 48 percent of operating cash flow in 2012, versus only 34 percent in 2010. While there is no near-term expectation of a dividend cut, the high payout ratio seems unsustainable.
The shift from print mail to email for the purposes of marketing and billing could be having a substantial effect on the future income of the company. This could be a reason why the huge short interest with no immediate rush to cover.
Technical Picture
In April 2012, the stock price breached support in the $15.00 to $15.50 band and since then has traded as low as $10.36 in December 2012. There has been an upward trend in 2013; currently PBI is trading above its 50-day and 200-day moving averages.
The stock price soared around 20% on January 31, 2013, on a positive earnings report. Following that boost, PBI has traded as high as $15.55, but bounced off this level, which is now providing some resistance.
Over the past three years, the $15.50 to $17.00 region has proved to be an area of congestion and traders can draw several horizontal support and resistance lines in the band. As such, those looking to short the stock may look at this range for potential entry points. Out of interest, $16.50 marks the 38.2% Fibonacci retracement level for the drop from April 2011 through December 2012.
The company releases earnings on April 30, 2013; activity around this time may provide some indication for the coming stock price trend. If they beat estimates, the stock could soar to relatively recent highs on a large amount of short covering. This will create an amazing opportunity to take on a short position and profit as the volatility dies down and the stock does more of the same.
Disclosure: I have no positions in any stocks mentioned, and no plans to initiate any positions within the next 72 hours. I wrote this article myself, and it expresses my own opinions. I am not receiving compensation for it (other than from Seeking Alpha). I have no business relationship with any company whose stock is mentioned in this article.