Looking For Risky Stocks In A Complacent Market
As the current cyclical bull market stretches on, with the S&P 500 Volatility Index (VIX) trading in the low teens, signaling complacency about market risk, I've been looking for stocks that might be at greater risk during the next correction. To avoid bias, I've used fundamental screens, such as stocks overvalued on PEG (price/earnings/growth) basis, and stocks rated sell by independent research firm Ned Davis Research. In this post, we'll look at a few stocks rated "sell" by another independent research firm, Zacks Investment Research. To appreciate its sell ratings, it's helpful to understand how Zacks comes up with them.
The Zacks Research Process
Zacks uses what it calls a model directed, fundamental approach in conducting its research. Zacks draws on an outside consulting firm, Macroeconomic Advisors (chaired by former Fed Governor Laurence Meyer) to develop an economic outlook, which it then uses to provide macro guidance to its analysts.
Zacks' investment committee offers additional guidance, by rating specific industries as positive, negative, or neutral. Further guidance comes from the Zacks Rank, which sorts publicly traded companies into 5 different groups based on a statistical analysis of fundamental data, such as earnings and revenue surprises, as well as insider trading data. Zacks analysts use the industry ratings and Zacks Rank in conjunction with additional fundamental analysis to issue their buy, sell, or hold recommendations. The analysts have the final decision in this process, and are able to override the quantitatively derived Zacks Rank on a stock with the approval of the Zacks investment committee, so subjective assessments play a role here.
Screening For Sell-Rated Zacks Stocks
Using Fidelity's screener, I scanned for stocks that were rated "sell" by Zacks and had market capitalizations below 20 billion (in order to spotlight some stocks that may not be as widely covered as mega caps.). Among the most widely-traded stocks in this range that were rated "sell" by Zacks on Wednesday were:
Barrick Gold (NYSE:ABX)
Boyd Gaming (NYSE:BYD)
Staples (NASDAQ:SPLS)
ArcelorMittal (NYSE:MT)
Silver Wheaton (SLW)
You can see the likely impact of the macro and industry guidance aspects of Zacks' research process in the sell ratings given to ArcelorMittal and the two precious metals stocks, Barrick Gold and Silver Wheaton: precious metals stocks have been facing headwinds recently, as gold and silver prices have dropped this year; similarly, as Seeking Alpha contributor Jeffrey Friedland noted recently, weak steel demand in Europe has been a headwind for ArcelorMittal.
Shares of another of these sell-rated companies, Boyd Gaming, jumped nearly 23% on Wednesday after the company beat revenue and adjusted earnings estimates. It will be interesting to see what effect this quarter's results will have on Zacks' recommendation for the stock going forward.
Ameliorating The Risk Of Owning These Stocks
For investors in these companies who are wary of the risks of holding them, but would rather not sell their shares at this point, we'll look at a couple of different ways they can hedge against significant declines over the next several months. To illustrate, we'll use one of these companies, Silver Wheaton, as an example. Then we'll show the costs of hedging the other stocks we've discussed here in the same manner.
Two Ways Of Hedging Silver Wheaton
Below are two ways a Silver Wheaton shareholder could have hedged 1000 shares against a greater-than-20% drop between Wednesday's close and late September.
1) The first way uses optimal puts*; this way allows uncapped upside, but is more expensive. These were the optimal puts, as of Wednesday's close, for an investor looking to hedge 1000 shares of SLW against a greater-than-20% drop between then and September 20th.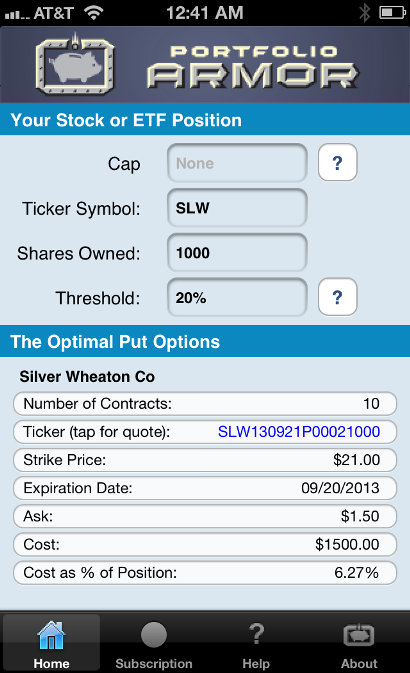 As you can see at the bottom of the screen capture above, the cost of this protection, as a percentage of position value, was a little high 6.27%.
2) An SLW investor interested in hedging against the same, greater-than-20% decline between Wednesday's close and late September, but also willing to cap his potential upside at 20% over that time frame, could have used the optimal collar** below to hedge instead.

As you can see at the bottom of the screen capture above, the net cost of this collar was 0.96%.
Note that, to be conservative, the cost of both hedges was calculated using the ask price for the optimal puts and the put leg of the optimal collar, and the bid price of the call leg of the optimal collar. In practice, an investor can often buy puts for some price less than the ask price (i.e., some price between the bid and ask) and sell calls for some price higher than the bid price (i.e., some price between the bid and the ask).
Hedging Costs For All Of The Names Mentioned Above
The table below shows the costs, as of Wednesday's close, of hedging all of the stocks mentioned above in a similar manner as SLW: first, with optimal puts against a >20% drop over the next several months; then, with optimal collars against the same percentage drop over the same time frame, while capping the potential upside at 20%. The SPDR S&P 500 ETF (NYSEARCA:SPY) was added to the table for comparison purposes. There were no optimal collars for Boyd Gaming given these parameters as of Wednesday's close.
| | | | |
| --- | --- | --- | --- |
| Name | Symbol | Optimal Put Hedging Cost | Optimal Collar Hedging Cost |
| Barrick Gold | ABX | 7.67% | 1.32% |
| Boyd Gaming | BYD | 17.8% | NA |
| Staples | SPLS | 3.99% | 3.19% |
| ArcelorMittal | MT | 6.11% | 3.91% |
| Silver Wheaton | SLW | 6.27% | 0.96% |
| SPDR S&P 500 | SPY | 0.48% | 0.43% |
*Optimal puts are the ones that will give you the level of protection you want at the lowest possible cost. Portfolio Armor uses an algorithm developed by a finance PhD to sort through and analyze all of the available puts for your stocks and ETFs, scanning for the optimal ones.
**Optimal collars are the ones that will give you the level of protection you want at the lowest net cost, while not limiting your potential upside by more than you specify. The algorithm to scan for optimal collars was developed in conjunction with a post-doctoral fellow in the financial engineering department at Princeton University. The screen captures of optimal hedges above come from the Portfolio Armor iOS app.
Disclosure: I have no positions in any stocks mentioned, and no plans to initiate any positions within the next 72 hours. I wrote this article myself, and it expresses my own opinions. I am not receiving compensation for it (other than from Seeking Alpha). I have no business relationship with any company whose stock is mentioned in this article.
Additional disclosure: I am long optimal puts on SPY as a hedge against market risk.