Looking to make smart investments with a company that has a positive reputation for environmental activism? In honor of Earth Day we ran a screen we think offers these elements for an environmentally conscious investor.
Using CSRHub, a sustainability rating database, we screened for a universe of stocks on the US market with market caps above $100 million for strong "environmental" scores above 55. Where applicable we also looked for overall scores above 50.
A bit on these scores: Data is collected from multiple sources and broken down into 4 main categories: Community, Employees, Environment, and Governance. Scores in categories are converted into a rating from 0-100 (100 = most positive). Some companies may do poorly in a single category but redeem themselves in others. For our list we used the "CRS user average" bias, which collects the average user's preference for high ratings in the categories.
Then we looked for bullish sentiment from company insiders, with significant net insider buying over the last six months equal to at least 2% of share float.
Insiders, naturally, work at the companies in question and have more knowledge about the firm than outsiders. When they put their own money on the line to purchase their company's shares, it indicates they are bullish about the firm's future, and believe current share price is undervalued.
And why six months? A 1968 study (pdf) by Professors James H. Lorie and Victor Niederhoffer showed that when number of insider buyers is at least two more than the number of insider sellers "the stock can be expected to outperform the market during the next six months." Furthermore, "insiders tend to buy more often than usual before large price increases and to sell more than usual before price decreases."
The List
Do you think insiders are right to invest in their environmentally conscious companies? Use this list as a starting point for your own analysis.
Click for an interactive version of the chart.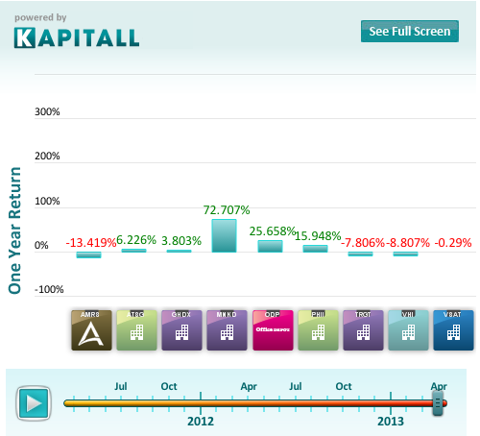 1. Amyris, Inc. (NASDAQ:AMRS): An integrated renewable products company, offers renewable compounds for a variety of markets.
2. Air Transport Services Group, Inc. (NASDAQ:ATSG): Provides aircraft, airline operations, and other related services primarily to the shipping and transportation industries.
3. Genomic Health Inc. (NASDAQ:GHDX): Focuses on the development and global commercialization of genomic-based clinical laboratory services that analyze the underlying biology of cancer allowing physicians and patients to make individualized treatment decisions.
4. MannKind Corp. (NASDAQ:MNKD): Focuses on the discovery, development, and commercialization of therapeutic products for diabetes and cancer.
5. Office Depot, Inc. (NYSE:ODP): Together with its subsidiaries, supplies office products and services.
6. PHI Inc. (NASDAQ:PHII): Provides helicopter transportation services to the integrated energy, and independent exploration and production companies primarily in the Gulf of Mexico.
7. Targacept, Inc. (TRGT): Engages in the design, discovery, and development of novel Neuronal Nicotinic Receptors (NNR) Therapeutics for the treatment of diseases and disorders of the central nervous system.
8. Valhi, Inc. (NYSE:VHI): Operates in the chemicals, component products, and waste management businesses.
9. ViaSat Inc. (NASDAQ:VSAT): Engages in the design, production, and marketing of satellite and other wireless communication, and networking systems for government and commercial customers.
*Environmental data sourced from CSRHub, insider data sourced from Yahoo! Finance, all other data sourced from Finviz.
Disclosure: I have no positions in any stocks mentioned, and no plans to initiate any positions within the next 72 hours.
Business relationship disclosure: Business relationship disclosure: Kapitall is a team of analysts. This article was written by Rebecca Lipman, one of our writers. We did not receive compensation for this article (other than from Seeking Alpha), and we have no business relationship with any company whose stock is mentioned in this article.