AT&T (NYSE:T) is the largest United States telecommunication company and offers a wide range of services including cell phones, wireless, digital television and high-speed internet. It has the largest 4G network in the United States and is the only service provider in the United States to offer 100 percent IP-based television service. In addition, AT&T launched the industry's first integrated wireless receiver, which lets customers move and watch their TV virtually anywhere in their home. AT&T reported strong financial results in its first quarter, citing strong mobile data growth and record gains from its high-speed internet segment.
Consolidated first quarter results
For the first quarter of 2013, AT&T reported a consolidated net income of $3.70 billion, or 67 cents per share, up from $3.58 billion, or 60 cents per share, a year ago. Compared with the last quarter of 2012, the company reported a net loss $3.86 billion, or 68 cents per share. The company posted operating revenues of $31.4 billion, down 1.5 percent from a year ago and 4 percent from the last quarter of 2012. At the end of the first quarter of 2013, AT&T's long-term debt was $70.7 billion, total debt was $74.1 billion and cash and cash equivalents were $3.9 billion.
For the first quarter, which ended on March 31, 2013, the company reported cash flow from operating activities of $8.2 billion and capital expenditures of $4.3 billion. That made the company free cash flow $3.9 billion. According to company's earnings report, the company expected capital expenditures for 2013 to be around $21 billion. For the years 2014 and 2015, the company expected capital expenditures of 20 billion each year.
Wireless Segment
The company posted a strong growth in the wireless segment in the first quarter due to strong growth in mobile data and strong sales of smartphones and tablets. Total revenues from the wireless segment increased 3.44 percent to $16.69 billion from a year ago. Revenues from wireless mobile data grew 21.02 percent on a year-on-year basis and 4.49 percent on a quarter-on-quarter basis, respectively. The company's first-quarter wireless margins increased by 4 percent from a year ago, as the company reported rising smartphone and tablet subscribers. Total data average revenue per user [ARPU] increased substantially by 17.02 percent, compared with last year, which clearly shows a growth in mobile data.
The company added 294,000 new wireless subscribers in the first quarter, including 252,000 postpaid subscribers and 493,000 connected devices, respectively. Over the year the company has added around 3.3 million subscribers. Its net customer additions for the quarter were 291,000, including postpaid net adds of 296,000. Postpaid net adds show 365,000 postpaid tablets added in the quarter. Connected device net adds were 431,000.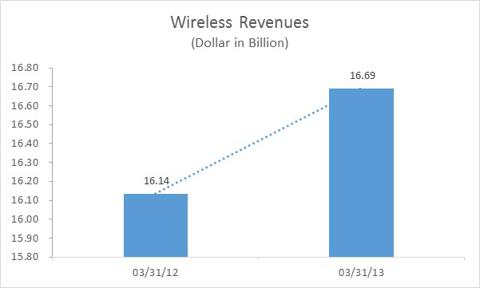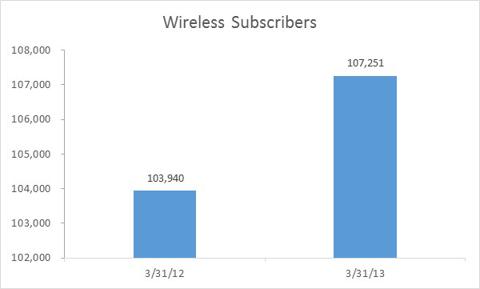 Wire line Segment
First-quarter wire line gains resulted due to strong U-verse TV and high-speed internet sales. The company reported that revenues from U-verse jumped 31.5 percent to $2.69 billion in the first quarter, compared with a year ago. The company added 232,000 new U-verse TV subscribers to reach 8.7 million in the first quarter, and added 731,000 U-verse broadband subscribers to reach 8.4 million. Broadband ARPU jumped more than 9 percent over the year. U-verse subscribers now signify more than half of wire line broadband subscribers. This means the demand for high-speed internet is growing, extensively.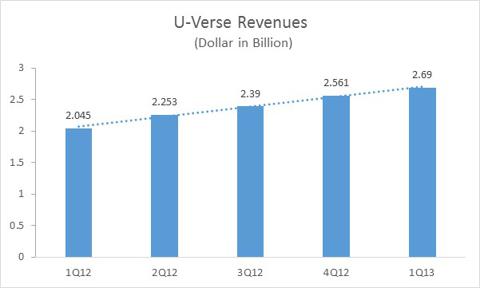 Share buyback
During the first quarter, the AT&T board of directors approved a 300-million-share buyback authorization for the third time. Since the beginning of 2012, the company has been buying back shares under two previous 300-million-share buyback authorizations. The first buyback was completed in the fourth quarter of 2012. During the first quarter, the company repurchased an additional 168 million shares for $5.9 billion under the second authorization. At the end of the quarter, about 61 million shares remained on the second authorization, which is expected to be completed in the second quarter. The company plans to invest in business operations to improve performance, which will reduce the pace of share buyback.
Latest improvements
AT&T made a deal with General Motors in which it will provide 4G LTE network services to GM's Chevrolet, Buick, GMC and Cadillac brands. AT&T announced its plan to carry HTC's new smartphone, the 4G-enabled HTC One. For its U-verse subscribers, AT&T will give ESPN network access live online at WatchESPN.com, which can be accessed on smartphones and tablets via an app. It also offers U-verse broadband customers a choice of free Wi-Fi enabled devices of their own choice including, Xbox, PlayStation, Kindle Fire or Nexus tablet.
Conclusion
AT&T's strong growth in wireless data and continued gains in U-verse, including both TV and high-speed internet, reflects its strong market position. And as many people are changing their preferences from personal computers to smartphones and tablets, the company's future prospects are optimistic. And as demand for internet television is increasing rapidly, we can see a growth in its high-speed internet in the future as well. It seems that future prospects for its TV services and high-speed internet services are high, so I suggest investors buy this stock.
Disclosure: I have no positions in any stocks mentioned, and no plans to initiate any positions within the next 72 hours. I wrote this article myself, and it expresses my own opinions. I am not receiving compensation for it (other than from Seeking Alpha). I have no business relationship with any company whose stock is mentioned in this article.