At least 16 states are looking to reduce the amount of power generated from solar and wind because of the high costs of the renewable energy and the abundance of natural gas in the United States. A number of energy companies with significant exposure to natural gas could be huge winners if this is what unfolds.
There are 29 states that have renewable energy standards at this time, and of them, 16 are looking to slash the standards in order to provide less expensive and more available energy via gigantic natural gas reserves.
If most, or all of these states go forward, it's probable more could join them, generating an even larger demand for natural gas in America, which is a very clean energy source.
Winners and Losers
The two most obvious energy company winners would be Exxon Mobil (NYSE:XOM) and Chesapeake Energy Corporation (NYSE:CHK), which are the top natural gas producers in the United States.
Here's a look at the U.S. operations of Chesapeake Energy Corporation.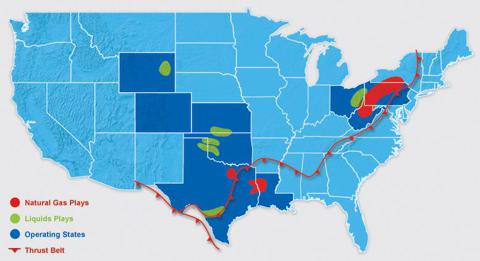 Other natural gas companies with significant natural gas production and exposure are Anadarko Petroleum (NYSE:APC), Devon Energy Corporation (NYSE:DVN), Encana Corporation (NYSE:ECA), ConocoPhillips (NYSE:COP), Southwestern Energy Co. (NYSE:SWN) and Chevron Corporation (NYSE:CVX).
Utility companies could also benefit from the reduction, as would some coal and oil companies, depending on the way changes would be worded and the extent of the reductions.
General Electric (NYSE:GE) and Siemens AG (SI) would be among biggest losers in the wind turbine segment, as would smaller companies like Vestas Wind Systems A/S (OTCPK:VWDRY) and Gamesa (OTCPK:GCTAF). I include Vestas and Gamesa because several years ago they were considered among the darlings of the wind turbine stocks by some, with some still adhering to that idea.
First Solar, Inc. (NASDAQ:FSLR), SolarCity Corp. (SCTY) and SunPower Corporation (NASDAQ:SPWR) are among solar companies based in the U.S. that could take some big hits. But any solar company with exposure in America may suffer. It will be determined by which states reduce solar and wind power requirements and by how much.
Natural gas ETFs or ETNs that could be affected are United States Natural Gas Fund (NYSEARCA:UNG), Dow Jones-AIG Natural Gas Total Return ETN (NYSEARCA:GAZ), Teucrium Natural Gas Fund (NYSEARCA:NAGS) and United States 12 Month Natural Gas Fund (NYSEARCA:UNL).
Solar and wind ETFs that may experience downward pressure are Market Vectors Solar Energy ETF (NYSEARCA:KWT), Guggenheim Solar (NYSEARCA:TAN) and First Trust Global Wind Energy (NYSEARCA:FAN).
There are many other energy ETFs that could be affected, but these are those that would be most directly impacted.
Finally, among potential losers, could be silver itself, as a growing amount of silver's industrial demand comes from the solar industry.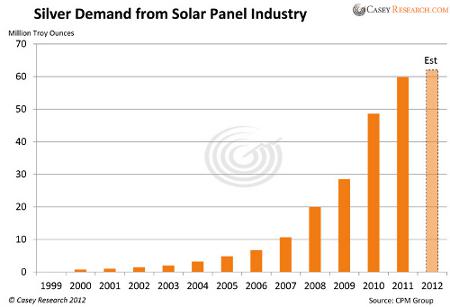 Photovoltaic panels use approximately20 grams of silver each to generate power. That's a significant amount to lose per panel if renewable energy mandates are eased.
Which States to Watch
The bellwether state to watch will be North Carolina, as it will probably be the first to address the issue and make changes, with expectations Connecticut and Colorado will follow them.
Right behind those states are Kansas, Missouri, and Ohio, which are proposing legislation to deal with the high-cost energy.
Once those actions are taken and approved, it's likely we'll see a number of states quickly follow. If that scenario plays out, the negative and positive effects on companies serving the sector could be quick.
Those companies with larger exposure to natural gas should be benefited the most, while smaller wind and solar companies with U.S. exposure could possibly get hammered. That will be determined by how many states implement the changes and how quickly they do. But the news cycle will definitely be a big factor when the first state makes the decision, as a domino effect will be assumed and expected afterwards.
As for nationally, investment by the U.S. fell to $4.5 billion last year, a 54 percent cut, according to Bloomberg.
SolarCity Chief Executive Officer Lyndon Rive sees the handwriting on the wall, saying he believes in one or two years incentives for the solar and wind industry will be eliminated.
We expect in the next year or two that state-based incentives will disappear.
How it Could Play Out
Using North Carolina as a model for what may happen, the state at this time has a bill being debated, which would cap the required acquisitions of renewable energy at 6 percent in 2015, and would eventually eliminate the requirement in 2021. The 6 percent mark is half of what is required at this time in North Carolina.
What this would do to stocks, whether impacted positively or negatively, would be to either give the share price an immediate solid push up or down when the actions are widely reported, and from there the share prices of the companies will strengthen or weaken as the dates of elimination or reduction in solar or wind mandates approach.
There's no guarantee all states will follow exactly in the footsteps of North Carolina, but it's likely it'll be close enough to assume very similar legislation. If that's how it plays out, we'll see some major movement once the investing public understands this is an inevitable scenario, with 2015 probably being the time which will have the most positive or negative impact on the respective company shares. From there it'll probably level off until the secondary date approaches.
It could be better or worse for some companies if some states decide on eliminating the mandate at one time, rather than two different times.
North American Natural Gas Demand
While waiting for this all to happen, it's worthwhile looking at the amount of North American natural gas demand out through 2040.
The chart below, from Exxon Mobil, shows that by 2040, 80 percent of demand for North America will be supplied by local unconventional sources. The remaining 20 percent will come from local conventional and LNG.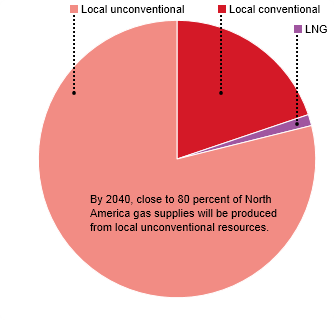 When considering the changes being proffered by the 16 states, it's an enormous amount of demand that will be added to the North America market through 2040.
Even if the states were to only cut their requirements in half over that time period, the benefits to natural gas suppliers would be enormous.
Global natural gas supplies on the other hand can be measured against projected North American demand in the graph below. Based upon percentages, North American unconventional sources will experience the biggest growth over that time period.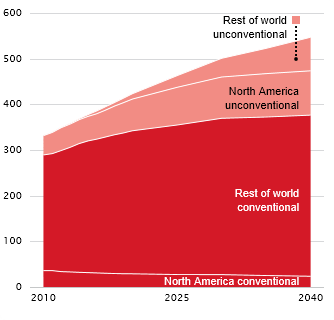 Something to consider with a company such as Exxon Mobil, which has between 14 percent to 15 percent of the production coming from natural gas, is if the States do implement these measures, that 14 percent could easily move up. It depends upon how much of that business Exxon will supply, as it will all the companies.
In the case of Exxon, gas production was reported to be down in the latest quarter, with production falling 5.9 percent globally, and 8.7 percent in the U.S. It is the seventh quarter in a row where quarterly production dropped year-over-year.
For the industry in general, there are some cases where investors are looking at the percentages of gas production in the sector as they stand now, as to how it will move the share price of specific companies. In the end it will be determined by which companies are supplying specific, individual State markets as to the positive impact of the changes.
The Other Side of the Coin
This is also something to consider with companies that will experience a negative impact. For example, if a wind or solar company mostly services a state that has no intention of changing its energy requirements, it could have little impact on the bottom line of the company. That of course would be determined overall by the percentage of production and sales a company has in a state favorable to renewable energy, against its overall revenue and earnings.
What needs to be asked is what happens when energy costs plummet in neighboring states. Will those states backing renewable energy be able to keep their citizens from demanding a change to cheaper energy? It's highly unlikely.
This is good news for suppliers of conventional energy and those companies servicing them, but bad news for renewable energy companies whose energy is still priced at uncompetitive rates.
Remaining Global Natural Gas Resource
At the present rate of usage, natural gas could last as long as 200 years, making the renewable energy play even more doubtful if the industry isn't able to drive down costs.
You can see from the graph below that unless the price of natural gas rises, the alternative energy sector faces enormous challenges in the United States.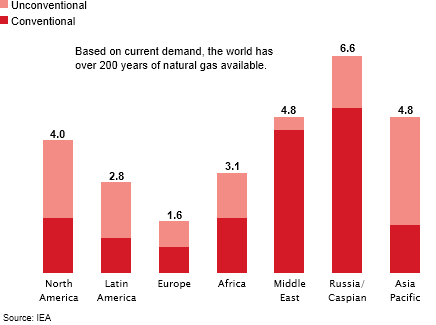 Even if natural gas usage increases and were to knock 50 years off the estimate above, nothing will change for a long time concerning natural gas, and investors will need to take the ongoing price pressure on solar and wind very seriously.
Conclusion
As to natural gas production, the idea needs to be considered as to what difference will it make if prices remain low. The answer is, in regard to States lowering renewable energy mandates, the importance of a boost in demand will drive up the revenue and earnings of a company serving those states, even if the price of natural gas were to stay the same.
Essentially that means the producers of natural gas have to do nothing but what they are doing now to get a big boost.
If there are a majority of the 16 states making that decision, and they do something close to what North Carolina is proposing, it's a huge positive for those serving those states, which will play out nicely for them over time.
One possible negative is of course a slowing in demand for natural gas, which could result in some poor quarters if the price falls and the producers have to eat the cost. That could come from warmer winters.
At the time of this writing natural gas in the U.S. is in high demand because the winter weather has been colder and lasted longer than usual.
Other than those types of temporary circumstances, the removal of the existing renewable energy mandates by a number of states will have a positive and negative impact on energy companies. Those invested in energy need to watch carefully how this unfolds.
It could go south quickly for wind and solar companies, so shorting them as states remove mandates could bring good results, as would going long on some of the companies mentioned above. Other companies with significant exposure to natural gas in the states implementing the changes would benefit as well.
Disclosure: I have no positions in any stocks mentioned, and no plans to initiate any positions within the next 72 hours. I wrote this article myself, and it expresses my own opinions. I am not receiving compensation for it (other than from Seeking Alpha). I have no business relationship with any company whose stock is mentioned in this article.