The housing market has been phenomenal, leading the way up along with financials from the depths of the market all the way up to where we stand today, near a record high for both the S&P 500 and the Dow Jones. Over the past several weeks, however, I have become increasingly convinced that the run up in the housing market and homebuilders might soon be coming to an end. Home prices in Dallas, Texas and Denver, Colorado, have already nearly surpassed their pre-crisis highs. Of course many cities such as Miami and Atlanta, places where the housing market was severely hurt, haven't rebounded nearly as much.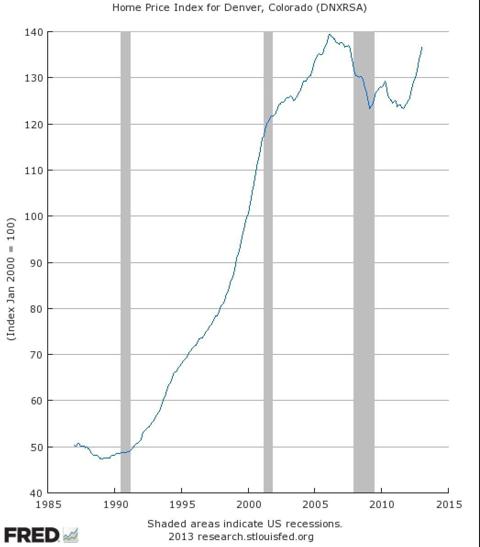 Homebuilder stocks such as PulteGroup (NYSE:PHM) and Lennar (NYSE:LEN) have doubled over the past year on the back of this generally broad housing rally. However, I believe that there are many signs that this rally could be coming to an end.
In a report released yesterday by Zillow it highlighted some of the more worrisome trends creeping into the housing market.
While home values are still experiencing above normal annual home value appreciation we are seeing signs of deceleration. Monthly appreciation, albeit positive, has been continuously getting smaller, and national home values grew by only 0.1% for the past two months. This does not come as a surprise as appreciation rates have been unsustainable, especially in some of the markets harder hit by the housing recession. First signs of deceleration in terms of low quarterly appreciation or even depreciation can also be seen among the largest metros. Among them are Washington (1.2%), Boston (0.8%), Baltimore (0%), Chicago (-1.4%), St. Louis (-1.2%), Charlotte (-0.7%), Philadelphia (-0.6%), New York (-0.3%), Cincinnati (-0.3%) and Pittsburgh (-0.2%).
Many housing bulls point to the low inventory numbers as a sign of pent-up demand. As Zerohedge pointed out, however, many formerly foreclosed homes are being bought by institutions, which plan on renting them. Colony Capital, a firm that has bought 7,000 foreclosed houses, only has a 53% occupancy rate. When you look at the big picture, it doesn't look so good.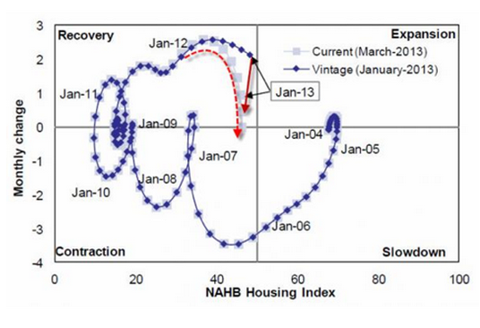 Source: Goldman Sachs via Zerohedge
The single-family rental is a very crowded trade already. As Bloomberg pointed out earlier, rents on single family actually fell by 1.9% in Las Vegas through March. Institutions have been flooding this market, especially in places like Phoenix, Atlanta, and Las Vegas. Companies like Toll Brothers (NYSE:TOL) and Lennar have expanded into the rental markets already.
Summary
I would encourage people who have made gains in Homebuilders (NYSEARCA:XHB) to begin taking profits soon. Most of these stocks are still pretty volatile, and any housing numbers miss usually sends these stocks, especially PulteGroup, down quickly. They have, however, continued their steady climb higher, but I think that the concerns I highlighted above should raise concerns for anyone heavily invested in these stocks. It takes a long time for the effects in the real market to translate to these stocks. Seeing that the housing market began to crumble in 2007, but really the stocks did not bottom until 2009. While there might still be some upside left in these stocks, the easy money has already been made, and I see much more downside in them currently.
Disclosure: I have no positions in any stocks mentioned, and no plans to initiate any positions within the next 72 hours. I wrote this article myself, and it expresses my own opinions. I am not receiving compensation for it (other than from Seeking Alpha). I have no business relationship with any company whose stock is mentioned in this article.