Starz provides original programming in the form of Starz and Encore movie channels, a subscriber business. It has been growing its subscriber base (Starz has 18 mm subscribers and Encore has 32 mm). The niche of original programming is appealing to consumers, and the business generates plenty of cash flow.
How do you buy Starz?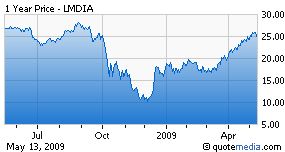 Its corporate parent, Liberty Media (LMDIA), just announced a merger of its interests in DirectTV (DTV) with DirectTV. The deal is scheduled to close by the end of the year. Under the terms of the merger, each LMDIA shareholder will receive 0.9 shares of a spinoff called Liberty Entertainment and 0.1 shares of Starz. Liberty Entertainment will receive 1.1111 shares of DTV. So LMDIA shareholders will end up owning one share of DTV. If you buy LMDIA and short DTV you are effectively paying $0.4 (DTV closed yesterday at $24.5, LMDIA closed at $24.9) for 0.1 shares of Starz, or $4 per share. Starz will have 52.3 million shares outstanding, so that values the company at approximately $210 million. In addition to the underlying entertainment business, Starz will also have $650 million in cash, so the net enterprise value is, that's right, below zip.
So you created the Starz operating business for free. What did you get?
In the first quarter of 2009, Starz had operating income before depreciation and amortization of $108 million. Last year OIBDA was $300 million, and it is clearly growing. You can decide for yourself what multiple that business is worth, but I am confident it will be valued at more than zero! If you conservatively assume 2009 operating cash flow will be $300mm, and Starz will trade at 4x that, plus the cash, it comes to $35 per shares, or almost 9 times the implied cost of the stub.
Another way to look at it: If you believe Starz is worth $3.5 per LMDIA share as per the above, buying LMDIA allows you to buy DTV at a 14% discount to its closing price today, an appealing arbitrage in and of itself.
As usual, it pays to thoroughly understand the risks and downside before making any investment decision. There are several ways in which you can lose money here:
Liberty and DTV both need to file merger proxies, receive SEC approval and have a shareholder vote.

The deal has to pass muster by the DOJ, FCC and IRS.

Approvals should be forthcoming, but timing is unclear and the deal terms can change.
The dynamics of spinoffs compel some shareholders to sell the new stock.

But the basic premise of investing is buy low and sell high, and low is when nobody else wants it.

Affiliates and film deals are up for renewal later this year, and Starz may not be able to renegotiate.

That is why I attached a very low multiple.

Starz has no strategy for the cash hoard, and although Chairman John Malone is an excellent capital allocator, there is always the risk management will stumble with the cash.
DTV stock could decline, although it is the leading pay TV operator in the country and with a strong balance sheet and at 5 times enterprise value to 2009 EBITDA, does not look expensive at all.

With a largely fixed cost structure, its growth will actually be aided by inflation (it can raise prices and devalue its liabilities).
In addition, Starz will be a tracking stock, and those tend to trade at a perennial discount.
But when offered a profitable, growing and unlevered businesses for free, I find it hard to refuse.
Disclosure: Wellcap is a LMDIA shareholder; do your own work.