It has been a fantastic year for the US markets and no where is that better reflected than in the stodgy, old Dow Jones Industrial Average (DJIA). The DJIA as measured by the SPDR Dow Jones Industrial Average ETF (DIA) which includes dividends, is up 13.1% YTD on a total return basis, exceeding that of the S&P 500 and the NASDAQ so far for 2013. For investors who want simple exposure to the 30 bluest chip stocks that this popular index includes, there are many choices among mutual funds and ETFs that strive to replicate the performance of the DJIA.
But what if I told you that you could buy the DJIA at a -6.3% discount to its actual value, receive a much higher 7.4% yield instead of the usual 2.3% yield that most index mutual funds pay and have the potential for the fund to outperform the actual DJIA. Would you be interested? Well, there is such a security and I will discuss it below.
I've been struggling to come up with buy recommendations among the equity based high yielding Closed-End Funds (CEFs) in this relentlessly up and up market and it's a big reason why I haven't been writing many articles of late. Though I believe valuations for many CEFs have become stretched, particularly for the leveraged funds, one of the great features of CEFs is that you can often find opportunities no matter what the market is doing.
Yesterday was a good example of this. While the markets were off to the races yet again with the Dow Jones Industrial Average (DJIA) up another 90 or so points at one point, a high yielding CEF which mirrors the DJIA was actually down on its market price. This can happen sometimes when a seller in a CEF which trades typically only 100,000 or so shares a day decides they want to lighten up or liquidate a position for whatever reason. Though in some cases, particularly with individual securities like stocks, the seller may know or speculate about something negative that might affect the stock price, this is almost never the case when it comes to diversified securities like equity CEFs. That would be sort of like saying, "OK...we better get out of this mutual fund because they may announce a negative earnings report, or lose a contract or disclose some inventory accounting issue." That just doesn't happen with diversified securities like CEFs.
There is even less of a concern when it comes to a CEF like the Nuveen Dow 30 Enhanced Premium & Income fund (DPO). That's because DPO only owns the 30 Dow Jones Industrial average stocks and so even if each Dow component may be subject to some positive or negative news event, you can be sure that if the DJIA is up on any particular day, then so will DPO's Net Asset Value (NAV) and at a similar percent too. So it's a bit of a surprise when you see the market price of a CEF heading the opposite direction of the index it mirrors. But that's what can happen with CEFs because the market price of a fund can be subject to the whims of investors whereas the NAV of a fund is only subject to the performance of its underlying holdings. When the difference between the two gets excessive, that's when opportunities arise for investors.
DPO, and its sister fund the Nuveen Dow 30 Premium & Dividend Income fund (DPD), are the only two CEFs that seek to emulate the DJIA. DPO is a bit different than DPD in that it is slightly leveraged so that does add a bit more volatility to the fund's NAV. DPO and DPD are also option-income funds selling call options against roughly 50% of each position in their portfolios, so that provides some downside protection for the funds and also serves to counteract the volatility. DPO is the larger of the two funds at $350 million in total assets and owns 179,000 shares of each Dow component which means that the higher priced securities such as (NYSE:IBM), Chevron (NYSE:CVX), 3M (NYSE:MMM) and McDonald's (NYSE:MCD) have the highest weightings, exactly how the DJIA is structured.
By selling options against each of its 30 Dow component positions, DPO generates income that it indirectly passes on to investors in the form of high distributions and yields, currently 7.4% based on yesterday's closing market price. That is a significantly higher yield than any DJIA index mutual fund, ETF or even any of the DJIA component stocks. DPO sells options against roughly 50% of each position and has about 36,000 contracts open during any given month. This generates about $1.9 million each month in option premium according to my calculations taken from the Annual Report dated 12/31/2012. Annualized, that results in approximately $22.8 million in option premium which when added to DPO's Net Investment Income (NII) of $5.2 million in 2012 means that the fund easily covers its $24.3 million in distributions each year. Of course, the fund doesn't usually get to keep all that option premium and so what the fund doesn't cover in expired option premium and NII it pays out of unrealized portfolio gains, most of which can be categorized as Return-of-Capital (ROC). In fact, about 61% of last year's $0.872/share distribution was determined to be ROC.
What it all means is that investors in DPO can receive a windfall 7.4% market price yield over and above the fund's 6.9% NAV yield due to the fund's market price discount. In addition, that 7.4% market price yield converts to over a 9% tax equivalent yield for investors in the 35% Federal income tax bracket when you consider DPO's ROC portion of each distribution.
So does DPO offer an advantage over the DJIA mutual funds or even the stocks that make up the index? That depends a bit on your risk/reward and whether appreciation or income is your primary objective. DPO's use of leverage will make its NAV outperform during an up market cycle but its option strategy also acts as a drag on NAV performance during up markets as well. Overall, the two tend to cancel each other out and DPO's NAV total return performance is actually very similar to DIA's total return performance, both of which are better than the actual DJIA. YTD, DPO's NAV is up 13.1%, exactly that of DIA's, though DPO's market price is only up 11.7% YTD. Still, DPO's NAV is the strongest performer YTD of any of the option-income funds.
And how has DPO's NAV (symbol XDPOX) performed against the individual Dow components? The following table shows the 1-year and 3-year total return of XDPOX (purple in the table) compared to all of the Dow stocks. The stocks are sorted by their 3-year total return performance in which those that have outperformed XDPOX are shown in green and those that have underperformed are shown in red. I used DPO's NAV for comparison instead of its market price since the NAV is the true apples to apples comparison.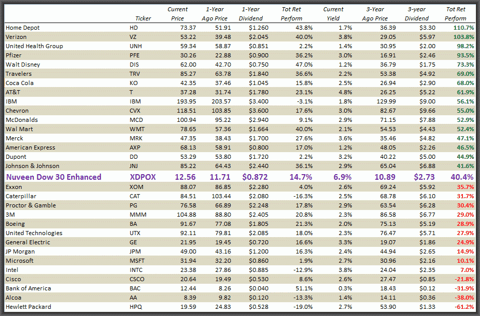 You'll have to be the judge as to whether DPO's strategy and performance is an acceptable alternative to what you could have received by owning some of the better performing individual Dow component names. Of course, that would have meant that you knew that Home Depot (NYSE:HD) three years ago at close to the low point of the housing crisis was a good buy back then. Or that United Healthcare (NYSE:UNH) and IBM were due to struggle over the past year despite their superior 3-year performances. Or that Bank of America (BAC), which everyone swore off 3-years ago as dead money, would be up over 51% just in the past year.
I don't pretend to know which of the Dow components is going to outperform or underperform in the future. Instead, I've chosen to concentrate on funds that offer sustainable high yields that will have predictable performance results. DPO offers that and now with a very reasonable 6.9% NAV yield after cutting its distributions since the bear market 5-years ago, DPO offers investors a high yield DJIA index at a discount.
In fact, DPO's current -6.3% discount is at the low end of its range as shown in this 3-year premium/discount chart.

As you can see, DPO's market price can move to a premium and when it does, DPO's market price can solidly outperform the DJIA. In fact, back in late 2009, DPO's market price moved to a 30% premium as an unrealistic 20% NAV yield caused investors to fall all over themselves to buy such a high yielding security. This is shown in this longer 5-year premium/discount chart of DPO below when it traded at a exceptionally wide discount during the bear market of 2008 only to skyrocket to a 30% premium during the recovery in 2009.

Of course, investors are often contrarian indicators in CEFs and buy when they should be selling and sell when they should be buying. When DPO started cutting its distribution in early 2010 to get its NAV yield down to a more reasonable level, investors fled en masse and DPO dropped to a discount where it stands today. What investors didn't realize was that by reducing the fund's NAV yield, DPO was finally able to grow its NAV, which it has been doing ever since the lows of the market in early 2009. Back at the end of the 1st quarter of 2009, DPO's NAV stood at $8.19. Today it's at $12.56 which when combined with its distributions along the way, is up over 109%. Though DPO's market price performance hasn't quite matched that, I believe its only a matter of time before DPO regains the appreciation it once had.
Disclosure: I am long DPO. I wrote this article myself, and it expresses my own opinions. I am not receiving compensation for it (other than from Seeking Alpha). I have no business relationship with any company whose stock is mentioned in this article.
Additional disclosure: Short DIA