China Digital TV Announces Unaudited First Quarter 2009 Results

...and they are not to everyone's liking. The stock has dropped 20% on the news that CDTV's (STV) revenue decreased 15% from Q4 2008 to Q1 2009. Worse, perhaps, is that net income dropped 38%, meaning margins--gross, operating, and net--have all slipped as well.

A few notes:

Revenues down 15% QoQ - General economy; lower average smart-card price; decrease in service revenue (not substantial).
Gross margin down 3% QoQ - Lower average smart-card price (-2%).
Operating margin down 1% QoQ - Increased R&D expenses offset by dramatically lowered SG&A and marketing expenses.
Net margin down 19% QoQ - Decrease in interest income; Q4 2008 income was slightly overstated due to tax benefits.
I was expecting to not be so concerned about the total revenue decrease but I was worried about the shrinking margins. Upon reevaluation, I feel the complete opposite. The increase in operating expenses in proportion to revenue, I think, is primarily due to longer-term investments in research and development--so I'm not overly concerned about that. Moreover, margins aren't actually down that bad. The quarter-on-quarter drop from Q4 2008 to Q1 2009 in net margin looks scary, but upon closer evaluation, is due more to minor short-term financial fluctuations than to any underlying problems.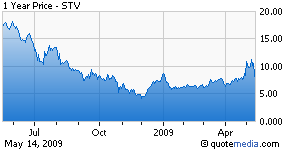 However, the drop in average smart-card price might be troublesome. Does it indicate increased competition and deflationary pressure on prices throughout the industry? I hope not. I am fine with revenue decline due to a slow-down in the general economy, because that's not something I see being a consistent trend (slow-downs in the economy). But in a highly competitive tech-related business, parts can lose value fast, and businesses can lose pricing power even faster.
Rough valuation -- buy, sell, hold?
I'm still, on the whole, ok with their results. The illusion of their growth consistency has been shattered a bit, and I don't feel comfortable running a whole discounted cash flow analysis without that supposed consistency backing up my growth assumptions for the next three to five years. But, I will take a conservative look at their earnings power value (EPV) by saying, let's suppose the rest of the year is going to look just like this quarter, so annual earnings will be 4 x $7.5 million = $30 million net income for 2009; let's assume, also, that 2010 is going to be the same, and 2011, and 2012, and so on---no growth, just consistent $30 million net income year after year. Discount that by anywhere from 12%-15% (the WACC calculator says 14.76%)--let's take 15% for the sake of ease--and I arrive at a conservative, but rough, estimate of $214 million. Add back the $209 million in cash and equivalents (which don't factor into the earnings power valuation) and I would say they might be fairly valued around a $423 million market cap., or $7.40 a share.
I wouldn't make a buy or sell decision based on this calculation, but it does tell me that the market is pricing CDTV around it's modified EPV, suggesting a lack of confidence in the company's ability to grow (which would of course increase the company's fair value projection). I still think the company can go places, and I would consider their modified EPV as a worst-case valuation. At this point, I can't say precisely how high it might go, so if I didn't already own any shares, this wouldn't be a time to buy. But because I am already a shareholder, I'm not worried about CDTV going below where it is now (permanently), and I'm willing to risk the opportunity cost of holding it because the market for digital cable TV smart cards is still there, the government support is still there, and CDTV is still the market leader (captured 4 of 7 new contracts in Q1 2009).

Disclosure: Long STV