Swiss giant ABB Ltd. (NYSE:ABB) announced the acquisition of Power-One (NASDAQ:PWER) for $1 billion. PWER like other solar stocks has seen a substantial decline due to the massive oversupply plaguing the solar industry. The large premium paid by ABB for PWER should revive investor interest in the sector which is going through a prolonged downturn. Recent bond defaults by LDK Solar (NYSE:LDK) and Suntech (NYSE:STP) had led to a steep decline in solar stocks. Though First Solar's (NASDAQ:FSLR) positive guidance had led to a rally,the overall mood remains quite gloomy. The market value of many leading solar companies have become quite low. This has led to many institutional investors exiting their solar sector holdings. However, the solar industry continues to grow at a fast clip and will grow by more than 20% in 2013. Solar module prices are also seeing an increase after 4 years of continuous decline. It might be a good time to buy stocks in the sector as the sentiment remains heavily bearish despite the stock market touching new highs.
ABB buys Power-One for $1 billion
ABB management confirmed that the boards of both companies had agreed to the acquisition of Power-One by ABB at $6.35 per share in cash, a deal which includes Power-One's net cash of $266 million. Subject to shareholder and regulatory approvals, the transaction is expected to close in the second half of 2013. This is a great acquisition for the electrical and automation giant ABB in my view as Power-One had a ~12% market share of the global solar inverter market. The solar inverter industry has not been hurt as much as the solar panel industry. Though the profits have gone down substantially, most solar inverter companies like SMA Solar and Solectria are expected to survive this brutal downturn. Schneider had bought the Canadian solar inverter player Xantrex a few years ago. I thought the price paid by ABB for Power-One was quite cheap, despite the substantial premium to the current PWER stock price. ABB's competitors like GE and Schneider have a much bigger presence in the growing solar inverter market. ABB had not been able to grow its solar inverter business and did not rank among the top solar inverter suppliers.
Solar Industry is still growing at a tremendous rate
Despite all the gloom and doom, solar energy has reached grid parity in many regions around the world. As solar technology improves and costs keep going down, more countries will reach grid parity. While the industry still has massive oversupply, demand is rising. Many top companies like LDK and Suntech are running on fumes as customers and suppliers have lost faith. Solarworld is also on brink of a collapse. The total solar installed capacity will double from 100 GW in 2012 to 200 GW in 2015. Even ABB management recognizes the risk of volatility but was unable ignore the massive opportunity.
We know this today that the solar market's very volatile. It's immature. You'll see that in a lot of the valuations of companies that are in the solar market out there and how they've been treated recently. Ulrich and me and the team have really tracked this marketplace for almost up to 3 years. We feel we understand it. We understand the volatility, but we think, directionally, we know that this market holds a huge amount of promise and that we want to make sure that ABB can contribute to this and really play a part of it.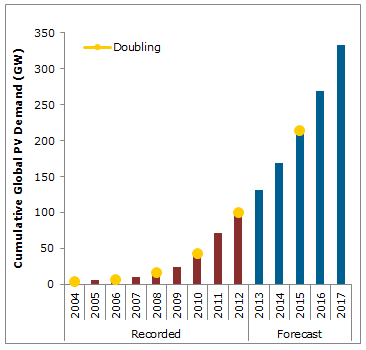 Source : NPD Solarbuzz
Solar Inverter Industry will grow in double digits
The solar inverter industry has been growing rapidly due to the growth in solar energy installations. After solar panels, solar inverters are the most expensive equipment that goes into a solar system. The globalization of the solar industry has led to new players entering the industry. Micro-inverter technology has led to emergence of new companies like Enphase Energy (NASDAQ:ENPH) which are trying to break the hold of established giants like SMA Solar. The solar industry is expected to grow by 14% annually according to ABB management. The current solar inverter industry is valued at ~$7 billion and should grow by double digits. ABB's main competitors like Siemens (SI), General Electric (NYSE:GE) and Schneider already have a big presence in the renewable energy inverter market.
Energized by a surge of shipments in Asia, the global PV inverter market in 2012 bucked weak worldwide solar industry conditions to expand by 5% and break the US$7 billion level for the first time. Global PV inverter market revenue last year rose to US$7.1 billion, up from US$6.7 billion in 2011, according to IHS.
Which solar inverter companies can you buy?
There are not many solar inverter stocks listed in the US markets. One of the biggest players - Satcon - went bankrupt last year though other companies are thriving. According to IHS, US solar inverter players like Advanced Energy Industries (NASDAQ:AEIS) and Enphase managed to increase their market share.
The ranking of suppliers below the three leaders changed significantly. Four of 2012's largest suppliers made big increases in their rankings: Colorado-based Advanced Energy, Enphase Energy of California, Danfoss Solar Inverters from Denmark and Omron from Japan. These companies all gained at least four places in the rankings.
What about Solar Panel Stocks
The solar panel industry is much bigger than the solar inverter industry with the solar module market valued at more than $20 billion in 2012. However, competition is higher in the solar panel industry with hundreds of players. I think that it might be a good time to buy solar companies with good balance sheets, low costs and strong financial banking. Here are some of the better solar stocks in my opinion
Solar Industry Risk
Overcapacity and Bailouts - The Chinese government has kept bankrupt companies like LDK afloat through repeated bailouts preventing the industry from returning to a healthy supply demand balance. This has led to irrational pricing of solar products throughout the supply chain. REC and China Sunergy (NASDAQ:CSUN) have said that they don't see a resolution to the oversupply problem any time soon.
Summary
The solar industry is in a nascent state and there are going to be huge risks. Investors should be very careful in which stocks they should invest as the risks of bankruptcy are very real. However, the solar energy industry will keep growing in double digits for the next decade. This provides great opportunities for well managed solar companies. The poor sentiment and depressed valuation provides a fertile ground for stock picking. I would look to buy some of the fundamentally strong solar stocks (mentioned above) to take advantage of the depressed valuations. The ABB acquisition and increase in solar module prices are two positive catalysts which could spark a rally in the solar stocks.
Disclosure: I have no positions in any stocks mentioned, and no plans to initiate any positions within the next 72 hours. I wrote this article myself, and it expresses my own opinions. I am not receiving compensation for it (other than from Seeking Alpha). I have no business relationship with any company whose stock is mentioned in this article.