So far this earnings season, 855 companies have reported and 248 of them are S&P 500 names. Of the non-S&P 500 companies that have reported, just 55% have beaten earnings estimates. Of the 248 S&P 500 companies that have reported, 69% of companies have beaten earnings estimates. This is a pretty wide margin, and it made us think of this recent NFIB survey that showed that taxes and government red tape are the biggest problems facing small businesses today. Large caps are obviously more equipped to handle government requirements and red tape. Is this large-cap outperformance the new norm in the current economic environment?
For those interested, below are lists of the best and worst performing S&P 500 stocks on their report days so far this season. As shown, Netflix (NASDAQ:NFLX) ranks at the top with a one-day gain of 24.44%. Akamai Tech (NASDAQ:AKAM) ranks second at +17.71%, followed by CLF, CMG, and ALXN. Other notables on the list of big earnings winners this season include Coach (NYSE:COH), Coca-Cola (NYSE:KO), Biogen (NASDAQ:BIIB), and Google (NASDAQ:GOOG).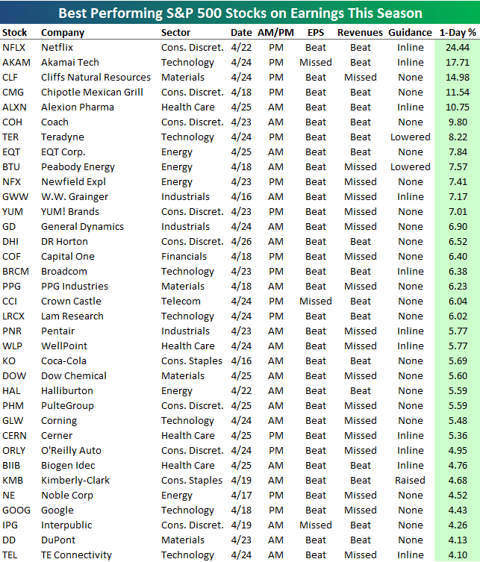 On the downside, Edwards Lifesciences (NYSE:EW) has been the worst performer in response to earnings with a one-day decline of 21.99%. Safeway (NYSE:SWY) ranks second worst at -13.94%, followed by TXT, PKI, and RHI. Other notables on the list of losers include Expedia (NASDAQ:EXPE), IBM (NYSE:IBM), Amazon.com (NASDAQ:AMZN), Amgen (NASDAQ:AMGN), eBay (NASDAQ:EBAY), Procter & Gamble (NYSE:PG), and Bank of America (NYSE:BAC). There are quite a few big names on the losers list.