'Automation' is the growing phenomenon of human labor being replaced by machinery and robotics. Automation can be positive for businesses by increasing labor productivity, reducing wage costs, increasing profit margins and also filling labor shortages, as has happened in China.
One U.S. company that is a robotic opportunity for investors looking for exposure in the field of automation I am going to describe in this article. The company is called Adept Technology (NASDAQ:ADEP).
Company description
Adept Technology, Inc. is a provider of intelligent robots and autonomous mobile solutions and services. The company enables customers to achieve precision, speed, quality and productivity in their assembly, handling, packaging, testing, and logistical processes. With a portfolio of high-performance motion controllers, application development software, vision-guidance technology and high-reliability robot mechanisms with autonomous capabilities, Adept provides specialized, cost-effective robotics systems and services to high-growth markets including Packaging, Medical, Electronics, and Logistics as well as to traditional industrial markets including automotive components.
Thesis
Adept Technology is a pure turnaround play, which could be an outstanding acquisition target for a bigger competitor going forward. The recent management changes support our opinion, that the company is being prepared for sale if the restructuring process is successfully finished.
History
Adept was founded in 1983, and was formerly the West Coast Division of Unimation, which became part of Westinghouse after being a division of Consolidated Diesel Electronic (Condec) for many years. However, its roots go back almost 10 years earlier, when company founders Bruce Shimano and Brian Carlisle, both Stanford graduate students, started to work with Victor Scheinman at Stanford's AI lab.
Adept Technology, Inc. is a multinational corporation with headquarters in Pleasanton, California (San Francisco Bay Area). The company has offices throughout the United States as well as in countries such as Germany, France, Singapore and China.
Today, the company is active in a variety of industries mentioned above. The company is a leader in vision-based autonomous robotics. During their existence Adept installed over 55,000 systems to a broad global customer base (Fortune 1000).
Markets and sample customers
For more information we looked at the March 2013 Investor Presentation.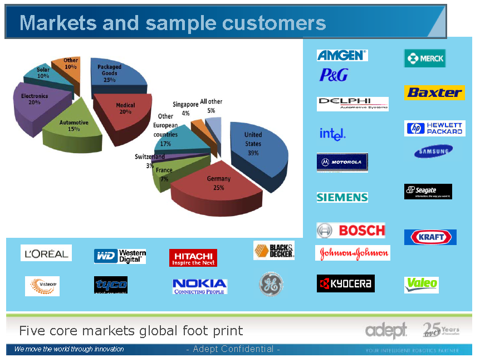 The situation
Last year the situation was quite dramatic if you have to believe the presentation, this led to a situation, which was not good for employees, investors, and other stakeholders.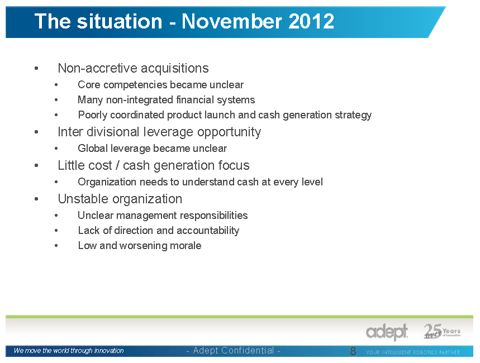 On September 18, 2012 private equity firm Hale Capital Partners Ltd, stepped in and provided Adept with $8 million fresh money. We think this was the only feasible solution to save the company from a slow death. The company has used the net proceeds from the private placement for general corporate purposes, including funding growth of its mobile and packaging business, and the reduction of its debt.
The turnaround
The turnaround under new management has just begun and the company's objectives are clear: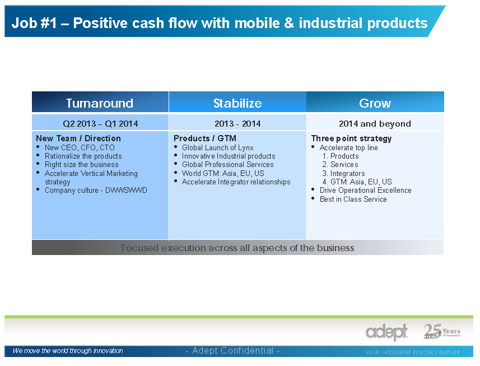 Focus on top line, bottom line and cash generation via organic growth
Global Launch of Lynx
Expanded Industrial products
Launch total solutions services
Achieve 15 - 20% CAGR in revenues
Products and services
Improve gross margins to 45% - 50%
Global supply chain objectives
Increase net margins to 10% and improve incrementally
Competitors
For investors that don't like turnaround situations but think the "robotic" investment theme is interesting, I have two companies that are also worthy investments going forward. Both companies compete with Adept Technology and could possibly be interested in acquiring Adept.
The first company is Swiss-based ABB Ltd.
ABB Ltd (NYSE:ABB) is engaged in power and automation technologies. The company provides a range of products, systems, solutions and services. Its power businesses focus on power transmission, distribution and power plant automation and serve electric, gas and water utilities, as well as industrial and commercial customers. Its automation businesses serve a range of industries with measurement, control, protection and process optimization applications. It operates in approximately 100 countries across four regions: Europe, the Americas, Asia, and the Middle East and Africa.
The company is a leading supplier of industrial robots, modular manufacturing systems and service. A strong solutions focus helps manufacturers improve productivity, product quality and worker safety. ABB has installed more than 200,000 robots worldwide.
ABB announced that it has agreed to acquire manufacturer of solar inverters Power-One (NASDAQ:PWER) for $6.35 per share, which is just over $1 billion for the enterprise. It seems a reasonable price: EV/2012 revenue of 0.7x, EV/2012 EBITDA of 6.4x. The acquisition is to be accretive in the first year.
According to Morningstar the fair value of the company's stock is around $26 per share. The company trades now around $21.72, so there the stock has more than 20% upside potential.
KUKA
The second company is called the KUKA Group (OTCPK:KUKAF). The company is one of the world's leading suppliers of robots and automated production systems and solutions. KUKA's customers are predominantly from the automotive industry and increasingly from other segments outside the automotive industry (general Industry).
Consolidated sales revenue for 2012 totaled around €1.74 billion. The company has achieved its own guidance for 2012 and exceeded market expectations. All net debt was repaid by the end of 2012, thanks to profit growth in the fourth quarter and strict working capital management. Free cash flow was clearly positive in 2012, €77.1 million compared to €6.5 million in 2011.
Industry view
Labor Productivity in Selected Countries: 2007-2012
Source: Euromonitor International from International Labor Organization (ILO)/Eurostat/national statistics
According to the International Federation of Robotics (IFR), global sales of robotics increased by 38.0% in 2011. China, Germany and the USA are the major drivers of this growth, though the biggest users of robotics are Japan and South Korea.
The increased use of robotics in these markets has helped to contribute to a sharp rise in labor productivity. China saw its labor productivity (defined as GDP per person employed) more than double between 2007 and 2012, rising from $4,666 to $10,225.
Implications
The use of machinery and robotics is rapidly growing globally, after cutbacks by many companies during the 2009 economic downturn. Global sales of robotics grew by 38.0% in 2011. As mentioned before Japan and South Korea are the two biggest users in the world of robotics, while Germany, the USA and China are the biggest drivers in the sales growth.
The automotive, food and beverage industry are among the key industries using robotics.
Automation can save money on wages paid to employees, and also on labor taxes paid to the government. This can increase profits and competitiveness amongst companies, which use them at a time when profit margins are generally being squeezed by rising manufacturing and transportation costs. It can be used to fill labor shortages. China is rapidly increasing its use of automation to counteract the predicted decline in its labor force due to the effects of its one child policy. It can also improve the country's competitiveness by boosting labor productivity. Japan, one of the key users of automation saw its labor productivity rise from $67,481 in 2007 to $94,234 in 2012.
Prospects
According to IFR the use of automation and robotics will increase in all regions by 2015. Asia/Australasia will see the biggest increase, from 622,000 robots in 2012 to 841,000 by 2015. This will primarily be driven by a big demand in China, estimated growth from 26,000 to 35,000.
Estimated Operational Stock of Multipurpose Industrial Robots by Region: 2010, 2012, 2015
Source: The International Federation of Robotics
Robotic industry going forward
Emerging markets, such as China, have started their industrialization process by making use of a huge pool of inexpensive labor from mainly the agricultural industry. Manual labor was used to make cheap products for the export markets. Success here has led to a dramatic increase in wealth in the country, with all having to share in it to avoid social unrest and increasing inequality. At the government's initiative, minimum wage levels have been raised by a substantial 20% annually over the past few years.
Rising salary levels are also justified as manufacturing industries have moved away from producing the most basic supplies, such as cement, steel, etc. needed for the build-up of infrastructure essentials (roads, railways, offices, etc.). Overcapacity is now restricting profitability, and a move up the value chain with more value-added and complex products is needed to satisfy rising consumer needs and demands.
Expectations are, that over the next eight years, the Chinese middle class (annual income of between approximately $16,000 and $35,000) is expected to rise to over 50% of the population. Currently, less than 10% of the Chinese belong to the middle class.
Education levels are also rising and have to be further raised to meet demand from more complex manufacturing and service industries.
The transition from an export-driven economy to a society that is led by domestic demand from an enormous and increasingly wealthy consumer group means, that for now, imported products are needed. In the future, tools and know-how to help raise the quality of the production process at home to make goods that are attractive to the local population, such as cars, household goods, packaged foods etc. will be required.
As emerging markets' manufacturers adopt new processes, it can lead to a lowering of production costs and a big leap in productivity levels. Quality and safety can also be improved and, eventually, global acceptance of Chinese-made cars and other consumer products should be achieved.
When this occurs, import-led growth will lead again to exports, as each region of the world supplies the goods and services it is best at making and can offer at the most competitive price.
Therefore, it is time to invest in machinery rather than in a large number of workers doing mainly manual work. Replacing human labor with machines leads to strong advances in productivity and profitability. In general, productivity increases through:
Robotics and automation
Increased size of manufacturing plants
Globalization of sourcing, leading to cost savings and deflationary effect on overall costs
Manufacturing: country comparison
Figure 2 shows employment in manufacturing in six different countries.

In 2008, China is estimated to have employed more than 100 million people in manufacturing, while in highly industrialized countries, such as Germany and Japan, just 10 million people worked in this segment. The level of robot penetration is inversely linked to this gap, that is, the larger the workforce the fewer robots. Note the low number of robots used in US manufacturing. There is a lot of catch-up potential here as well, especially with the car industry on a steep recovery path.
Global numbers for robot sales show an upbeat for the next three years (see figure 1).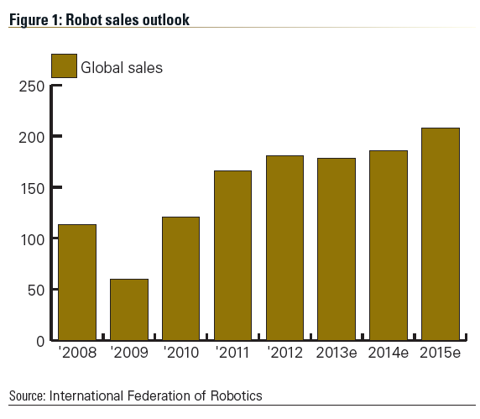 Reason for robots
Currently, and keeping in mind the urgent need to close the productivity gap in the emerging markets, the main reasons
for increased use of robots are:
The ongoing trend towards globalization of the marketplace (with global competition heating up)
The increasing speed of technology development
Age and skills profiles
High wages
Health and safety regulations
Technology development is accelerating
Technological innovation plays an important role in achieving productivity gains. In this sense, technological innovation adds to economic growth, since higher productivity leads to wealth creation. The ongoing focus on innovation and improvement within the technological world, including information technology, leads to increased use of automation and robots. Moreover, the use of robots in itself increases the speed of technological developments.
We even see robots in fields where 'the human factor' was deemed irreplaceable. In the service sector and especially in healthcare services, the much-needed smile may in the future come from a robot with almost human features and expressions.
Figure 3 shows the development of the use of robots beyond the first phase, which was the car industry.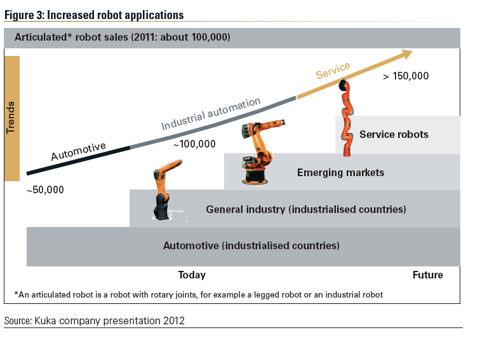 The car manufacturing side will continue to be an important growth market for robots and automation suppliers (see figure 4).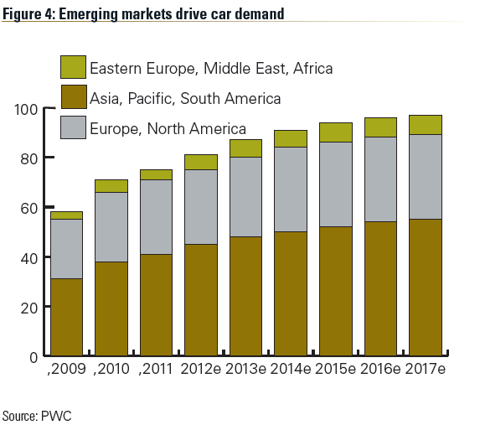 Focus shifts from hardware to software
IT automation is the linking of disparate systems and software in such a way that they become self-acting or self-regulating. The use of robots and automated systems requires sophisticated tools and software. So far, robotic systems and their software design have been based on the same principles found in other computer applications. However, while many computer systems to date are deeply rooted in concepts such as multi-processing and modularity, robotic systems are still limited by mono-processing and/or centralized designs. New developments to break this mono-processing are computer-aided design ("CAD") and computer-aided manufacturing ("CAM").
Figure 5 presents an overview of the current developments in computer-aided manufacturing and the major players in this field.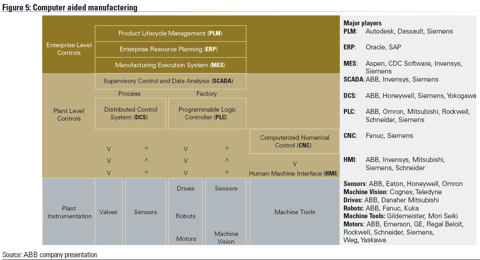 Systems such as CAD and CAM can be used by an engineer both for designing a product and for controlling manufacturing processes.
Conclusion
With the middle class on the rise, consumer demand in emerging markets is changing. With higher salaries, consumers can afford to buy more than just necessities. As a result, demand for goods that match a more 'luxurious' lifestyle will increase.
Higher salaries also mean higher wage costs for manufacturing companies. The shift in consumer demand and the rise of wages are changing the manufacturing landscape in the emerging markets. Adjusted business models include automation and the use of robotics that can increase both productivity and profitability. Companies providing IT and automation solutions to manufacturers will benefit from this trend as well.
We think Adept Technology offers a compelling opportunity for investors that like special situations. KUKA could be an excellent candidate for acquiring all assets of Adept. Only we don't think it will happen right away.
In Part II we will come up with a possible acquisition price for the company.
Disclosure: I am long ADEP. I wrote this article myself, and it expresses my own opinions. I am not receiving compensation for it (other than from Seeking Alpha). I have no business relationship with any company whose stock is mentioned in this article.
Additional disclosure: Dutch Trader is managing partner of RJT Capital, a Dutch-based investment fund. RJT Capital is long Adept Technology.