The China Banking Regulatory Commission is taking new steps to regulate short-term investment products, which aims at strengthening foreign investor's confidence. Chinese-focused exchange traded funds such as the Global X China Financials ETF (NYSEARCA:CHIX) give investors a gateway to access movements in the Chinese banking industry.
"The regulator has asked the banks to clarify asset classes linked to the wealth management products, which will then be audited. Moreover, the banks are being required to provide information as to where the funds are going and who is going to ultimately benefit from it," The Motley Fool reports.
According to Fitch Ratings Company, the amount of money held in wealth management products rose by 53% to $2.1 trillion at the end of 2012, reports Peter Pham for The Motley Fool. However, this segment of the investment industry has little regulation and no disclosure, which can whittle confidence in foreign investment.
The four big Chinese banks in focus include IBC, China Construction Bank, Bank of China, and Agricultural Bank of China. CHIX focuses about 35% of the portfolio on them, with a total of 76% of the portfolio holding financial service companies. The $7 billion iShares FTSE China 25 Index Fund ETF (NYSEARCA:FXI) gives about 30% of the portfolio the big 4 Chinese banks, and 59% to the financial services sector.
Regulatory moves will initially cut into the bank's profitability, but for the long term the capital quality and funding structure will improve. A point of entry into the Chinese financial services sector is presenting itself for those investors who look at the scenario with a value-based approach.
FXI is down 4% over the past year, while CHIX is up 6.5%.
Global X China Financials ETF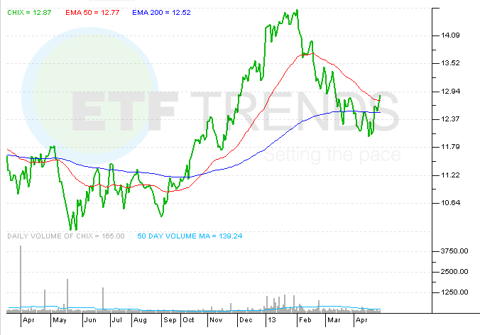 Tisha Guerrero contributed to this article.
Disclosure: I have no positions in any stocks mentioned, and no plans to initiate any positions within the next 72 hours. I wrote this article myself, and it expresses my own opinions. I am not receiving compensation for it. I have no business relationship with any company whose stock is mentioned in this article.