By Grant Zeng, CFA
Late last week, Inspire Pharmaceuticals Inc. (NASDAQ:ISPH) reported first quarter 2009 financial results ended March 31, 2009, which were in line with our expectations (see conference call transcript).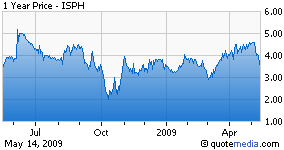 Total revenue for the first quarter was $14.3 million, as compared to $9.7 million for the first quarter of 2008, reflecting an increase of 48%.
Revenue from AzaSite totaled $6.2 million in the first quarter of 2009, an increase of 171% compared to $2.3 million in the first quarter of 2008.
Both total revenue and AzaSite sales in 1Q09 were in line with our estimates.
Inspire has a co-promotional alliance with Allergan Inc. (NYSE:AGN). In Allergan, Inspire has a highly respected, financially strong partner. The duo currently sells Elestat (epinastine HCl ophthalmic solution), launched in February 2004, for the treatment of allergic conjunctivitis, and Restasis (cyclosporine ophthalmic emulsion), launched in April 2003, for the treatment of dry eye disease.
Total product co-promotion and royalty revenue for the first quarter of 2009 was $8.1 million, as compared to $7.4 million in the first quarter of 2008. Both quarterly amounts consisted solely of royalties from net sales of Restasis. Effective January 1, 2009, Inspire discontinued its co-promotion of Restasis, but maintains the same royalty rate as prior to the discontinuation of co-promotion activities.
All co-promotion revenue from net sales of Elestat for the first quarter of 2009 and 2008 was recorded as deferred revenue. The company had $3.7 million and $3.8 million of deferred revenue from net sales of Elestat as of the end of March 31, 2009 and 2008, respectively.
Under the co-promotion agreement for Elestat, Inspire is entitled to a percentage of net sales based upon pre-determined calendar year net sales target levels. The annual minimum was not achieved in the first quarter of 2009, and thus all Elestat co-promotion revenue has been recorded as deferred revenue. The Company expects all deferred revenue to be recognized in subsequent quarters of 2009 when, and to the extent, 2009 net sales target levels are achieved.
Based upon Allergan's previously issued 2009 Restasis revenue guidance of $490 to $510 million, we believe Restasis will remain a significant revenue stream for Inspire in 2009.
However, recently Inspire has reported that several ANDA filings for a generic version of Elestat (epinastine) were filed with the FDA. Upon completing an evaluation of the situation Boehringer Ingelheim, the owner of the Elestat patent decided not to pursue or file suit against the companies currently seeking approval of a generic epinastine product. Based upon BI's decision, we expect that a generic product will most likely be available in the next one to two years and at that point Elestat sales would be significantly reduced.
For the quarter ended March 31, 2009, Inspire reported a net loss of $17.5 million, or ($0.31) per common share on an adjusted basis, as compared to a net loss of $25.9 million, or ($0.46) per common share, for the same period in 2008.
Cash, cash equivalents and investments totaled $55 million at March 31, 2009, reflecting a $17.8 million utilization of cash and investments during the first quarter. We are not concerned about its cash burn at this point.
AzaSite uptake began to show some improvement; label expansion possible
Inspire in-licensed AzaSite US and Canadian commercialization rights from InSite Vision Incorporated (INSV.OB) in 2007. AzaSite is a topical anti-infective product for the treatment of bacterial conjunctivitis. The FDA approved AzaSite in late April 2007, and Inspire launched AzaSite on August 13, 2007.
Although its initial sales ramp has been slow, we are happy to see improvement in AzaSite sales since 4Q08. Sales were $7.3 million for 4Q08, an increase of 260% compared to $2 million for 4Q07. AzaSite sales continued its improvement in 1Q09 with sales of $6.2 million, up 171% compared to $2.3 million in 1Q08.
In 1Q09, AzaSite prescription volume increased by approximately 168% over the volume of the first quarter of 2008, and by approximately 10% over the volume of the fourth quarter of 2008. Going forward, we believe sales will continue to pick up steam in the coming quarters.
Further, in early May 2009, Inspire initiated a phase II program with AzaSite to pursue a potential indication for the treatment of blepharitis, an ocular disease characterized by inflammation of the eyelids. The disease can involve significant patient discomfort and often leads to associated ocular surface inflammation, chronic ocular irritation and unstable tear film and damage to the ocular surface.
Blepharitis is an under-diagnosed and under-treated condition representing an attractive financial opportunity for efficacious treatment. Blepharitis is a very common disease which may be as prevalent as dry eye. There are limited treatments options and there are no prescription pharmaceutical products that are indicated for the treatment of this disease.
We believe label expansion to blepharitis could offer significant upside potential for AzaSite which will provide long term top line growth for Inspire.
In addition to the three marketed products, Inspire also boasts a robust pipeline. It just reported positive data from one phase III trial (TIGER I) for Denufosol for the treatment of cystic fibrosis (CF). The trial met is primary endpoint. We believe this bodes well for the second phase III trial (TIGER II).
Denufosol acts as a long-term value driver for Inspire, in our view. The company recently initiated a phase III trial of Prolacria for dry eye disease. Inspire also has two phase I candidates targeting glaucoma.
We believe Inspire is heading in the right direction. We maintain a Buy rating on the shares of Inspire and our price target is $7.00.