By Jason Napodano, CFA and Brian Marckx, CFA
The market share recovered significantly from the early March lows, but for small biotechnology firms, it has been anything but easy. Several names in our coverage universe are trading at multi-year lows. We have also noticed that five are trading below or near cash levels.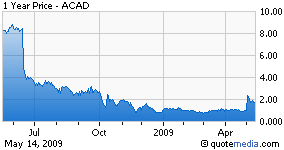 The first is Acadia Pharmaceuticals (NASDAQ:ACAD), currently trading with a market capitalization of $67 million. Based on our financial model, Acadia should exit the June 2009 quarter with roughly $66 million in cash on hand. That means investors are essentially buying Acadia and getting the pipeline for free.
Acadia's leading pipeline drug is pimavanserin, a phase III 5-HT2A inverse agonist under development for the treatment of Parkinson's disease psychosis, or PDP. Acadia just recently signed a development and commercialization partnership with Biovail (BVF) worth up to $395 million plus royalties. Biovail plans to expand pimavanserin's development into Alzheimer's disease psychosis (ADP) shortly.
Acadia also has research collaborations with Allergan (NYSE:AGN) and Meiji Seika Kaisha as well. Operating burn is less than $10 million per quarter, so the $66 million on hand should last Acadia into 2011.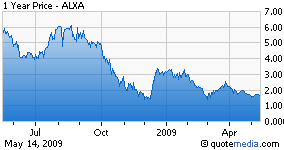 Next up is Alexza Pharmaceuticals (NASDAQ:ALXA), currently trading with a market capitalization of $55 million, with an estimated $32 million to still be on hand at the end of June 2009. Alexza has a total of four drugs in clinical development, all using the company's proprietary drug delivery technology, Staccato, which vaporizes unformulated drug compounds for aerosol into the lungs.
Alexza is developing two doses of a Staccato loxapine, one for acute agitation in patients with schizophrenia and another for migraine, that offer partnering opportunities later in the year. AZ-004 has completed phase III trials and Alexza is preparing the new drug application (NDA) to be filed in the first quarter of 2010. We estimate Alexza's current cash balance is enough to fund operations to through the NDA filing.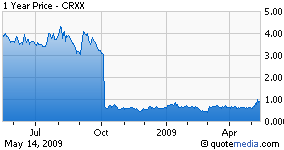 CombinatoRx (CRXX) currently trades with a market value of $33 million. We estimate cash at the end of June 2009 will be $36 million. The company has had a difficult time over the past year. Its leading pipeline candidate, Synavive, failed a phase IIb osteoarthritis program in October 2008.
Synavive is a combination of two generic drugs, dipyridamole and prednisolone. Despite the failure, management believes the highest dose tested in the trial showed encouraging enough trends to continue development with a new, more-tolerable, formulation.
Another drug, CRx-401, failed a phase II program in type 2 diabetes also in 2008. Yet, besides Synavive and CRx-401, CombinatoRx is developing CRx-191 for psoriasis and prednisporin for persistent allergic conjunctivitis.
The company also recently struck a strategic alliance with Novartis (NYSE:NVS) focused on the discovery of novel anticancer combinations. CombinatoRx has enough cash to fund operations into 2012.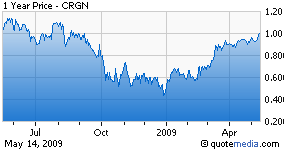 CuraGen Corp. (CRGN) is the name in our coverage trading with the biggest valuation discount to cash. CuraGen currently has a market capitalization of $57 million, with $76 million in cash estimated to be on hand at the end of June 2009.
CuraGen has one drug candidate, CR-011, in clinical stage development for cancer indications. CR-011-vcMMAE is an antibody-drug conjugate developed for metastatic melanoma and breast cancer in phase II trials.
Two years ago the company had nearly a dozen candidates under various stages of development. Several high-profile failures and assets sales later, CuraGen is now banking on only CR-011. As a result, in February 2009, the company announced it was exploring strategic alternatives to enhance shareholder value.
Our best guess is that management will look to partner or sell CR-011 to a larger organization. The cash balance is enough to fund operations into 2010, or longer if someone else picks up the future development costs for CR-011.
We often tell investors there's no such thing as a "value biotech," but when stocks start trading at or below cash levels, opportunities exists. We have Hold ratings on all four above stocks.
All have had their share of key pipeline failures over the past few quarters: Acadia with ACP-104, Alexza with AZ-002 and AZ-003, CombinatoRx with Synavive and CRx-401 and CuraGen with Velafermin. And, the risks of future failure or massive dilution are still high.
However, all the above names have at least one active program that could drive significant value in the long-run. At the above prices, you are essentially buying the cash on the balance sheet and getting the pipeline for free. Burn is always an issue, but all four names have catalysts coming ahead of when the burn will deplete the existing balance. Therefore, these four names represent a good starting point for "risk-loving / value-seeking" biotech investors.