Netflix (NASDAQ:NFLX) does not seem to be able to put a wrong foot down these days. It has returned a hefty 132% YTD, had multiple days of double digit percentage gains, and succeeded to keep Carl Icahn quiet. Its total revenue, gross and net income have mostly exceeded expectations and if it keeps its momentum it will surely be one of the stars on the NASDAQ by the end of the year. In a crowded video-on-demand field it has succeeded to grow total, new and paid subscriptions as competitors have become increasingly more potent. Their growth potential, innovation, user acceptance and their ability to take advantage of their technological strengths have endeared the company to many. I don't like the fact that the CEO has basically committed to a price freeze - "we've kept the same price, $7.99, and that's provided us a lot of growth. So, I don't see any changes in the near term coming in that." I also don't like that it is trading at greater than 600 P/E. Despite all these the fact that the company is shifting to a third model in a relatively short time makes me wonder if the company is asking some necessary questions.
What is success?
What do they intend to become?
What is the opportunity cost of success?
What metric is relevant to the changing business model?
Success:
Success for Netflix has been captured in a few key attributes:
The successful transition from DVDs to streaming and currently to original content even though the latter is still in its infancy.
The ability to innovate and take risks that have facilitated its emergence as a market leader while initial competitors like Blockbuster fade of into bankruptcy.
The ability to navigate out of the Qwikster misstep and recapture disgruntled and departed customers.
The ability to grow the streaming business from Q'1 12 through Q1'13 at a faster rate of 25% than the 21% decline rate of the shrinking DVD business.
The ability to maintain a similar conversion ratio of paid subscriptions to revenue through the different phases of its business.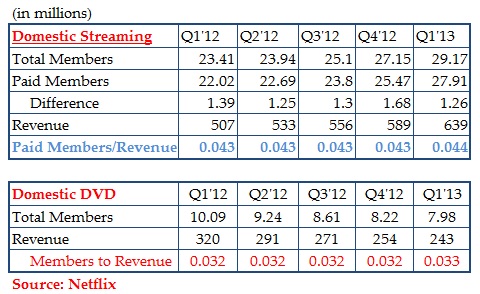 The ability to develop technologies that are not easily replicable by competitors even when it relies on some competitors for cloud storage, data and content.
Lastly, the ability to grow revenue at a faster or similar rate as cost of goods.
The New Netflix
By allowing its deal with Viacom to expire Netflix clearly demonstrated its preference to move away from the "all-you-can-eat" model to an a la carte model that allows it to pick and choose the content it buys. This approach coupled with its new emphasis and early success with original content should position Netflix to become a premiere source of home entertainment rather than a complement to cable. With House of Cards, Hemlock, Arrested Development and Orange, the New Netflix is working on a "redefinition and broadening of what Netflix is" (Reed Hastings) to its members. If this redefinition is successful Netflix will effectively be on its third business model and will effectively have gone from a DVD rental service to a network or studio equivalent in record time.
This shift is an obvious side effect from increasingly belligerent content providers who realized that Netflix was becoming a threat and decided to play hardball to protect their turf and prior relationships with cable providers. The new phase of selected content and original shows puts Netflix in direct competition with a rich variety of very capable companies like Comcast (NASDAQ:CMCSA), Time Warner Inc. (NYSE:TWX), Amazon (NASDAQ:AMZN), Microsoft (NASDAQ:MSFT), Sony Corporation (NYSE:SNE) and Coinstar Inc. (CSTR), just to name a few. Minus live shows, the New Netflix is a premium, cheaper and more convenient alternative of cable.
Opportunity Cost of Success
Success attracts imitation and also stiffens current competition especially in areas that are driven by technology and prone to disruption. Netflix grew on disruption and should appreciate that success might not only lead to copycat imitators but might lead to imitators that actually provide similar services that disrupt its business model. A good example of this is Aereo, a service that captures freely broadcasted live TV and digitally retransmits for a fee.
Success also raises the cost of business especially if your success threatens some of the partners you rely on to be successful. The more successful Netflix becomes the less likely it becomes for them to hold costs down regardless of it they cherry pick the shows they want to carry from networks and studio partners. Rising cost for content leads to drawn out negotiations which, if the last time was any indication, dilutes the value proposition of Netflix.
Success also makes it more compelling for competing services like Amazon Prime and HBO to develop similar content and to be more territorial about their content which leads to fragmentation of the industry.
Microsoft - If rumors of an always on Xbox are true it will become a stronger competitor by taking over the TV and interacting directly with the cable box to overlay cable content with content that Microsoft will provide directly
Intel (NASDAQ:INTC)- It has been rumored for a while that Intel is building a box that will change cable TV by allowing customers the ability the customize and pay only for channels that they actually want to view as opposed to current bundles offered by cable.
Comcast - The On-Demand service is more robust, bought out the rest of NBC they did not own and now broadcasts digitally across different devices.
HBO - Exploring a similar service similar to Netflix to get away from the pricing structure constraints of cable providers that makes it relatively prohibitive to get their content.
Amazon - Developing original content for Amazon Prime and rumored to be developing a set top box for TV. Amazon is a scary competitor with its ability to reduce prices and cross sell to current customers.
Sony and other content providers - The stronger Netflix gets the less likely they are to empower these entities by enabling their growth and weakening traditional partners.
If all these entities continue to move in different directions there is bound to be a point where the customer base becomes inadequate to support revenue growth without raising prices. If that were to happen there will be a need for consolidation through an acquisition or a merger which might end up meaning being the best case scenario for Netflix shareholders.
Success breeds expectations which in turn breeds the speculation which has fuelled the run up Netflix has experienced lately. This is one area where I have real concerns for Netflix because the stock has shown that it can react very quickly and poorly to bad news as well as good news. I am concerned about how Netflix' competitive landscape is changing and also concerned that it has the most to lose if some of its direct competitors decide to enter into a bidding war for content or a price war for customers. Finally, original content poses unique challenges overseas which cannot be ignored due to cultural, language and administrative challenges across different boundaries.
Conclusion
I might be missing the point but I do not see the relevance in measuring or reporting total viewing hours, total subscriptions and new subscriptions. It probably makes Netflix more attractive but I wonder if it is like measuring the number of people who admire a street musician without putting any money in the hat. In my opinion the emphasis on these metrics is a huge part of the euphoria that propels the stock even though they do not add any more meat to the bone. If Netflix is transitioning to compete directly with cable and HBO it needs to measure paid subscriptions only, test elasticity of its pricing, define success of original content beyond recouping the cost of production, and also expand a bit more on the overlaps of its content with other providers. It needs to better explore the budget limits of customers for video (on demand, streaming and live) and finally quickly determine how it will make more money from its current customer base without losing them. But, if Netflix can grow to 60M or 90M users as was softly mentioned at the last quarterly call then maybe Comcast needs to be trading at 17X and Netflix at 600X after all. At 90M paying subscribers they will be doing something that HBO could not do and they just might be able to do to Comcast, Amazon Prime, HBO, studios and networks what they did to Blockbuster. I will never say never but I will not keep my fingers crossed for that and will continue to believe that Netflix is currently overvalued and bound for a correction.
Disclosure: I am long MSFT, INTC. I wrote this article myself, and it expresses my own opinions. I am not receiving compensation for it (other than from Seeking Alpha). I have no business relationship with any company whose stock is mentioned in this article.