I was recently in a hotel lounge in Chicago meeting with a colleague when a very nice couple in their early 50s sat down beside us. Quite educated, they were in town for a conference for orthopedic surgeons. We exchanged small talk and our respective professions. As an occupational hazard, after just a few minutes, the good doctor had rolled up my colleague's pant leg, examining the quality of his torn ACL repair. And, as hotel lounge discussions go in the subject of finance, the conversation naturally moved to their retirement accounts.
In a nutshell, they stated how happy they were to be heavily invested in fixed income. In their words, the stock market had gotten "too expensive and overvalued." I asked what made them feel so strongly. They responded straight away that "the market was at all-time highs."
I can't blame the couple for having the notion of an expensive market. I expect they enjoy a fairly high income stream and so a focus on capital preservation isn't the worst idea I've ever heard.
However, it's one thing not to jump into the stock market when it has reached prior highs, but what's convincing so many to be so heavily short? The short levels today imply an expectation of a market collapse. They exceed the peak short levels in 2007 and rival that of 2008. Note the market value short chart below.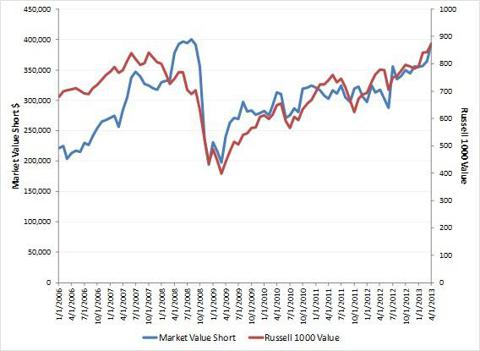 There are a number of charts we look at for short interest, and I won't say that this particular one is perfect. One of the issues with this chart is that as the stock market goes up, the market value short goes up. So, they're naturally correlated. However, even using the short interest ratio for the Russell 1000 (or for the SPY for that matter) short levels still appear above 2007 and in ranges near 2008.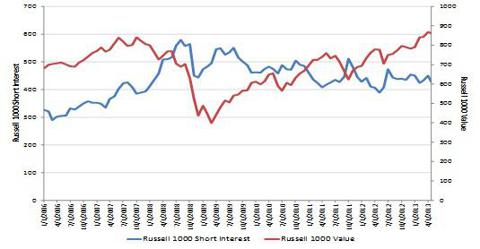 Of course, stock price history alone is a terrible way to judge the market's potential under-valuation or over-valuation. The US has experienced 13 years of positive economic growth since the 2000 peak, save a few quarters of recession. Isn't it within the realm of reasonableness that earnings and profitability growth might have actually been sufficient to support current valuations, or maybe even new highs?
We've studied the underlying corporate cash flows and balance sheets of 1000+ of the largest companies in the US. We believe aggregate fundamentals do support today's valuation levels, and are building a solid foundation for future upside. In other words, we're not at the tail-end of a bear market rally, we're at the often choppy beginnings of a long-term bull market.
The Fundamentals of a Bull Market in Cash Flow Returns
Cash flows drive valuations. When the ROI (adjusted return on investment, based on cash flows, aka "cash flow return") of a company is calculated correctly, it shows the real operating cash flow generating ability of a firm. Our analysis shows that not only has the ROI of Corporate America recovered, aggregate US corporate cash flow returns for 2012 show a weighted average ROI better than 9%.

For context, that's near an all-time high over the period of this chart and for 50+ years prior. Over 60 years, US and global corporate ROIs have averaged about 6% to 7%. (We analyzed non-financial firms, leaving out banks as their own special case. The Cash Flow Prime™ chart shows the gross majority of US industries, about 9.5 of the total 10 sectors.)
The ROI is a real number, not nominal, so it is entirely comparable against prior years as it removes several distortions caused by the changing value of the dollar. Also, this cash flow prime measure of ROI calculates the return on operating investments. That means that the lower interest expense from QE is removed so we get a cleaner picture of companies' real performance.
We also correct for excess cash; not "net cash" but truly excess cash as discussed in prior articles (for more, see here). In addition, we correct for off-balance sheet rental assets, amortization, goodwill, pension accounting, special charges and one-time gains, and a whole host of other problems in financial reporting that would have made comparability difficult. We do this in-house with a fleet of CPA and CFA types who painstakingly make these adjustments.
The ROI is similar to the prior peak. Why can't it collapse like it did before?
The knee-jerk response is a natural one. Since ROIs in 2012 appear to be as high as the peak levels in 2007, why can't the cash flow return fall in 2013 just as it did after 2007? Because fundamental company analysis just doesn't support a repeat of what happened from 2007 to 2009.
First to mention is the growing strength of US corporate balance sheets. In 2007, companies achieved a high ROI on a very shaky balance sheet financed with shorter-term debt. The companies continued to spend on that very precarious foundation. A collapsing balance sheet cannot support sustained cash flow returns. In 2007/2008 one would have had every reason to question the sustainability of those returns.
Back then, the credit markets actually recognized the crumbling foundation of US companies well before the market shorts. 5-year CDS (credit default swaps) skyrocketed from 30 bps to over a 100 bps even on investment grade names, and from 250 bps to over 550+ bps on high yield corporate debt in just 2007 alone. The corporate ROI of 9% in 2007 fell dramatically to 6% in 2009. That was a massive reduction in cash flow generating ability and increase in default risk.
Today, the credit markets are again ahead of the shorts. This time they are recognizing the positive fundamentals of US corporates, with CDS prices falling dramatically while company cash flow returns continue to improve. ROIs are reaching all-time highs with an upward trend. (For more on the fall in CDS and its relationship to the stock market, please see the this article)
Many have noted the high levels of total corporate debt outstanding today, citing it as a sign of near-term corporate demise. However, it's the risky structure of corporate debt and lack of cash flows to service that debt that would increase corporate defaults. Instead, the fundamentals of balance sheets today show improving strength and credit worthiness when examining debt structure, recovery rates, cash relative to debt servicing levels, and interest coverage ratios.
A Firm Cash Foundation for Current Valuations
US companies can now generate higher free cash flows, increase dividends, buy back shares, more easily pay their interest on debt, pay down debt, refinance more easily into cheaper debt, and store up cash for safer balance sheets. Who knows… one day the companies might actually spend that money on growing their businesses.
Any market reaching new highs in price can take time-out for profit-taking and rollover a bit. I'm no technical analyst. However, the longer term buying opportunity of such a rollover seems far more interesting than betting against a market of some of the healthiest, balance-sheet safe companies generating some of the highest cash flow returns in over 60 years.
Disclosure: I have no positions in any stocks mentioned, and no plans to initiate any positions within the next 72 hours. I wrote this article myself, and it expresses my own opinions. I am not receiving compensation for it (other than from Seeking Alpha). I have no business relationship with any company whose stock is mentioned in this article.