Mead Johnson Nutrition (NYSE:MJN) is a global leader in pediatric nutrition and develops, manufacturers, markets, and distributes more than 70 products in over 50 markets worldwide. The company's "Enfa" family of brands, including Enfamil infant formula, is the world's leading brand franchise in pediatric nutrition.
The company reported Q1 March earnings on April 25 of $0.85 per share which was in-line with analyst estimates. Q1 revenues were $172.5 million, up 5.1% from $164.2 million a year ago. Annual revenue grew by more than 5% to $1.04 billion, topping analyst forecasts of $1.02 billion. The company also reaffirmed its guidance range between $3.22 and $3.30 a share, versus the FactSet mean consensus estimate of $3.28.
As a side note, this was CEO Steve Golsby's last earnings call, as he plans to retire as CEO next week. He will remain on the company's board of directors.
There are some key takeaways from the results, most notably, revenue from China fell. The company did see 7% growth across Asia and Latin America. North America and European revenue increased only 1%, which the company attributed to a drop of volume due to discontinued operations which was offset by higher pricing.
New Competition and Tough Comps
What's going on with the company's business in China? The company attributed lower revenues in China to higher market share in the first quarter of 2012 and a tough year-over-year comparison.
Abbott Labs (NYSE:ABT), by contrast, was very upbeat during its Q1 conference call about China formula sales. Abbott recently opened a manufacturing plant in Guangzhou, China and research facilities in Singapore and India for new nutritional products. Additional facilities are also in the works for India and China. The new facilities helped launch 19 new products in Q1. Morgan Stanley analyst David Lewis explains, "China drives 60% of worldwide nutritional markets growth." He sees nutritionals as the key driver for Abbott and China as the catalyst. Abbott saw 17.1% year-over-year growth in Q1.
In addition to new competition from Abbott, Mead Johnson Nutrition is also facing heightened competition from Nestle (OTCPK:NSRGY), who recently acquired Pfizer's (NYSE:PFE) pediatric nutritional business for $11.85 billion. The acquisition garnered it a 9.8% share of the Chinese market. The company basically purchased market share in China.
Danone's (OTCQX:DANOY) results in China were also exceptionally good this quarter, up more than 20%, as compared to Mead Johnson's 7%. Credit Suisse analyst Robert Moskow points out that Mead Johnson did not benefit from Chinese mainlanders' hoarding products purchased on the internet or from clearing the shelves in the U.K. and Australia. According to Credit Suisse, these trends benefited Danone in particular.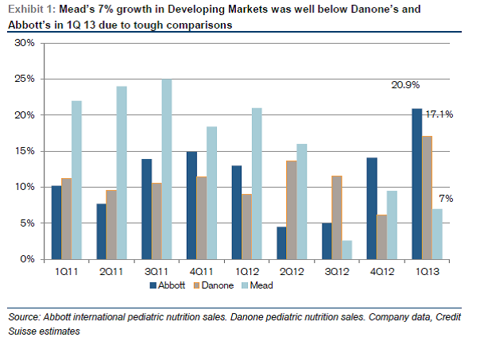 Citigroup said its survey of retail stores in Hong Kong indicate the government's restrictions on the export of milk powder to the Chinese mainland are indeed having a negative effect on Mead Johnson's Enfamil sales. Citi estimates that Mead holds a 40% share of the Hong Kong market, with around 90% of milk powder sales ending up in mainland China. The firm lowered its 2013 earnings estimate for Mead to $3.22 from $3.25, which is the low end of the company's guidance, and keeps a Neutral rating on the stock.
Chinese Infant Formula Market
The Chinese infant formula market is an important market. Sales of baby formula in China grew 29% to $15.4 billion last year, which is more than four times the U.S. market. And due to past product safety concerns, the market favors foreign competitors. In 2008, there was a "baby milk scandal" in China. At least 22 companies were found to have sold powdered milk products containing melamine. This distrust of local producers and China's limited child population has created an environment of scarcity and high pricing.
In fact, there is a new Bloomberg article bemusing the fact that milk smugglers now top heroin arrests in Hong Kong. On March 1st, Hong Kong started restricting outbound travelers to two 2-pound cans each to curb smuggling efforts to mainland China. As most Chinese parents only have one child, they are particularly safety conscious when it comes to their children. China's so-called "4-2-1 families" made up of four grandparents and two parents doting on a single child, pool funds and resources to provide the best for the child. This has also fueled a shift to premium product in China. Breastfeeding rates are low in China, less than 30%, driven in part from aggressive advertising convincing parents that formula is healthier.
On Mead Johnson's earnings conference call, the company said it saw an increase in sales in January and February in Hong Kong ahead of the newly imposed restrictions. But the company said it saw Hong Kong demand fall in March as the new regulation took effect and says it "remains cautious on the ongoing impact" to sales going forward.
Top companies by Market Share in China
Mead Johnson continues to dominate China in terms of market share. The six top infant formula companies by market share in China are as follows:
Mead Johnson (12%)

Danone (9.8%)

Nestle (9.8%)

Beingmate (9%)

Yili (8%)

Abbott (5%)
E-Commerce
Starting in March of this year, Alibaba-owned Tmall, which is the leading e-commerce site in China, began selling infant baby formula online. The six brands it is carrying are:
Karicare (Danone)

Nutrilon (Danone)

Cow & Gate (Danone)

Dumex (Danone)

Nestle NAN HA (Nestle)

Wyeth (Nestle)
The milk used for these products are from New Zealand, Britain, Germany, the Netherlands, or Switzerland. Notably absent from the list is Mead Johnson Nutrition.
Yihaodian, another leading consumer website in China, has plans to make up to 100 brands of infant formula available online by the end of the year.
The newly imposed restrictions in Hong Kong have also created shortages in Europe. Now, countries such as Germany, Britain, and the Netherlands have also enacted sales restrictions on sales as parents in China attempt to source European infant formula from friends and relatives in those countries. Resale prices on mainland shopping websites have skyrocketed. Australia is also experiencing empty store shelves.
Risks to Guidance
Mead Johnson has shown its ability to adapt to changing market conditions in the past. During the first half of 2012, price increases in its products, coupled with aggressive competitor promotions, took a toll on the company's market share. But the company recovered ground in the second half of the year. Morningstar analyst Steve Perkins predicts, "near-term, the company's biggest risk to guidance are the Hong Kong restrictions. Longer-term, the concern is higher dairy costs."
Latin America
As growth in China peaks, Latin America is expected to be another key growth driver for Mead Johnson . Latin America's infant formula market is expected to grow by 20% by 2016, which would constitute 12% of the global market. This growth is driven by favorable demographics in the region with the birth rate and number of women in the workforce growing. The company is well positioned in Mexico, Brazil, and Argentina. The company acquired an Argentine company just last year.
Conclusion
Longer-term, Mead Johnson Nutrition continues to be a compelling developing markets story. But in the near-term, investors need to carefully assess the impact of newly imposed restrictions in Hong Kong and heightened competitive pressures on company sales.
Disclosure: I am long PFE. I wrote this article myself, and it expresses my own opinions. I am not receiving compensation for it (other than from Seeking Alpha). I have no business relationship with any company whose stock is mentioned in this article.
Disclaimer: The opinions expressed above should not be construed as investment advice. This article is not tailored to specific investment objectives. Reliance on this information for the purpose of buying the securities to which this information relates may expose a person to significant risk. The information contained in this article is not intended to make any offer, inducement, invitation or commitment to purchase, subscribe to, provide or sell any securities, service or product or to provide any recommendations on which one should rely for financial, securities, investment or other advice or to take any decision. Readers are encouraged to seek individual advice from their personal, financial, legal and other advisers before making any investment or financial decisions or purchasing any financial, securities or investment related service or product.
Information provided, whether charts or any other statements regarding market, real estate or other financial information, is obtained from sources, which we and our suppliers believe reliable, but we do not warrant or guarantee the timeliness or accuracy of this information. Nothing in this article should be interpreted to state or imply that past results are an indication of future performance.