Energy-focused master limited partnerships (MLP) have outperformed by a wide margin in recent years, fueled by the confluence of inexpensive capital, ample growth opportunities related to the ongoing shale oil and gas revolution, and above-average yields that stand out in the current environment. (See The Appeal of Investing in MLPs.)
Over the past three years, the Alerian MLP Index - a capitalization-weighted composite of 50 energy-focused publicly traded partnerships - has generated a total return of 74%, outpacing the gains posted by the S&P 500 and Bloomberg North American REIT Index. Although units of publicly traded partnerships sold off in the fall of 2012 because of unfounded concerns about an imminent change in the group's tax treatment, these stocks have enjoyed a banner year thus far in 2013, with the Alerian MLP Index rallying to record highs.
Income-seeking investors looking to add leveraged exposure to these powerful growth trends should consider the universe of pure-play general partners, a niche segment that comprises 12 names - six corporations and six publicly traded partnerships or limited liability companies.
The MLP structure often comprises two entities: a limited partnership that owns the underlying assets and a general partner (GP) that's responsible for managing the operating entity. In addition to a minority stake in the limited partnership, the general partner holds incentive distribution rights (IDR) that entitle it to an incrementally higher percentage of the LP's distributable cash flow as the payout reaches certain predetermined thresholds.
This structure effectively motivates the GP to pursue initiatives that will enable the operating MLP to grow its cash flow and quarterly disbursements to unitholders; a rising payout at the LP level translates into disproportionate increases to the GP's incentive distribution.
Check out this graph comparing the 2012 dividend growth rate for nine of the 12 pure-play GPs to that of their corresponding LPs. Note that we omitted the pairings of Western Gas Equity Partners LP (WGP) and Western Gas Partners LP (WES), Golar LNG Limited (GLNG) and Golar LNG Partners LP (GMLP), and Inergy LP (NRGY) and Inergy Midstream LP (NRGM) because one member of each twosome hadn't recorded eight quarters' worth of distributions. We also didn't include Access Midstream Partners LP (ACMP) because Williams Companies (WMB) didn't announce the agreement to acquire 50% of the GP interest in the LP until December 2012.
All the GPs included in our study grew their 2012 payouts at a faster rate than their corresponding LPs. The spread between these growth rates hinges on two factors: the IDR schedule and equity issuance at the LP level.
As the MLP achieves certain distribution targets laid out in the partnership agreement, the IDR schedule allocates a growing proportion of the LP's cash flow to the GP.
The first interval of these sharing arrangements usually starts with the GP receiving 2% of cash flow designated for disbursement and the LP unitholders receiving 98%. Meanwhile, the top tier of the IDR schedule - the "high splits" in industry parlance - often entitles the GP to about 50% of incremental cash flow. That is, in order to raise the LP distribution by $0.01 per unit, the MLP would need to pay a corresponding $0.01 to the GP for each outstanding LP unit. (I discuss the ins and outs of the IDR schedule and its implications in MLP Basics: Incentive Distribution Rights Explained.)
The distributable cash flow allocated to the GP also increases when the LP issues equity; the general partner is entitled to receive additional payments for each additional LP unit. Consider the case of Energy Transfer Equity LP (ETE), the GP to Regency Energy Partners LP (RGP) and Focus List holding Energy Transfer Partners LP (ETP). While Energy Transfer Partners has held its distribution flat over the past three years and Regency Energy Partners grew its disbursement by 1.1% over this period, Energy Transfer Equity's unitholders enjoyed a 5.5% bump in their quarterly payout.
Although shares of pure-play GPs tend to offer inferior yields relative to the associated LP units, investors shouldn't overlook the importance of a growing quarterly payout to a stock's performance: Not only do rising distributions increase the current return, but they also tend to capture investors' attention and drive stock prices higher. Based on appreciation alone, our proprietary index of general partners has outperformed the Alerian MLP Index and our in-house MLP indexes over the past 12 months.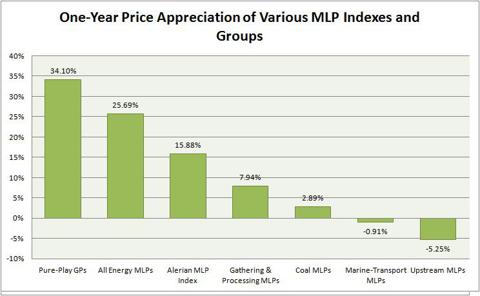 Source: Bloomberg, Energy & Income Advisor
And with the exception of Kinder Morgan Inc. (KMI), units of all the GPs included in our study have handily outperformed their associated LPs over the past year.
We expect this outperformance to continue as long as the GPs (and their underlying LPs) continue their robust distribution growth.
As an added bonus, the future eventually could bring another wave of MLPs acquiring their pure-play GPs in an effort to lower their cost of capital. We last saw an upsurge of these transactions between 2008 and 2010, when Buckeye Partners LP (BPL) Enterprise Products Partners LP (EPD), Magellan Midstream Partners LP (MMP), MarkWest Energy Partners LP (MWE) and PVR Partners LP (PVR) all took out their publicly traded general partners to improve their competitiveness.
However, investors shouldn't assume that a pure-play GP's accelerated distribution growth necessarily makes the security a superior investment to the LP units. Investors seeking regular income may prefer the higher yields offered by LP units, while others may be put off by pure-play GPs that are organized as corporations and lack the tax advantages of an MLP.
Prospective investors should also pay close attention to valuation. For example, we added Energy Transfer Partners to our Focus List on October 3, 2012, because the stock traded at a significant discount to our estimate of its intrinsic value. At the time, we preferred the MLP to Energy Transfer Equity because of the former's favorable valuation and elevated distribution yield.
As we explained at length in It's Complicated: A Midstream Value Play, Energy Transfer Partners' stagnant quarterly payout and complicated structure had spooked investors from the stock, prompting the market to overlook the potential for the blockbuster acquisitions of Sunoco and Southern Union to drive distribution growth.
In subsequent months, units of Energy Transfer Partners have rallied by 21.2%, bridging the gap between the stock price and our valuation target.
Disclosure: I am long WES, EPD, NGLS, ETP. I wrote this article myself, and it expresses my own opinions. I am not receiving compensation for it (other than from Seeking Alpha). I have no business relationship with any company whose stock is mentioned in this article.