With over 85% penetration and a slowing US economy, the wireless market was not expected to post any significant subscriber gains in 1Q CY09 and as per expectations subscriber additions were weakest in the last 3 years. Service providers in 1Q added just over 3 M subscribers compared with ~4.9 M net additions in 1Q CY08 (Exhibit 1).
Exhibit 1: Slowing subscriber additions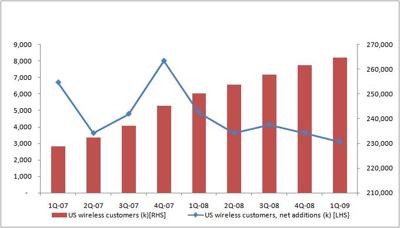 Source: Gridstone Research
With these net additions, the overall wireless subscriber base reached 264.67 M with top 4 service providers (VZ, T, S and DT) securing ~93% market share.
Exhibit 2: Market share based on Customer base

Source: Company Reports and Gridstone Research
While the overall subscriber additions were impacted by the worsening economic conditions, standout performance came from LEAP and PCS as both accounted for a yoy increase in subscriber additions to 684,000 and 493,000. Another surprise was the decrease in subscriber loss at S (3rd largest service provide) to 182,000 compared with 1,087,000 in 1Q CY08; the improvement was primarily due to improvement in quality initiatives.
Exhibit 3: Subscriber addition by service provider

Source: Company reports and Gridstone Research
With the lower additions, service providers took steps to keep the existing subscriber base intact and to maintain the revenue and profit levels by improving quality and handset offerings. This effort resulted in decline churn rate at all major service providers except for VZ who posted a 10 bps quarter over quarter increase in churn rate to 1.5%.
Exhibit 4: USM jointly with VZ has the lowest industry churn


Source: Company reports and Gridstone Research
Consistent with previous quarters, ARPU continued to decline in 1Q09, despite a double digit increase in data ARPU by most service providers.
Exhibit 5: Consistent decline in ARPU despite increase in data revenue

Source: Company reports and Gridstone Research
Conclusion: With declining net additions and ARPU, service providers have started taking a look at alternative sources of revenue generation. T and VZ spotted this earlier and started with their fiber cable offerings of broadband and satellite TV services; however, these services have not generated substantial returns till date. Another scenario that likely emerges is further consolidation with VZ taking over AT purely for subscriber numbers it remains to be seen that regional players like USM, LEAP and PCS will be able to work independently or will be gobbled up by any big service provider.
Disclosures: No positions in VZ, T, S, PCS, USM, LEAP, DT, CYCL or ALSK.