3D Systems (NYSE:DDD) is scheduled to release its 1st quarter 2013 earnings on Tuesday, April 30th at 9:00 am ET. Below I have provided an update of the quarter as well as an overview of earnings expectations.
Profile and Estimates
3D Systems has a market cap of $3.25 billion and currently trades for $34.32 per share. Shares are down 1.27% YTD but trade 101.45% above their 52-week low of $17.04. Analysts have a mean target price of $41.50 and a median price target of $41.00 on the shares. Seven analysts have an average first quarter earnings per share estimate of $0.21 on estimated revenues of $101.61 million. 3D systems has met or surprised earnings expectations in each of the last four quarters.

Fundamentals and Highlights (Sources cited below article)
Positives
Net Income has averaged 231.8% over the past three years.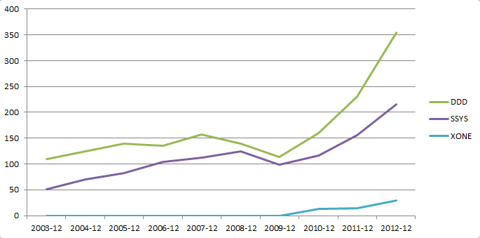 Net margin of 11% and ROA of 6.8 are both above the industry averages 8.8% and 4.1 respectively.
D/E of 0.2 is well below the industry averages 1.1.
Broad portfolio of 3D printers.
Growing demand for parts, printers and proprietary materials.
Rising Book Value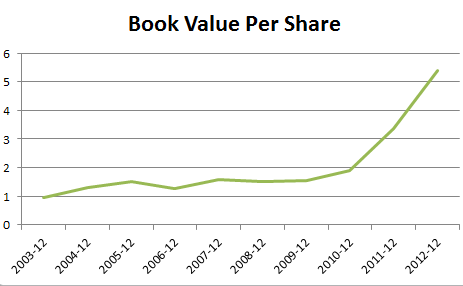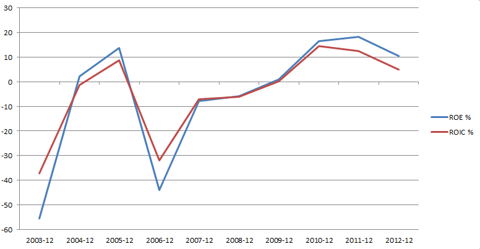 Negatives
P/E of 49.5, P/B of 6.7 and P/S of 5.4 are all above the industry averages 21.2, 2.5 and 1.4 respectively.
ROE of 10.6 is below the industry averages 15.4.
Narrow Moat.
Risk of the unknown.
Guidance
Management is expecting revenue for 2013 to be between $440 million and $485 million with EPS between $1.00 and $1.15 (post-split basis).
Take Away
So far, 3D Systems has managed to stay ahead of Stratasys and ExOne. I don't think its going to be hard for sales to continue to grow over the next few years but the big question is how fast? 3D Systems shares have pulled back from their January highs of $47.99, any big surprise could send shares straight back up.
Sources
In addition to the links above, ratios and financial data was sourced from Morningstar.com, which you can find here.
Other company data was sourced from the annual report that can be accessed here.
Disclosure: I have no positions in any stocks mentioned, and no plans to initiate any positions within the next 72 hours. I wrote this article myself, and it expresses my own opinions. I am not receiving compensation for it (other than from Seeking Alpha). I have no business relationship with any company whose stock is mentioned in this article.