One of the things that often makes strong trends secular rather than cyclical is people have trouble believing them as they occur. Everyone already knows that everyone wants a smartphone, which means the story is probably closer to its end than its beginning. In fact, we can make the case that the only real growth for smartphones until some new technology comes out comes from the reality that teenage girls break their phones every three months.
The two strong trends right now that so many have trouble believing are: 1) U.S. housing [see our coverage of D.R. Horton (NYSE:DHI) prior to its earnings release last week] and 2) firearms and ammunition. Of course, we don't really know that these trends are going to continue. All we can really do is check along the way to make sure the story hasn't changed.
We will get confirmation once companies like Sturm, Ruger & Company (NYSE:RGR) report results and throughout the quarter we get analysts providing reports and speculation, but it isn't until we get true data points that we can bridge the gap prior to actually hearing what the gun companies say. That is where the whispers come in. Both buy-side and sell-side analysts are gathering the information as it comes out, but the sell-side isn't necessarily going to issue a new report and submit new estimates with each new data point. All you have to do though is call up the analyst at the firm of your choice and he or she will tell you something along the lines of the following:
The consensus revenue estimate for Ruger is $131.65 million, which represents sales growth of approximately 17% year-over-year; but that is likely much too conservative after what we've seen over the past week or so. For one, the FBI's National Instant Criminal Background Check System [NICS] shows demand for firearms increased by 107% over the same period a year ago and last quarter Ruger said it gained market share and it sales outpaced the growth indicated by the background checks.
Another data point came from Olin (NYSE:OLN). The company disappointed with its results last week, but that's because Winchester sales make up only about a quarter of the total company. Winchester's total sales increased by 27.5% and its commercial sales increased by 40%. The total sales growth was modestly better than last quarter when it reported total sales growth of 27.1%.
In addition, Cabela's (NYSE:CAB) reported same-store-sales growth of 24% last week and, when we back out other data, we get firearm and ammunition sales that seems to have increased by 40% as well. Last quarter Cabela's same-store-sales growth was just 12%, so this showed a very solid acceleration in same-store-sales led by firearm sales during the quarter. This has a solid read-through for Big 5 Sporting Goods (NASDAQ:BGFV), which reports after the close on Tuesday, April 30, 2013 and is expected to beat estimates. The consensus earnings estimate for Big 5 is $0.20 per share and the our number is $0.24 per share. However, the accelerating growth by both companies also suggests that Ruger's sales outpaced the 52% growth it reported last quarter.
Based on Winchester's commercial sales and Cabela's same-store-sales as well as Ruger's market share, 40% sales growth for Ruger is probably conservative, which would result in total revenue of approximately $155.0 million - well above the consensus estimate. This, in turn, would result in earnings of approximately $1.15 per share. The consensus earnings estimate is $1.04 per share.
On the more optimistic side, which merely implies the company's sales growth accelerated over the previous quarter, there are expectations of 55% sales growth. This would bring revenue to around $175.0 million and that calculates to an earnings per share number of approximately $1.37 per share with the assumption of a 20% increase in operating expenses and no change in the tax rate. We've averaged these two expectations for our expectation of $1.25 per share.
When we look at the chart below for Ruger, we believe there is evidence that the market just doesn't believe the trends can continue. For one, there are a handful of analysts following the company, but we don't have a consensus for 2014 earnings estimates. Normally, we chart estimates for the next fiscal year, but we've had to modify the chart to show 2013 estimates up until the company reported 2012 results. From that point on, the number is blank because we don't have any. Many large investors are just not going to invest if they can't see that far out, because they use forward estimates for their valuation models. That's likely a reason there has been a ceiling for the stock around $58.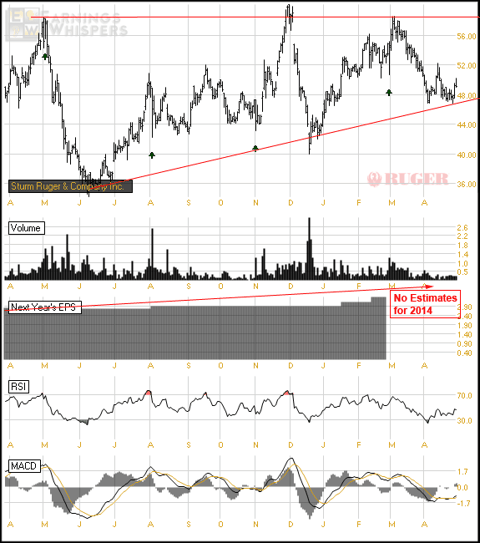 Of course, we don't know if the trend is going to continue either beyond 2013, but we know from Olin and Cabela's that the trend continued during the first quarter and there has been no sign of a let up at the start of the second quarter. If the company can just maintain flat growth in 2014, then it would mean earnings of $3.80 per share based on current consensus earnings estimates for 2013 - estimates that are going to go higher on Tuesday if the whispers and data checks are correct. The stock has historically traded at 18.1 times forward estimates, which means the stock has room in its valuation to get to $69 prior to any upward earnings revisions and, technically, a move that holds above $58 has room as well. Each drop below $58 has been met with buyers and a higher-low was made. Measuring the distance of these lows, we have an upside target of $68 to $80 on a move that holds above $58. That is the better trade - buying on a move that holds above $58 - but given the data checks, there is a favorable risk/reward through the earnings release as well.
Ruger is scheduled to report earnings after the close on Monday, April 29, 2013. Ruger isn't widely followed and hasn't always been the growth story it is at the moment, so we don't have a lot of history of how it trades relative to whispered expectations, but the average move on earnings is 8.7% on the first trading day after it reports.
Disclosure: I have no positions in any stocks mentioned, but may initiate a long position in RGR, BGFV over the next 72 hours. I wrote this article myself, and it expresses my own opinions. I am not receiving compensation for it (other than from Seeking Alpha). I have no business relationship with any company whose stock is mentioned in this article.
Additional disclosure: I have a long position in D.R. Horton (DHI).