WSJ reported last night that Treasury had finally settled on bailout amounts for the large life insurers. They reported back in April that the companies had been approved to participate in TARP, but it wasn't until yesterday that actual bailout amounts were leaked.
In total, six companies — Hartford (NYSE:HIG), Principal Financial (NYSE:PFG), Allstate (NYSE:ALL), Ameriprise (NYSE:AMP), Lincoln National (NYSE:LNC) and Prudential (NYSE:PRU)— are now eligible to receive $22 billion. So far Hartford has announced that it received "preliminary approval" for $3.4 billion and Lincoln $2.5 billion.
[According to a Reuters article, analysts at KBW are speculating that Prudential/Ameriprise/Principal may turn down the money because they have stronger capital positions. Getting cold feet after putting in their applications I guess.]
In other, related news: trucking company YRC (formerly Yellow Roadway)(NASDAQ:YRCW) is applying for TARP funds to help with pension obligations:
YRC Worldwide Inc., one of the nation's largest trucking companies, will seek $1 billion in federal bailout money to help relieve pension obligations, the chief executive said Thursday….

Chief Executive William Zollars said the company will seek the money to help cover the cost of its estimated $2 billion pension obligation over the next four years. Under a complicated system that Mr. Zollars labeled unfair, roughly half of YRC's contributions to a multi-employer union pension fund cover the costs of retirees who never worked for the Overland Park, Kan., company…..

One potential outcome that the company could seek is for the Pension Benefit Guaranty Corp. to take over financial responsibility for pension payments to retirees who worked not for YRC but for other companies that have since gone out of business and are no longer contributing to the multi-employer plan, according to a person familiar with the situation.
PBGC is the federal agency that insures pensions. One way or another, taxpayers are going to pay!
The article suggests YRC has a low probability of getting any relief. And that's a good thing. Using TARP money to bail out pension risks establishes a bad precedent, given how many large pension funds are so terribly underfunded. Below is a table from Merrill Lynch (ht ZeroHedge) which lists the pension plans with the largest deficits as of 12/31/08. It's not a pretty picture: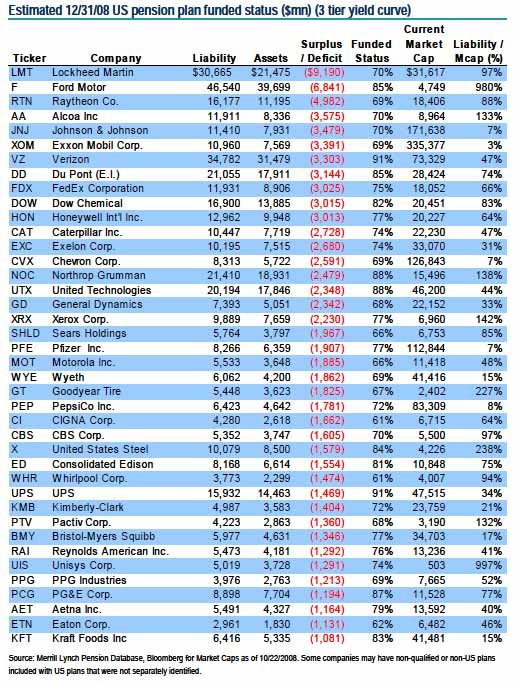 Hopefully YRC's request falls on deaf ears…