Following Microsoft's (NASDAQ:MSFT) solid earnings report last week, a swagger appears to have returned to the offices at Redmond, but old problems remain and new ones continue to multiply. In the second part of this series, I delve deeper into Windows Phone, Microsoft's mobile operating system and attempt to discern if it will ever gain long-term viability and why that matters more than you might think.
Problem 2: Windows Phone remains a peripheral OS with less than 2% marketshare
Since its launch in November 2010, Windows Phone has sold approximately 30 million handsets with Nokia's (NYSE:NOK) reported Lumia sales representing two-thirds of that total. We can infer another 10 million for other manufacturers from AdDuplex. This figure over 30 months pales in comparison to the iPhone (NASDAQ:AAPL) which sold 37 million in the last three months alone. This snapshot statistic in and of itself indicates Microsoft has a significant problem. To illustrate why, let's backtrack and consider why Windows Phone exists at all, as with many consumer tech stories, it starts with Apple.
How Microsoft tried to counter-attack Apple
The following flowchart compiled using publicly available information gives a very brief overview of Apple's actions over the last 12 years and how Microsoft tried to respond.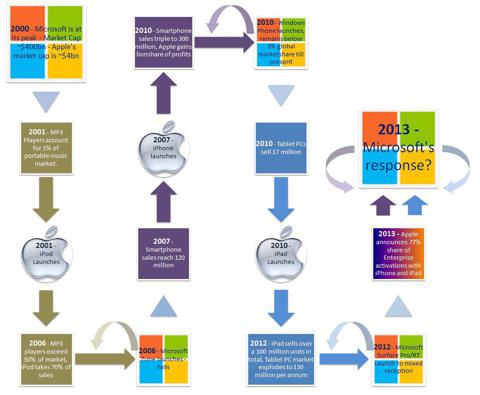 (Source: Author's work based on numerous data sources including IDC and Gartner)
When one analyzes Apple's strategy over the long term, it builds and expands upon its beach-heads. It transforms entire market segments and captures the lion's share of their profits. In turn, the positive cash flows generated enable Apple to expand further. And in a reinforcing cycle, consumers flock to the 'next big thing' Apple has up its sleeves because of its stratospheric customer satisfaction rates. Of course, this does not mean that Apple is uniquely capable and destined to win in every market it enters. Its recent gross margin declines show it is facing strong competitive pressures. Despite these setbacks, I do feel it offers sustained unique selling points which its competitors have not yet satisfactorily resolved. This includes retail stores (compare the drabness of a Microsoft-driven laptop found in electronic stores and the buzz in most Apple stores); excellent customer service; and intuitive software which is often recommended for its ease-of-use. Microsoft thus faces a formidable foe.
It has three angles of attack to prevent Apple destroying its profitability. Its first angle must be Windows Phone. This, is as modern smartphones are one of the most used and affordable items of technology people own. Its second angle of attack to prevent consumers becoming too invested in the Apple ecosystem is the Surface tablet with Windows RT. I have already made my feelings clear with this product. I feel it is completely ineffectual in preventing Apple's rise. Its final angle comes from the Intel (NASDAQ:INTC) ultrabooks and Surface Pro. However, if Windows phone and Windows RT do not gain sufficient traction in consumer mindshare (and the more valuable marketshare), then it will be irrelevant how beautifully designed Microsoft's ultrabooks are. What will happen is that consumers, at work will start demanding the same Apple products they use to at home. This has already started to happen with 77% of all enterprise activations being iOS-led in one recent report.
This is why Windows Phone is of vital importance to Microsoft, if it fails, the way lies open for Microsoft's competitors to destroy it from a method it never considered: ground-level demand from end-users in enterprise for Apple solutions.
Windows Phone: Current State of Play
Globally, Windows Phone has so far failed to gain traction, representing 1.02% of phones in active use as the following Statcounter chart illustrates.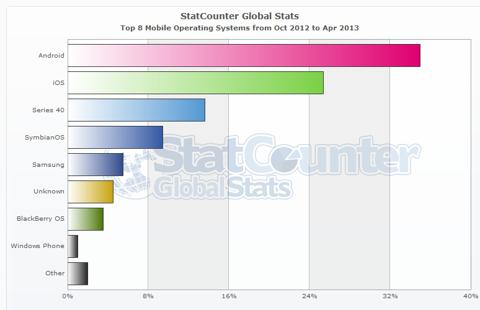 Source: Statcounter.com
Nevertheless, it is not all doom and gloom. Starting from a very low base, Nokia's investment in Windows Phones has started to pay off with it recording year-on-year growth, undoubtedly giving fresh hope to the previously beleaguered behemoth. Furthermore, the Lumia range is predicted to record another 27% increase for FQ2 2013 to approximately 7 million handsets sold. Another boost comes from the fact that whilst the above chart represents global phone usage, Windows Phone is performing considerably better than 1% in specific markets, including all those monitored by Kantar Worldpanel which could bode well for its future (more on that in a moment).
Despite this positive trajectory, fundamental questions remain if this is due purely to Nokia's drive and commitment to the platform and if Microsoft can be counted as a net positive contributor. As I discussed in the first part, the WP store has serious issues. These are mitigated somewhat by Nokia's efforts in bringing developers to the platform through its 'Nokia Exclusives' initiative. Nokia has also created its own urgent solutions to WP bugs. This includes, for example, a storage removal tool to prevent otherwise undeletable data filling the entirety of users' phones. Whilst Lumia users now have a useful solution to the problem, other WP manufacturers have still not resolved this leaving a number of WP users with semi-functioning phones.
In another rather under-reported development, HTC (OTC:HTCKF), the manufacturer of the Windows Phone 8X and Microsoft's lead advertising partner has announced it will not launch another high-end WP phone this year. It appears that even though HTC has received significant inducements from Microsoft, it is not rational for it to continue to invest heavily in the platform to be only rewarded with mediocre sales. It appears to have sold between 1-1.5 million of its current models, again extrapolated from AdDuplex data. With limited commitment from Samsung (OTC:SSNLF) which is possibly using the platform solely as a means of hedging risks from being over-dependent on Android; this leaves Nokia as the dominant manufacturer by far for Windows Phone.
The Future
Indications are from Microsoft that Windows Phone is moving towards an integrated future with Windows 8 and RT through a complementary interface and unified store. This will certainly make it easier for developers to bring products to the platform. However, I do not think using the NT kernel in itself is sufficient incentive to mobilize the developer community. It will always be more rational given a set number of resources for developers to preferentially develop for iOS and Android. As mentioned previously in the first part, Microsoft needs to remove the 30% 'tax' on development and replace this urgently with a demand-driven subsidy. It also needs to move away from its US-centric view and start to really investigate how smartphone OS penetration spreads. Like most products, I strongly suspect that word-of-mouth is pivotal which requires strong customer satisfaction rates (the "Tipping Point" phenomenon). This is one of the core reasons why Apple has succeeded. This can also mean that entire countries can suddenly 'flip' towards utilizing particular technologies or products. I believe that the UK, Italy and India are examples of major markets most likely to flip towards WP. Microsoft thus needs to forget US or global penetration and focus on countries such as these. If such places can gain significant marketshare, they can then serve as platforms for WP to spread further afield. I believe over-emphasis in the US is parochial in nature, if Microsoft is a multinational; it needs to behave as such. There has been some effort in this regard with the "4Afrika" initiative for example. Such regional strategies are vital to gain long-term viability.
If Microsoft does not take urgent measures to increase this share, WP's success would then be entirely dependent on Nokia, which regardless of its enthusiasm and zeal for WP, is still a company struggling to generate positive cash flow. For Microsoft to abnegate responsibility for its own future and leave it to Nokia would thus be a dereliction of duty and a risk it simply cannot afford to take.
Conclusions
This article gives just a brief overview of Windows Phone. As ever, it is up to investors to judge for themselves the true risks companies face. I believe that the potential failure of Windows Phone present a significant threat to the future profitability of Microsoft. I also feel that the current run-up of Microsoft stock is overblown. Microsoft's diverse portfolio gives it considerable resilience, but it does not make it immune to competitive pressures. In the next part, I will examine Microsoft's management structure and consider whether it is optimally placed to deal with its challenges.
Disclosure: I am long NOK. I wrote this article myself, and it expresses my own opinions. I am not receiving compensation for it (other than from Seeking Alpha). I have no business relationship with any company whose stock is mentioned in this article.