One of my favorite speculative plays for 2013 is Document Security Systems (NYSEMKT:DSS). The year 2013 could be a massive year for DSS and this article will outline why I have been a buyer recently and why I will be adding on any dips.
DSS engages in the development, manufacture, marketing and sale of paper and plastic products to protect information from unauthorized scanning, copying and digital imaging in the United States and internationally. The DSS Printing Group segment produces printed materials, such as security paper, vital records, prescription paper, birth certificates, receipts, manuals, identification materials, entertainment tickets, coupons, parts tracking forms, brochures, direct mailing pieces, catalogs, business cards. Its Plastics Group segment manufactures laminated and surface printed cards, including magnetic stripes, bar codes, holograms, signature panels, invisible ink, micro fine printing, guilloche patterns, biometric, radio frequency identification, and watermarks for printed plastic documents.
The Future
On March 15th 2013, DSS announced that its merger with Lexington Technology Group (LTG) is on pace to close Spring 2013. This is right around the corner and presents big potential for the company moving forward. If the company manages this merger, which I believe it will, LTG can bring a strong and proven intellectual property management team and IP investment portfolio that it will focus on monetizing.
LTG has two major investments.
Bascom research, which pertains to social network data structure, includes six patents and four applications in this field.
Virtual agility, which pertains to user configurable platforms used to create sophisticated, integrated applications and includes five patents and five applications in this field.
The management team after the merger will consist of a highly-renowned team full of previous successes. Jeff Ronaldi (current CEO of LTG) will serve as the new CEO after the merger. He has over 25 years of experience in company formation and management. He managed Juridica's investment in patent portfolios, whose investment results include a $50 million judgment. Ronaldi was also a former general manager at ImageExpo, which won a $60 million verdict against Microsoft (NASDAQ:MSFT) and a $10 million verdict against Citrix (NASDAQ:CTXS).
Peter Hardigan, currently working with LTG, will serve as COO of DSS after the merger. Hardigan was formerly CFO of IPNav. IPNav, led by Erich Spangenberg, has successfully monetized more than $600mm in IP and is considered one of the most renowned players in the IP space.
Investors
Coincidentally enough I found one "mystery" investor from looking through Document Security System's latest S-4. Under the list of beneficial owners, there is one shareholder who will beneficially own 8.99% after the merger with the following name and address:
1960480 BT, LLC
2515 McKinney Ave
Suite 1000
Dallas, TX75201
If you put that address into google, the first result that comes up shows you it is IPNav's address. This is a huge validation for DSS to me as an investor in the IP space, that IPNav has made a significant investment in the company. IPNav knows Intellectual Property arguably as well or better than anyone in the industry and its investment substantiates both current IP portfolios in LTG/DSS and its IP business model moving forward.
Other investors listed in this S-4 include highly regarded funds Hudson Bay and Iroquois. Both of these funds were early investors in Vringo (VRNG). Vringo has been somewhat of a roller coaster ride of late, but anyone who was fortunate enough to invest early has enjoyed a tremendous growth. I think, and more importantly these two funds seem to think, that DSS has the same potential.
Billionaire investor Dr. Phillip Frost's fund, Frost Gamma Investments, is also listed in this same S-4. Frost is the CEO and Chairman of Opko health (NYSEMKT:OPK) and Chairman of the Board for Teva Pharmaceuticals (NYSE:TEVA). Quite a list of investors.
IP Industry Growth
The global IP market continues to grow. The World Intellectual Property Organization shows how growth has increased over the years, from $2.8 billion in 1970, to $27 billion in 1990, to a staggering $180 billion in 2009. The industry continues to evolve as seen in recent years with a number of mergers, including Google (NASDAQ:GOOG) and Motorola's recent $12.5b deal.
Virnetx (NYSEMKT:VHC) also recently had its $368 million jury verdict upheld against Apple (NASDAQ:AAPL). There has been plenty more activity in the space that I will not rehash here, but for more information some big names in the space to research include VHC, VRNG, Acacia Research (NASDAQ:ACTG), and ParkerVision (NASDAQ:PRKR). All of these companies have realized tremendous shareholder value for their early investors.
Future Trials
Bascom Research, a wholly owned subsidiary of LTG, covers the ability to link, search and provide selective access to information in social networks and in modern enterprise software. Furthermore, Bascom research has filed patent infringement lawsuits against five defendants in the US district for the Northern District of California. These include:
CAND-3-12-cv-06293 against Facebook (NASDAQ:FB)
CAND-3-12-cv-06294 against LinkedIn (NYSE:LNKD)
CAND-3-12-cv-06295 against Novell
CAND-3-12-cv-06296 against Jive (NASDAQ:JIVE)
CAND-3-12-cv-06297 against Broadvision (NASDAQ:BVSN)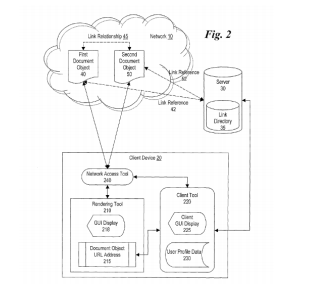 As this picture shows, establishing a relationship between two or more objects is part of the Bascom Research Patents. I believe this bodes well for the infringement lawsuit versus Facebook, LinkedIn et al. Also boding well for larger verdicts or settlements with the largest defendants in this case (FB and LNKD) are the fact that on 4/23/2013 LTG announced that it had already reached a settlement in its litigation with one of the defendants. Terms are confidential, "but include an effective royalty rate of ~4% for use of the four Bascom patents currently in litigation." Another important outcome of this settlement is it will allow LTG to realize revenue beginning in 2Q 2013.
The case and potential timeline is as follows: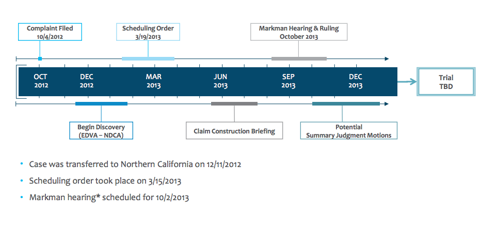 LTG owns a minority equity interest in Virtual Agility as well. A patent infringement lawsuit was recently filed relating to this IP portfolio against nine defendants, including Salesforce (NYSE:CRM), Dr. Pepper Snapple (NYSE:DPS), NBC Universal, BMC Software (NASDAQ:BMC), Dell (NASDAQ:DELL), Living Social, Kimberly-Clark (NYSE:KMB), FedEx (NYSE:FDX) and Bank of America (NYSE:BAC).
DSS and the future
DSS owns nine patent families and has 12 pending applications. The company has current licensing relationships with R.R Donnelly (NASDAQ:RRD) and other security printers. The company aims to acquire additional portfolios and make investments that build value in their existing businesses. The current pipeline has many potential opportunities and includes relationships with universities, research institutions and service providers like bankers, lawyers and brokers.
DSS is considered a technology innovator. It is a leader in anti-counterfeiting and authentication technology that works with a number of Fortune 500 companies to design proprietary technology solutions to protect government documents, identity cards, academic records and other valuable documents.
The current counterfeiting market place is showing an appetite for technologies like DSS' that give DSS high future growth potential in its current business avenue as well. The United Nations World Intellectual Property Organization estimates that there are $1 trillion in losses globally from counterfeiting issues. A number of key markets exist including pharmaceutical, cosmetics, apparel and high value consumer goods.
DSS also offers security as a service: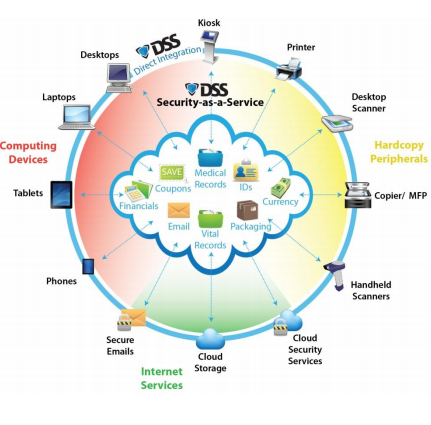 Early this year, DSS finished beta testing for AuthentiGuard Authentication Solution for iPhones. This advanced technology can reduce the need for costly proprietary scanners and complex training, making mass scale package security more efficient.
Fundamental analysis
Market capitalization $49m

Float of 19.2 m shares

Cash of ~$2m. in the bank
Although the cash in hand could seem low, it is important to note that the upcoming merger will increase the cash in hand to $7 to $9 million. This should be enough to fund operations and thus no secondary offering of shares would be needed.
The earnings call on March 6th 2013 highlighted the company's plans moving forward:
The CEO stated:
Again, 2013 was a transformative year for DSS. Our new product offerings as well our pending merger with Lexington Technology Group promises for very active, potentially rewarded in 2013. During 2012, we've made investments in research and new product development that significantly improved our ability, to deliver and manage our corporate print technologies digitally through the cloud.
Revenues reached $5.5 million in the fourth quarter, which was a record quarter for the company and up 30% over Q4 in 2011. Full year revenues were $17.1 million, a 28% increase from 2011, and the highest annual level in the company's history. Security printing sales increased 47%. Gross profit was a 40% increase over the fourth quarter in 2011.
Operating expenses increased 24% but this was due to the pending merger with LTG.
The printing side continues to do very well as the CEO stated:
We see progress in the security print side of the business, the commercial side of the print business is still I'll say there's more of a universal comment, commercial side of the industry it's very impressed and still remains impressive.
Technical analysis
I present a monthly chart here. The price has been forming a base around $2-2.50. I expect higher prices in the next few months, as there are a number of catalysts moving forward. Stochastics are now heavily oversold and a gap fill to $9 is my first target. With a 7% short position and upcoming news, this is certainly possible.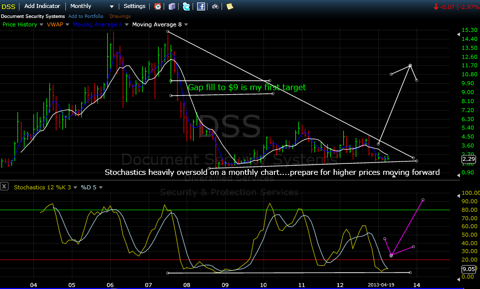 Conclusion
I continue to like the potential of DSS going forward.
The recent merger is on pace to effectuate very shortly.

The litigation for Bascom Research is moving forward with an October 2nd date set for the Markman hearing.

The company has already reached a quick settlement with one of the defendants in this case, a validation and possible foretelling of things to come with the larger defendants.

The list of large investors filed in the recent S-4 by DSS reads like a "Who's who" in regards to representing some of the smartest funds and investors in the IP space.
The opportunity to buy DSS at these levels is a big one. One needs to only look at the chart of VirnetX to see what is possible as good news starts to roll out.
Risk Factors
As with any investment, it is important to consider the risks factors as well. The risk factors for investing in DSS are well outlined in its recent 10K beginning on page 8. The largest risk in my mind is failure or delays in completing the merger. This does not seem likely to me, and even if this does happen, I believe the downside is still protected by DSS' legacy business, which generated ~$17 million in revenue last year. Negative outcomes in the litigation are another big risk to consider. One should also note that even though positive outcomes can come out from the litigation procedures, one must remember that revenue might take some time to come through as these legal battles can take time to finish.
Disclosure: I am long DSS. I wrote this article myself, and it expresses my own opinions. I am not receiving compensation for it (other than from Seeking Alpha). I have no business relationship with any company whose stock is mentioned in this article.