At the end of last year, I had written an article on the structural problems of China's largest telecommunications carrier China Mobile (NYSE:CHL). Its 3G homegrown TD-SCDMA network for wireless data was inferior and not compatible with many popular, globally recognized smartphones. As a result, China Mobile has lagged behind its two major competitors. Even worse, 3G revenues for China Mobile have thus far been "profitless."

My recommendation in the December 30th article was to cut back on China Mobile holdings or avoid it completely. The call was mostly on valuation: at $58, the stock was at a 52-week high and the dividend yield had slumped to 3.7% on higher prices. Considering the price action since then, that ended up being a good idea.
Now it's time to take the other side of that coin. China Mobile's American Depository Receipts [ADR] have come down. The stock now yields 4.1% with a trailing Price/Earnings [PE] ratio of 10.4. And despite structural problems, China Mobile does have some redeeming features. Finally, there are prospects for a much-needed shift to a profitable and data-intensive business model. It's time to look at China Mobile again.
2012 Results Show Continuing Structural Problems
The 2012 Annual Results Presentation showed little change in the issues effecting the company. Namely, the company's margins continue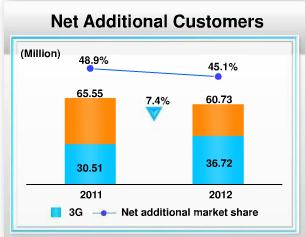 to fall as 3G grows as a part of its business. In 2012, China Mobile still managed to add over 60 million subscribers, down from 2011's 65.55 million, but still impressive. Over half of the new subscribers, 36.72 million, were new 3G customers. So, 3G is still growing in proportion to the rest of the business and becoming a larger piece of the overall pie.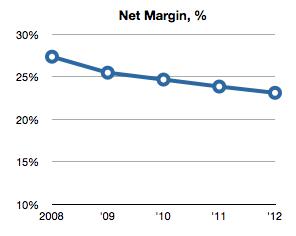 And as 3G has grown as a proportion of the business, Net Margins have steadily declined. As mentioned in the previous China Mobile article, these two factors are very much related. Although we don't know exactly how much 3G as a unit adds to the bottom line (they bundle 3G revenues in with other items as "Data"), I've reasonably established that China Mobile's profit margins on 3G are slight at best. This is likely due to the structure of their TD-SCDMA 3G network.
But results weren't all bad news. Overall net profit was up 2.7% and revenue was up 6.1%. As a whole business, China Mobile is still growing and its plain vanilla voice and SMS businesses continue to deliver very profitable revenue. But it's really the 4G network, not 2G, which could deliver sustainable growth for China Mobile going forward.
4G Roll Out Could Mean A New Business Model
The Chinese government is expected to issue 4G bandwidth approvals in the latter part of 2013. China Mobile's 4G standard, TD-LTE, should lure more smartphone, telecom equipment makers and carriers to support the new standard. This could finally mean that China Mobile will be "plugged in" to profit from the smartphone transformation. In coming years, China Mobile's growth will look more like China Telecom's and China Unicom's, both of whom operate on a globally proven standard for their 3G network. In 2012 for example, China Unicom grew its revenue by 19%.
But lower margins will be inescapable. China Mobile will not dominate 4G like they do 2G mobile phones. China Mobile had a very big head start into voice and SMS in China and their 2G margins are not only the best in China, but among the highest in the world. This time there, will be much more competition from the other two, as China Mobile is not an early entrant into the wireless data market.
Redeeming Factors
What makes China Mobile an attractive investment? A few things. First is their balance sheet. While other carriers are saddled with lots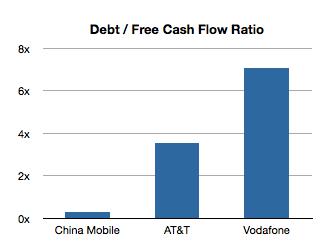 of debt in this capital-heavy industry, China Mobile is decidedly not. The company's Debt to Free Cash Flow ratio is well below that of other major carriers such as AT&T (NYSE:T) and Vodafone (NASDAQ:VOD). In fact, for a telecom company, China Mobile's balance sheet is as pristine as it gets.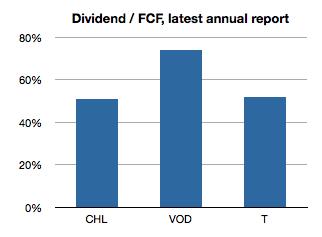 Second is the dividend coverage ratio. Few large telecoms, especially these days, can show dividend to Free Cash Flow coverage ratios in the low 50s. While big, national carriers in Europe are having to scale back their dividend as revenue declines, China Mobile can comfortably pay its dividend and pile up cash at the same time.
Consider also China Mobile's still superior margins driven by the 2G business: a net margin in the low 20s is well superior to industry averages around the world. And 2G is still growing China. While this segment of the business may be long in the tooth, it will be around for years to come. As we wait for 4G, 2G can still deliver huge profits and great margins.
And finally there's valuation. China Mobile now trades at 10.4 times trailing earnings and yields a healthy 4.1% dividend. As I started writing this article, it was even lower. The stock is 10-15% off its highs since the end of last year, and I believe it is now down in the bargain bin.
How The Dividend Works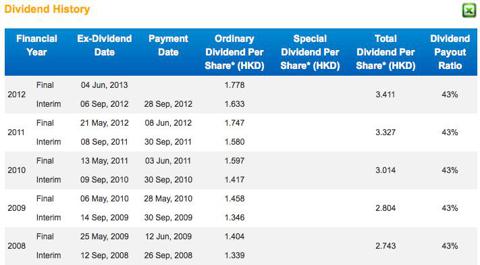 Because many readers are interested in the dividend, and most are used to the quarterly payout system common in the United States, I'm including this explanation from China Mobile's investor relations website. As we can see, they pay their dividend twice per year and have been increasing the dividend slowly but steadily along with earnings. Note that one ADR share is equivalent to 5 Hong Kong shares and the exchange rate is .13 Hong Kong Dollars for $1 US. So, last year China Mobile paid $2.19 per ADR in dividends.
Conclusion
In a world thirsty for income China Mobile provides refreshment at this price. You won't get much growth this year, if any. What you will get, however, is a company with a clean balance sheet and the possibility for growth within 12-to-18 months. And at 10.4 times earnings, it's certainly not priced for perfection.
Stay Tuned
China Mobile is a company I have written about before. I intend on providing update articles on China Mobile, as well as other dividend ideas, when relevant and material.
Additional Sources
"Net Additional Customers" chart from 2012 Annual Results Presentation
"Net Margin" chart by author, data by Morningstar and 2012 Annual Results Presentation.
"Dividend / Free Cash Flow" and "Debt to Free Cash Flow" charts by author, data by Morningstar.
Disclosure: I am long CHL, VOD. I wrote this article myself, and it expresses my own opinions. I am not receiving compensation for it (other than from Seeking Alpha). I have no business relationship with any company whose stock is mentioned in this article.