MetLife (NYSE:MET), one of the largest insurers in the U.S., appears to trade at a deep discount to other major insurers, and a discount to historical valuation. MetLife provides insurance, annuities and employee benefit programs across the world.
To help with addressing the expected rise in group plans, MetLife has also been enhancing its group life benefits portfolio for small businesses. Other notable moves include focusing on less capital intensive projects and increasing its annuity products offerings, which should see demand increases related to the need for guaranteed lifetime income.
MetLife is known for predicting the, seemingly, perpetual decline in interest rates. Back In 2004, MetLife bought derivatives to hedge against a drop in interest rates, a move that has made them upwards of $500 million. Its strong financial position also allowed the insurer to snatch up AIG's (NYSE:AIG) foreign insurance segment in 2010.
Banking overhang
The big move of late was the fact that the insurer has divested its banking operations, helping de-risk some of its operations. Back in 2012, the Fed rejected MetLife's plans to repurchase $2 billion in shares and boost its annual dividend to $1.10 after finding that it would fall short of U.S. capital standards in a severe economic downturn.
MetLife sold off its MetLife Bank deposit business to GE Capital and sold of its warehouse finance business to EverBank, reverse mortgage servicing portfolio to Nationstar Mortgage and exited its forward residential mortgage business, while it vended its mortgage-servicing portfolio to JPMorgan.
Then in February 2013, MetLife received the regulatory approval from the Federal Reserve and FDIC to de-register as a bank holding company. MetLife Bank's retail banking business contributed less than 2% to the company's 2011 operating earnings.
Highlights
MetLife has quite the room to grow internationally, with the Americas (U.S. and Latin America) accounting for some 75% of revenues, and Asia only 19% and EMEA (Europe, the Middle East and Africa) at 5%.
Operating cash flow soared to $17.2 billion in 2012 from $10.3 billion in 2011, $8.0 billion in 2010 and $3.8 billion in 2009.
Cash is up to $15.7 billion, with long-term debt down to $19.1 billion.
In early 2012, placed a long-term return on equity goal of between 12% and 14%, with a target of 2016, driven by higher operating earnings. At the end of 2012, operating return on equity already stood at 11.3%, which is up from 10.1% in 2011, 6.9% in 2010 and (-9%) in 2009.
The company projects net pre-tax savings of $600 million by 2016, while contribution from the emerging markets will likely increase to over 20% of operating earnings.
Despite depressed interest rates, MetLife saw its net investment income increase 6% year over year. At the end of 2012, fixed income securities (with an average yield of 4.85%) accounted for 73% of MetLife's investable assets, with mortgage loans at 11%.
Valuation
MetLife still trades at a deep discount to book value.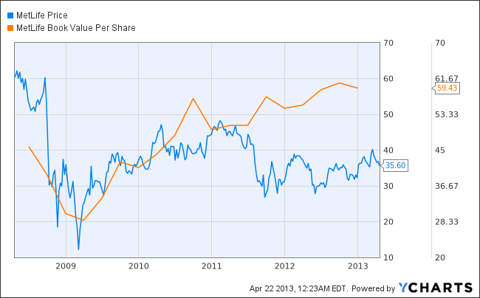 From a price to book and forward price to earnings basis, compared to peers, MetLife also appears to be too low.
| | | |
| --- | --- | --- |
| | Price to Book | Forward P/E |
| MetLife | 0.65x | 6.7x |
| WellPoint | 0.91x | 9x |
| Prudential | 0.7x | 6.4x |
| AIG | 0.63x | 9.7x |
| Aflac | 1.55 | 7.7x |
At the end of 2012, MetLife traded at a 20% discount to book value per share (excluding AOCI) of $46.73. On a book value (including AOCI), MetLife traded at a 33% discount to book value of $57.17.
Industry tailwinds
An improving economy, namely a bolstering labor market, will help with group life sales. U.S. GDP has been positive for each of the last 15 quarters.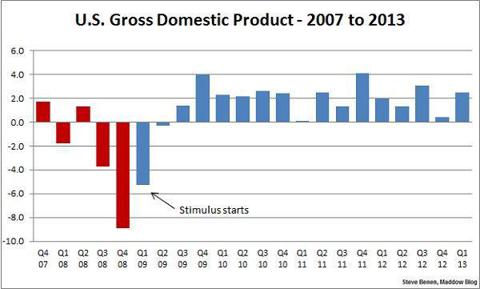 What's more is that the rise in the retiring population, thanks to the "baby boomer" generation, will lead to an increase in retirement services.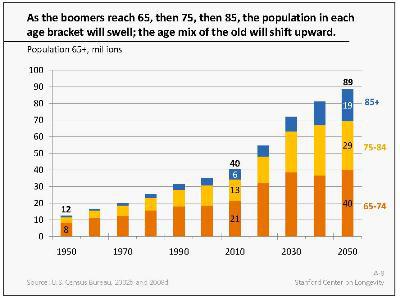 The international business should be MetLife's key revenue driver going forward, with Latin America being the focus.
Management expects emerging economies to contribute about 20% to earnings by 2016 from 14% in 2012, while 10% growth from Latin America is expected in 2013.
Dividend power
MetLife pays one of the best dividend yields in the insurance industry at 2.9%. Thanks to the insurer's previously mentioned exit from "bank status" in February, the insurer raised its dividend by 49%, which is the first increase since 2007. The quarterly dividend is now up to $0.275 per share, up from the previous payment of $0.185.
The hedge fund trade
MetLife: At the end of the fourth quarter, there were a total of 49 hedge funds long the stock. Pzena Investment Management, ran by Richard Pzena, has the largest position in MetLife, comprising 2.1% of its 13F portfolio. In second is Jim Simons' Renaissance Technologies, 2.4% of its 13F portfolio (check out Simons' top tech picks).
AIG: Going into 2013, AIG was the most owned stock among hedge funds, replacing Apple as the most owned stock from the third quarter. There were a total of 142 hedge funds long the stock at the end of 2012, with Bruce Berkowitz's Fairholme having the largest position, worth close to $3.03 billion, comprising 43.6% of its total 13F portfolio (see Berkowitz's top small cap stocks). Number two was William Gray of Orbis Investment Management, and other notables include billionaire Dan Loeb (Third Point) and Dan Och (OZ Management).
Aflac (NYSE:AFL): This insurer had the least interest of the three, with only 21 hedge funds long the stock at the end of 2012, a 13% decrease from the third quarter. Legg Mason Capital, ran by Bill Miller, has the largest position in Aflac, comprising 1.8% of its 13F portfolio (check out Legg Mason's favorite small caps). Sitting in the second spot is Ken Griffin's Citadel Investment Group, and other notables include Ariel Investments and Adage Capital.
Unlike MetLife's planned foray into international markets, Aflac is already one of the top insurers in Japan, which accounts for over 80% of company revenue. Also, the insurance company is the number one seller of cancer and medical-insurance policies in Japan.
Bottom line
MetLife is cheap on both a historical basis and relative basis, with potential catalyst being a recovery in the U.S. economy, international expansion and the retiring "baby boomers". Its insurance segment will be most helped by the increase of group plans that will come to market as a result of rising employment and its investment products should benefit from an increase in the retirement population.
Disclosure: I have no positions in any stocks mentioned, and no plans to initiate any positions within the next 72 hours. I wrote this article myself, and it expresses my own opinions. I am not receiving compensation for it (other than from Seeking Alpha). I have no business relationship with any company whose stock is mentioned in this article.