It was a very tumultuous week for investors in the Coal Mining Industry. While the rest of the market remains near all time highs, coal stocks are near lows not seen since the 2008-09 crash. In this article, I'll give my take on why I think this is. There was a fair amount of news in the industry recently which should have been helpful, but wasn't.
Let's first look at some of the positives. Natural gas remains at a price ($4.25) not seen in about 20 months, and also twice the price it was a year ago. Because of this, the gas to coal switching of a year ago is reversing in a big way. The EIA, in its April 25th report, stated that Nat Gas used for the generation of electricity in the preceding week was down a whopping 23.3% compared to last year. Take a look at this graph showing the rapid decline in the use of gas for electricity: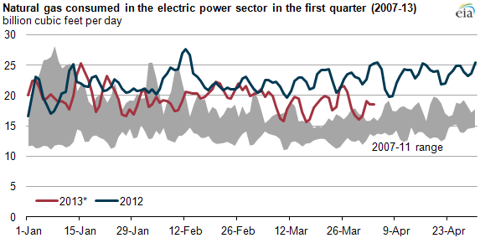 As you can see, the gap in consumption between 2012 and 2013 is getting wider, and the difference is being taken up by coal. There is no indication that the price of gas will return to 2012 levels. Gas in storage is down 32% compared to last year.
Even at these prices, there isn't incentive for the drillers to increase production.
This week, Baker-Hughes (BHI) reported that the weekly gas directed rig count slid by another 13 to 366 (another 14 year low), compared to 613 a year ago.
On Thursday, during a conference call with investors, Matthew Fox an executive vice-president of Conoco Philips (NYSE:COP), the largest independent U.S. oil and natural gas producer, said the company has no plans to start:
redirecting any capital toward gas assets until it is significantly north of current prices.
One more quote, this one from French Oil Giant Total SA's (NYSE:TOT) CEO Christophe de Margerie in an interview in January, regarding Shale Gas acquisitions in Texas and Ohio:
It's clear we will soft-pedal this. I don't see any point in investing there - I want to clarify, in dry gas - where there is no profitability.
So Total stopped production of dry gas and won't restart until prices rise above the $6/mmBTU breakeven point.
Gas is going higher.
Coal to gas switching caused by these higher gas prices is beginning to burn through coal stockpiles. Recently, the EIA reported that coal stockpiles declined to 177,000 tons in February, lower than at any point during 2012.
Some statements this week by utility executives:
CMS Energy of Michigan:
We're down from over 60 days of stockpiles a year ago to the 40-day zone, which is where we like to be.
American Electric Power CEO Nicholas Akins on Thursday, on gas to coal switching:
When you're in that 3.25 to 3.50 range on natural gas, you'll start to see the switching occur. And based on natural gas prices today, obviously, we've seen it just go just basically 180 degrees in the other direction.
This week the EIA reported that weekly coal production remains under control, with year to date coal production 7.9 percent lower than in the same period last year. All of this should soon begin to be reflected in higher coal prices, which it may be beginning to be: Spot CAPP is the highest it's been in a month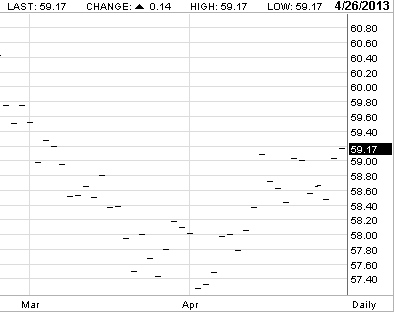 These are some of the positive developments that happened recently to the prospects for the coal miners. Yet, their share prices are at lows, not reflecting any of this good news at all. Unfortunately, a better domestic supply/demand condition is not all that affects coal companies' bottom lines.
The two other factors that affect the fortunes of the miners are the seaborne coal trade and the market for Met Coal. Conditions in both of these sectors are pretty abysmal, and at this stage, while coal company executives express their optimism on the second half of the year, the share prices do not.
Last year, of the 126 million tons of coal exported by the U.S., Europe received about 66 million, while China was about 10. Economic conditions in Europe are going from bad to worse. Recently, some pretty bad numbers were coming out, just one more quarter of shrinking economic output, and Germany will officially enter a recession. The same is true of France, Belgium, Luxembourg, Austria, even Sweden and Finland. The Netherlands has already reported two quarters of declining GDP. Spain reported unemployment of 27.2%
Demand for coal from the U.S. is down. Arch Coal (ACI) reported that it took a $10.5 million charge last Qtr. because it wasn't able to export the minimum agreed amounts of coal because prices were so low.
The conditions for Met coal, used in steel production, at present, do not look good. U.S. steel production is down 7.6% from this time last year. Steel use was down 9% in the EU last year, and is forecasted to be lower again in 2013. Steel and coal industry executives are expressing confidence that things are bottoming out and that steel demand will improve the second half of the year. I believe that until there is some concrete evidence of this, prices will not reflect this.
Sluggish global economic activity is clearly reflected in base metal prices. Copper, Nickel, Zinc among others are at multi-year lows, as are the coal companies. As a matter of fact, you could have predicted what would happen to the coal stocks this week by looking at what copper was doing before the stock market opened. Monday and Tuesday, copper was down hard and so than were the coal stocks. Then there were some positive comments from places like Caterpillar (NYSE:CAT), Dow Chemical (DOW) and others, which lifted the base metals prices. Wednesday and Thursday, Copper was indicated much higher before the open and the coal companies had good days. Friday morning, copper was down .05 (1.6%) at the open and the coal companies gave back gains that day.
Conclusion While I believe that domestically conditions for thermal coal are definitely showing signs of turning the corner, international conditions and steel markets are not there yet. I believe we won't see much of an increase near term in coal company stocks until we see some signs of improvement in Europe and more confidence that China is not falling apart.
Keep an eye on the base metals, especially copper. They may have bottomed this week, who knows? I think they will turn before coal share prices. It's now being said that the ECB will cut interest rates this week. That may be a catalyst; we'll see.
Walter Energy (NYSE:WLT) is a pure met play and least likely to benefit from the improving domestic situation.
Peabody Energy (NYSE:BTU) is more tied to conditions overseas especially Asia, than the others.
Alpha Natural Resources (ANR) is also heavy in met coal but not quite as directly related to that market as Walter.
Arch Coal is probably my favorite in the sector, more dependent on U.S. thermal coal market than the rest, but still involved in metallurgical.
Disclosure: I am long ACI, BTU, WLT, ANR. I wrote this article myself, and it expresses my own opinions. I am not receiving compensation for it (other than from Seeking Alpha). I have no business relationship with any company whose stock is mentioned in this article.